In this issue:
MSCI "Foreign-Listed Companies" Eligibility
Apple Enters the Dow Jones Industrial Average
Comparison of Real Estate Benchmarks
Negative Rate in Eurozone
MSCI "FOREIGN-LISTED COMPANIES" ELIGIBILITY
MSCI will enhance coverage of its Global Investable Market Indices (GIMI) to consider companies traded outside the country of classification as eligible for inclusion. Foreign-listed companies will become eligible for inclusion in countries where they would materially increase the coverage of the GIMI. Specifically for the MSCI All Country World Investable Market Index (ACWI IMI), this includes the MSCI Hong Kong and the MSCI China Indexes where the foreign-listed companies would cumulatively represent more than 5% of the Country IMI and 0.05% of the ACWI IMI (see exhibit 1).





Due to the size of the changes, implementation will take place in two steps:
1. Eligible foreign-listed companies will be added at half their free-float-adjusted market capitalization weight as part of the November 2015 semi-annual index review.
2. They will then be included at their full free-float-adjusted market capitalization weight as part of the May 2016 semi-annual index review.

MSCI decided to defer until further notice the potential inclusion of additional foreign listed companies in the MSCI Russia Index.

APPLE ENTERS THE DOW JONES INDUSTRIAL AVERAGE
For the first time since September 2013, the Dow Jones Industrial Average (DJIA) received a makeover as Apple Inc. replaced AT&T Inc. in the iconic stock index. The move had long been rumored after Apple underwent a seven-to-one stock split in June 2014, making its price more attractive for inclusion in the price-weighted DJIA. The opportunity for Apple's admission came on March 19 as current DJIA member Visa split four-to-one. The Visa split alone would have created turnover for funds that track the DJIA, so it served as an appropriate time to add Apple. Additionally, adding Apple partially offset the reduced weighting of the Dow's information technology sector caused by the lower post-split price of Visa.

The decision to remove AT&T, which has been in and out of the DJIA in one form or another since 1916, was driven by the fact that the DJIA already included AT&T's largest competitor, Verizon. That led to the DJIA being overweight in telecommunications. AT&T's stock performance, which has lagged Verizon and the DJIA itself since early 2013, did not help its cause; the stock traded among the lower end of the DJIA names when it was deleted. There is a bit of irony in Apple replacing AT&T, given that AT&T first brought Apple's signature iPhone to an eager public and served as the smartphone's exclusive carrier from June 2007 until 2011.

Despite Apple being the world's largest corporation, it was not the highest-weighted DJIA component upon admission. Since the DJIA is a price-weighted index, Apple's closing stock price of $128.47 on March 18 meant it had a weight of approximately 4.7% in the index and ranked fifth behind Goldman Sachs, 3M Co., IBM and Boeing. By comparison, Goldman Sachs' closing price of $192.32 allowed it to become the highest-weighted DJIA name at just over 7%.

From announcement date March 5 through inclusion date, Apple shares rose 1.63%, outperforming both the DJIA (-0.07%) as well as the Standard & Poor's (S&P) 500 (-0.33%). This would fit the pattern of the previous three additions to the Dow, when Nike, Visa and Goldman Sachs also outperformed these two benchmark indices during the period spanning the announcement date on September 10, 2013, through inclusion at the close on September 20.

Comparing the performances of the recent deletions, AT&T fell 1.21%, underperforming both the DJIA and S&P 500 from March 5 through March 18. Of the three deletions in September 2013, Bank of America and Hewlett Packard underperformed the DJIA and S&P 500 from announcement through inclusion, while Alcoa rallied slightly.

COMPARISON OF REAL ESTATE BENCHMARKS
Index providers offering real estate and real estate investment trust (REIT) indices have grown significantly within the past few years. They offer easily accessible, low-cost, high-yielding exposure to the real estate market that can diversify an investor's portfolio due to the low correlation with more- traditional asset classes.

All the major index providers — MSCI, FTSE, Dow Jones and S&P — as well as some smaller niche providers such as Global Property Research offer real estate/REIT benchmarks (see exhbit 2).



 

While all benchmarks cover listed real estate, their exposures to various different sectors and countries differ dramatically. The inclusion of emerging market exposure within a real estate benchmark can have significant advantages — the potential for greater long-run growth; an increased opportunity set; better diversification; and an increase in dividend yield — versus benchmarks with exclusively developed market exposure. Of the global benchmarks, the S&P Global Property index and the FTSE EPRA NAREIT Global index have very similar exposures to both emerging and developed markets, but the S&P Global Property index has a far larger investment universe. The Dow Jones Global Real Estate index also has emerging market exposure, but at only 2% of the index, it offers significantly less exposure in terms of index weight and number of emerging market countries. This is also reflected in the lower dividend yield against its global counterparts.

While global exposure offers advantages, emerging markets bring their own challenges, including regulatory and operational hurdles; increased transaction and currency hedging costs; and often-increased tracking error. The differences among the developed market real estate benchmarks can be significant. The MSCI World Real Estate benchmark has a very-concentrated exposure to only 102 companies versus 311 within the more-popular FTSE ERPA NAREIT Developed index. The comparison of sub- industry exposure between the FTSE and the MSCI is not a fair one, as they do not use the same industry classification systems. The FTSE uses ICB while MSCI uses GICS. While not a perfect translation, converting ICB classification to GICS allows an initial comparison. The most-notable differences are within the diversified real estate activities and specialized REITS sub-industries, where the MSCI World Real Estate benchmark has an 8.1% and 8.7%, respectively, overweight versus the FTSE benchmark. The overweights within these two sub-industries are countered by underweights of between 2% and 3% in nearly all other sub-industries. The differences are not limited to the sub-industry exposure; they occur in country exposures too.

EUROZONE NEGATIVE RATE EFFECT ON LONG CURRENCY BALANCES
In recent years, central banks across the eurozone have made conscious efforts to counter low inflation. To do so, their policymakers have pushed the overnight, refinancing and deposit rates toward 0% in an attempt to meet their mandate of maintaining inflation-rate targets close to 2% over the medium term. These central banks include Denmark, Sweden, Switzerland and the European Central Bank (ECB). Deposit facility rates are now in negative territory. As the situation remains bleak, the ECB most recently announced its expanded asset purchase program in which a combined monthly asset purchase of €60 billion will be carried out until at least September 2016.

As a result of the negative deposit facility rates, banks are essentially paying to hold clients' long balances of Danish krone (DKK), Swedish krona (SEK), Swiss franc (CHF), and euro (EUR) and in most cases the costs are now passed along to their clients. Keeping these long currency balances close to zero will avert impactful charges; however, in doing so investors sacrifice the currency exposure. Investors and their managers may elect to maintain the currency exposure through currency forward contracts. It should be noted that although the currency exposure is maintained, the negative interest rates are priced into the forward points of the contract and, therefore, a charge implicitly remains. Investors and their investment managers should hold ongoing discussions around current charges, dependent on the custodian bank, and what the best approach is for them in light of their investment goals.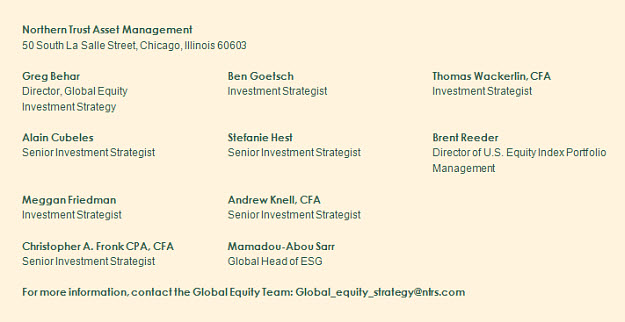 INDEX DATA
---
(
Click to enlarge images
)