Click on the links to access the printable versions
OUTLOOK
Our theme of "Populist Roulette," where economic frustration motivates political movements and heightens economic and financial-market uncertainty, will next be tested with the U.S. elections on November 8. It will be followed soon thereafter by the Italian referendum on constitutional reform and then in 2017 national elections in countries such as the Netherlands, France and Germany. While polling data has been viewed with justifiable skepticism after blowing the Brexit and Columbian peace deal votes, we're focusing on aggregated polls rather than individual polls to reduce this risk. In the U.S. presidential race, Hillary Clinton has been gaining momentum over Donald Trump and is currently expected by most analysts to win the White House. In the race to control Congress, the House of Representatives is expected to stay under Republican control while the Senate appears too close to call.

These trends support our base case of continued divided government in Washington, preventing the more extreme policy positions of either party from becoming reality. Leading central bankers have been agitating for more help from fiscal policy, and U.K. Prime Minister Theresa May has recently joined the fray by criticizing the effects of easy monetary policy. We don't, however, expect a wholesale shift in fiscal policy toward stimulus, due to already high fiscal deficits in many developed countries. On the margin, however, some increased spending and loosening of austerity is likely. This has already begun in the United States, as the fiscal 2016 budget deficit increased to $587 billion (3.2% of gross domestic product [GDP]) from $439 billion (2.5% of GDP) in 2015.

Central bankers are contemplating their next policy moves among a global economy that continues to generate stubbornly slow growth and low inflation. Recent purchasing managers' index data out of the United States shows improvement from the slowdown of late summer, while European data isn't yet showing signs of Brexit woes. Chinese economic data remains mixed — even when looking at one slice of the economy. Although September export and import data was broadly disappointing, shipping container volume data painted a better picture. Aggregating purchasing managers' index data across the global economy indicates that one region's losses tend to become another region's gains — leading to relatively slow, but stable, global growth. We expect that to continue during the next year, as politicians debate their appetite for increased spending.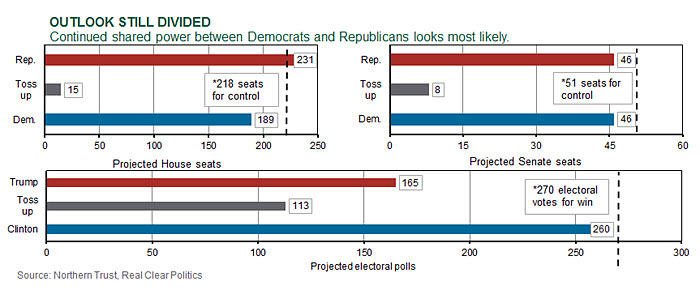 ---
U.S. EQUITY

The S&P 500 rose nearly 4% in the third quarter, but was flat in September.
Improved U.S. economic data and rising Federal Reserve expectations drove cyclicals.
Recent sector returns reversed the trends from the first half of 2016, as economic data improved, increasing expectations of a Fed rate hike by December. This contributed to a sharp selloff in defensive "bond proxy" sectors, such as utilities, telecom and staples, with leadership transitioning to economically sensitive sectors, such as tech, financials and industrials. We expect the sector-level trends on display in the third quarter to continue to largely play out. While much of the sector performance can be traced back to interest rates, some uncertainty about the prospects for a December rate hike could stall recent cyclical gains. However, with year-over-year earnings due to inflect positively in the near term, we continue to see support for a positive view on equities.
---
EUROPEAN EQUITY

After trending down since mid-2015, Spanish industrial production ticked up sharply.
One good number isn't conclusive of a trend change, but watch for sustainability.
As we discussed last month, the eurozone has seen weak demand for goods and services for several years. When the supply/demand balance is better, we expect to see equity prices rise in anticipation of higher operating leverage and profits. We may be seeing the start of that, led by encouraging data from Spain. After a year of a downward trend, Spain's industrial production picked up meaningfully recently. While a limited sample size, Spain's marked increase in industrial production was driven by year-over-year gains in energy (+2.0%), consumer goods (+2.6%), intermediate goods (+3.1%) and capital goods (+12.7%). Across the broader European economy, growth appears to be stabilizing as well — with the eurozone purchasing managers' index solidly in expansionary territory. Brexit fallout concerns remain, but at least the European economy has a stronger economic foundation beneath it.
---
ASIA-PACIFIC EQUITY

Singapore may experience slower growth ahead.
A stronger currency and slowing global trade will constrain the Singapore economy.
After posting solid 2.1% GDP growth for the first half of the year, Singapore's Minister of Trade and Industry Lim Hng Kiang suggested that negative growth during the next few quarters couldn't be ruled out. He reinforced that statement by forecasting Singapore would end the year at the lower part of the country's 1% to 2% GDP growth target, hinting that negative growth might affect the second half of 2016. For equity investors, this means increased uncertainty around individual company growth targets in 2016 and 2017 as well. We believe businesses targeting consumer-led growth are better off than those with an industrial/manufacturing bent in the near term, as consumer demand grows faster than industry in the underlying economy. Singapore is also likely to be disproportionally hurt by a slowdown in global trade and the relative strength of its currency during the last year.
---
EMERGING-MARKET EQUITY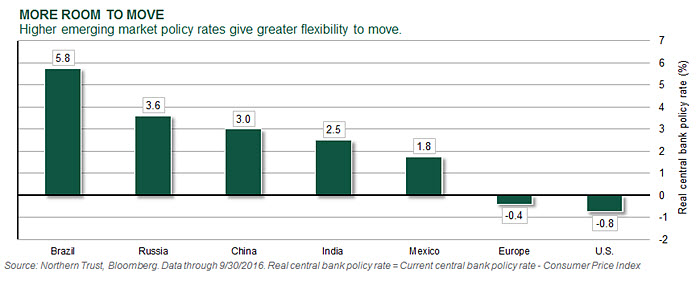 Historical inflation concerns have dogged emerging markets.
Higher interest rates in emerging markets provide some policy cushion.
Even though global inflation trends are broadly well contained, the picture is more mixed across the emerging markets. Inflation of 8.5% in Brazil is well above the country's targeted high end of 6.5%, a situation that's true across much of Latin America. In addition, Russia's consumer prices are running nearly 1% above its top-end target of 5.5%. Conversely, inflation across emerging-market Asia is within policy targets. Recent consumer price inflation of 5.1% in India, for example, was stable enough to allow the Reserve Bank of India to reduce its policy rate by 0.25% earlier this month. In contrast, policy rates in Europe and the United States are already below the current rate of inflation, and the low nominal level makes further cuts impractical. These conditions give emerging-market central banks more breathing room than their developed-market brethren.
---
REAL ASSETS

U.S. inflation expectations have been pushed higher.
The near-term pick-up in inflation expectations is likely to stall given low demand.
The Treasury Inflation-Protected Securities (TIPS) breakeven — the difference between the yield on U.S. Treasuries and those U.S. Treasuries linked to inflation — gives a real-time read on investors' inflation expectations. Lately, inflation expectations have moved upward, primarily driven by higher energy costs. Investors now expect inflation to average 1.6% during the next five years vs. 1.3% at the end of August. Given continued expectations for low global demand, there's good reason to believe that the inflation expectation uptick won't persist. We saw a similar uptick in inflation expectations at the beginning of 2016 (1.0% to 1.6%) and in 2015 (1.1% to 1.7%), only to revert to the longer-term falling trend. We remain equal-weight TIPS; inflation insurance is still fairly cheap, but not particularly needed.
---
U.S. HIGH YIELD

Leverage in the high yield market has been increasing for the past two years.
Increased high yield leverage has primarily been driven by commodity sectors.
The high yield market's leverage, excluding fallen angel credits (crossovers), of 4.67x debt/EBITDA in the second quarter of 2016 is the highest it has been since the 4.70x in the first quarter of 2010. This would typically be an indicator of a coming increase in the default rate. The Moody's default rate is expected to increase to 6.2% in 2016 from 3.2% in 2015. On the positive side for the market, defaults have been concentrated in the commodity sectors. The accompanying chart shows that leverage excluding commodity sectors of 4.3x is in line with the 4.2x average during the past nine years. In addition, crossovers that entered the market in 2016 further reduce the market's overall leverage. These measures indicate stability within the broader market even though selected sectors are experiencing difficulty.
---
U.S FIXED INCOME

Massive demand for investment-grade bonds has tightened credit spreads.
We believe credit still offers investors attractive relative value.
The global search for yield has led investors to pour money into U.S. investment-grade bonds this year. This has contributed to tighter credit spreads despite a record amount of new corporate issuance. Despite tightening credit spreads and overall low treasury yields, we continue to view investment-grade bonds as attractive from a relative value perspective. Investors can still more than double their all-in yield by allocating money away from U.S. Treasuries and into investment-grade bonds. Looking forward, we continue to prefer credit risk as a way to help improve total returns. Security selection is important with leverage rising on corporate balance sheets, but we believe that the yield advantage is attractive against our expectation for continued slow economic growth, low yields and accommodative central bank policies.
---
EUROPEAN FIXED INCOME

The markets are reassessing the reality of Brexit.
European markets endured their first "QE Taper" tantrum.
Brexit jitters returned as Prime Minister Theresa May announced that she would invoke Article 50 by March 2017. With an adversarial tone and news of a plan to require businesses to declare foreign workers, markets showed concern about acrimonious negotiations inflicting greater economic damage. This loss of confidence took U.K. gilt yields to their highest level since the vote and sterling moved sharply lower. The currency depreciation may give the Bank of England room to halt any further monetary accommodation. European bond markets endured more pain this month as comments about European Central Bank (ECB) quantitative easing (QE) tapering sent longer-dated bond yields higher. Against a backdrop of stronger than expected economic data releases across Europe, markets have priced out the risk of a further cut in interest rates, but the ECB is likely to remain accommodative with inflation still hovering close to zero.
---
ASIA-PACIFIC FIXED INCOME
The renminbi continues to depreciate as it debuts in the IMF's reserve basket.
Reserve Bank of India (RBI) Governor Urjit Patel kicked off his term with an interest rate cut.
Concerns regarding Chinese economic growth, a property market bubble and capital outflows have underpinned a weakening trend in the renminbi for more than two years. Although fears of a slowdown appear contained, the outlook remains cautious. The RBI's new monetary policy committee, led by new Governor Urjit Patel, started its term with a unanimous 0.25% cut in key policy rates, taking markets by surprise. The RBI appears to have some room to maneuver, with inflation back at target and weaker GDP growth in the second quarter. However, with the expectation for growth to accelerate to 7.6% in March 2017 and 7.9% in March 2018, along with stabilization in the commodity markets, there shouldn't be further cuts for the remainder of this year.
---
CONCLUSION
Despite the recent uptick in political and monetary policy uncertainty, the overall investment landscape hasn't changed much during the last month. In line with our concept of "channel growth," U.S. economic data has bounced back some — indicating the summer weakness in purchasing managers' data looks to be temporary. The outlook for monetary policy remains in focus, with the market odds for a December rate hike by the Fed at 67%. We think that is too high, but do expect the Fed to raise rates once during the next year. Should it raise rates in December, it will likely be in an environment of stable economic and financial market conditions and will therefore meet investor expectations. With our expectations for continuing easy monetary policy from the ECB and Bank of Japan, the Fed's upward flexibility will be limited.

It has paid to remain fully invested this year, and a global portfolio has also been beneficial. While we've pared some of our tactical bets this year, we've remained moderately overweight risk — primarily focused on U.S. equities and U.S. high yield bonds. Despite their relatively strong performance year-to-date, we still like their relative return potential during the next year. U.S. earnings look set to resume growth, and better earnings from the financials sector have kicked off this earnings season. While U.S. high yield bonds have returned more than 15% this year, we still see an attractive return potential as default risk is contained and earnings growth resumes.

We updated our risk cases this month, reflecting changes in both the political and monetary policy spheres. Our first risk case concerns central bank fatigue, where central banks increasingly become political targets, and investors give up on the central banks' ability to facilitate "escape velocity" in local economies. Our second risk case surrounds the aftershocks from the Brexit vote. While the impact of Brexit has so far been limited, politicians from both the United Kingdom and the European Union have started taking hard lines in their negotiating stances, increasing the risk of further tumult. Finally, the odds of a disruptive U.S. election can't be ruled out. There are still three weeks for additional "October surprises" to emerge, and the populist push hasn't faded — and will not. Having said that, we expect a divided government to be the most likely outcome and the outlook for the financial markets will go back to being tied primarily to the economic and monetary policy outlook.