Click on the links to access the printable versions
Financial markets may be rational over the long term, but they certainly display bouts of irrationality during the short term. Developed market equities are down 8% to 10% year to date, commodities have fallen nearly 7% and emerging-market stocks have fallen 12%, according to Bloomberg. Has the global economy really hit the skids this quickly to justify such a sharp fall in asset prices? Have investors been behind the curve in realizing how bad growth has become, or have they become too gloomy as downward momentum feeds on itself? Successful investors learn that you ignore the market at your own peril. Our 2016 outlook theme is "Separating Signal from Noise," which indicates that we expect a noisy 2016, with heightened volatility that will raise the stakes on divining the fundamental outlook.

The global economy at the turn of the year doesn't look that different from much of 2015. The U.S. economy shows strength in the labor and lending markets, while business spending and inventory excess are slowing growth. European momentum continues to be steady, with the most recent German business sentiment index showing surprising improvement. The emerging-market outlook remains muddied, as China's official statistics show moderate slowing while private statistics show a more significant slowdown. While it seems unlikely that China's growth has suddenly hit the wall like the bears have been predicting, the high level of debt outstanding across the economy is cause for concern.

The plunge in commodity prices, especially in the oil markets, is a market signal creating a great deal of consternation. Oil demand actually accelerated in 2015 — but surging supply has overwhelmed demand to pummel prices. Research from the European Central Bank (ECB) supports our contention that oil's price drop has primarily been caused by the supply surge — mitigating the concerns that the oil markets are signaling a major change in global growth. A wildcard for 2016 will be whether the positive effects from lower oil prices will finally broaden from European shores to the United States and emerging markets. We don't expect a recession across the major economies in 2016, and anticipate the heightened volatility to only further extend central bank accommodation during the year.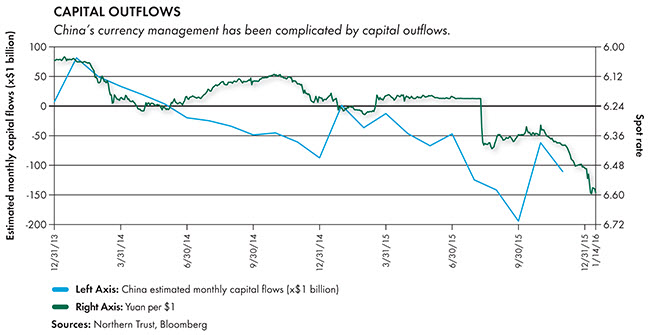 ---
U.S. EQUITY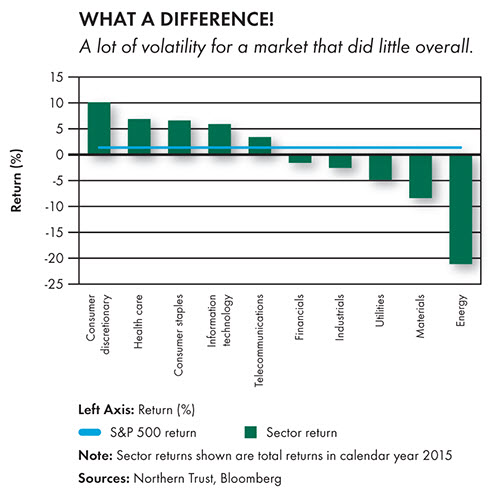 U.S. large cap equities posted a slightly positive return in 2015.
Sector-level performance shows divergence of haves and have nots.
The meager 1.3% total return for the S&P 500 in 2015 might suggest a quiet year, but this wasn't the case. Growth beat value by more than 9%, and large caps beat small caps by nearly 6%. The best performing sector (consumer discretionary) beat the worst performing (energy) by more than 30%. The breadth of strong performers was narrow, with the "FANG" stocks (Facebook, Amazon, Netflix and Google) contributing more than 100% of the market's returns (as the rest of the market had a negative return in aggregate). Since the start of the new year, the S&P 500 has seen an 8% drop, driven by the market's struggles with China and oil prices. Volatility will stay with us for the short term, but we remain constructive on U.S. equities as nonenergy earnings continue to grow and the magnitude of the earnings drag from the energy sector weakness and dollar strength eases in 2016.
---
EUROPEAN EQUITY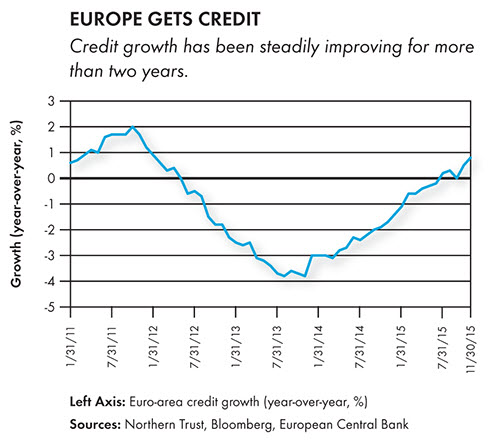 Accommodative ECB policy is supportive of improving euro-area credit growth.
Data supports improving underlying economic conditions.
European markets have retreated on heightened concerns about China's slowing economy — the STOXX Europe 600 declined approximately 4% during the last month. Despite fears of a hard landing in China, macro improvements in Europe have been broad. The Purchasing Managers' Index (PMI) is at a medium-term high, unemployment continues to ebb and business/consumer confidence is trending upward. While the ECB disappointed investors in December, with a less than expected cut to depository rates paid to euro banks and no increase in its pace of asset purchases, monetary policy is still highly accommodative and supportive of credit growth. However, the region may be challenged to count on further currency weakness for economic support because the euro appeared to fully discount the Federal Reserve's rate hike ahead of the actual move.
---
ASIA-PACIFIC EQUITY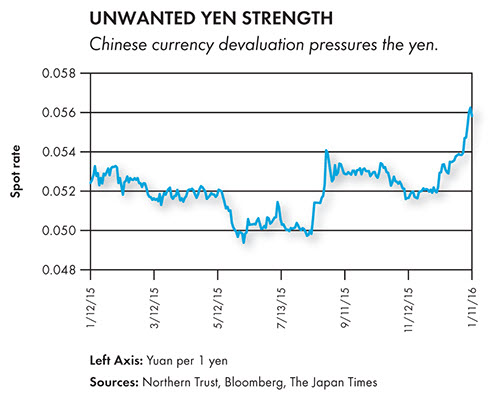 The yen has strengthened in the wake of macroeconomic uncertainty and China's slowdown.
Recent strong exports are likely to face challenges amid the divergence from the yen.
In the wake of Japan's massive quantitative easing program, the devalued yen has fueled the country's export markets, corporate profits, wage growth, job gains and equity market returns. Indeed, 2015 was no exception with equity markets generating a return of 11% when measured in local currency returns. However, tepid consumer spending, high sovereign debt levels and unfavorable demographics are headwinds. Additionally, the slowdown in China (Japan's top trading partner), along with the yuan's devaluation, will pressure Japan's export-driven economy. Given the noted market dynamics, it's not surprising that Japanese companies have chosen to reinvest profits in faster-growing overseas markets — with overseas acquisitions rising to $95 billion in 2015. Any reversal of these overseas acquisitions (in favor of in-country investment) could portend more favorable domestic economic conditions.
---
EMERGING-MARKET EQUITY


The volatility in China's currency has been manageable so far.
An uncontrolled devaluation of China's currency would signal much greater economic stress.
Economic data from China continues to be divergent, leading to great uncertainty among investors. As analysts have increasingly dismissed official economic statistics as too steady to be realistic, private market statistics paint a picture of much slower growth. This divergence has led us to focus on inputs beyond economic growth to measure the severity of the Chinese slowdown and the risks it may portray for the global economy. A hard landing in China will accelerate capital flows out of the country, pressuring the government's ability to manage the value of its currency. A significant devaluation of the renminbi against a broad basket of currencies would signal to us that the Chinese economy has slowed dramatically enough to create problems well beyond its borders. Greater stability in emerging-market currencies, along with improved economic growth, will be necessary ingredients for us to become more constructive on the outlook for emerging-market equities.
---
REAL ASSETS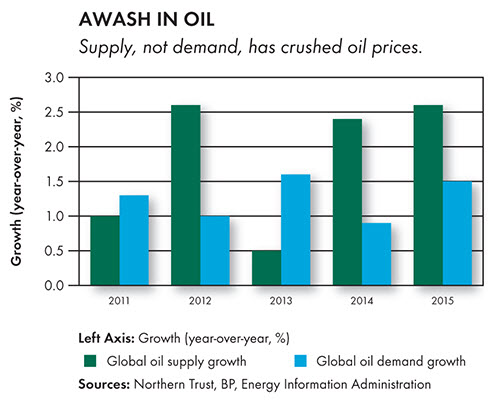 Oil demand has been growing, but the bigger issue has been supply.
Our outlook remains subdued, as it will take time to work off inventories.
Many are placing the blame for falling commodity prices on slowing Chinese demand. But a closer look at the data shows that Chinese demand has actually grown across many commodities. And when looking at global oil markets, demand is expected to have grown by 1.5% in 2015 — a healthy number that was actually revised upward during the year. The past two years have seen an explosion in oil supply growth; lower prices have only prompted increased production as state-owned enterprises and private companies attempted to meet social spending needs and debt obligations, respectively. Oil supply as the primary culprit is a less worrisome sign for the health of the global economy, but is of little solace for the outlook for the natural resource sector with its bloated inventories.
---
U.S. HIGH YIELD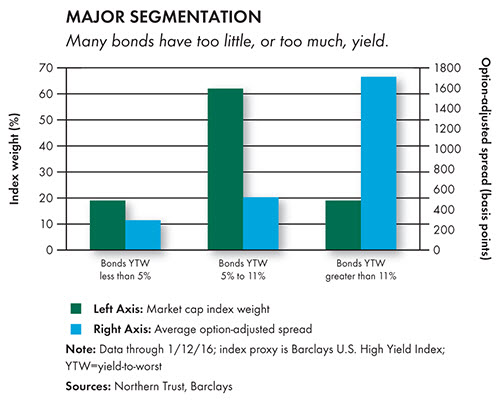 Reduced risk tolerance has resulted in discrete segments of the high yield market.
Approximately 40% of the high yield market is of little interest to most investors.
The losses incurred in the energy, commodity and retail sectors have reduced overall risk tolerance, which, in turn, resulted in lowering valuations and increasing yield. The result has been a market segmentation in which close to 40% of the market isn't investable for many fund managers. There's little interest in the riskiest portion of the market, which is the 19% of the market at yields of 11% or greater. Bonds yielding less than 5% also account for 19% of the market, and their average yield of 4.5% is too low to garner much interest. This leaves 62% of the market with yields ranging from 5% to 11%. The market's focus on this segment will provide support and potential capital appreciation. High yield provides value, but it requires focus on the appropriate segment of the market.
---
U.S. FIXED INCOME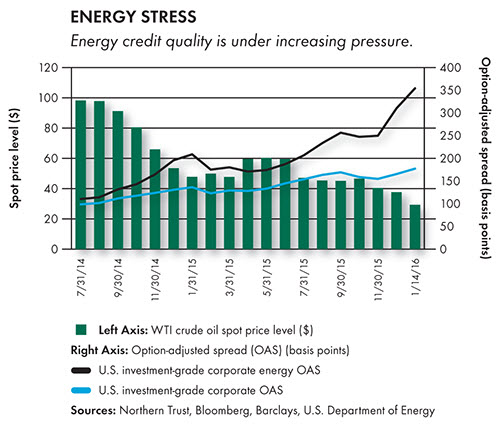 Downward oil price pressure has contributed to Moody's putting 36 energy companies on watch.
Security selection remains of utmost importance, particularly in a deteriorating energy sector.
As oil prices continue their steady decline, Moody's announced it had put the fixed-income securities of 36 energy companies on watch for a downgrade to below investment grade. While the overall tone of the market may be negative toward energy, portions of the sector remain attractive. The fixed-income securities of higher-quality companies with stronger balance sheets have held up better than their peers. Consequently, we believe positioning within the energy sector is important and have preferred the fixed-income securities of large, integrated companies, while being neutral toward refiners and pipelines, and underweight exploration and production and oil field services. In the near term, avoiding the losers within the energy sector may be just as important as finding the winners.
---
EUROPEAN FIXED INCOME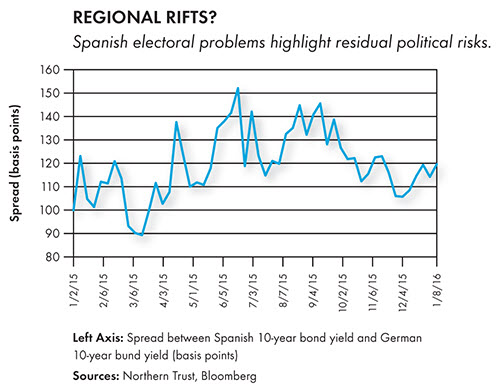 Minutes from the December ECB meeting indicate support for further monetary stimulus.
Elections across Europe highlight the risk of increased government fragmentation.
The minutes of the December ECB meeting indicate support from some members to further cut the deposit rate as well as potentially increase the monthly volume of asset purchases. Markets had expected more in December, and with inflation in the euro area hovering close to zero, the doves may be right as the pressure to act again could increase. Political developments in Europe aren't constructive, with elections showing increasing fragmentation that may undermine fiscal reform and put peripheral bonds under pressure once again. Elections across Spain are notable with the absence of a government since December, at a time when Catalonia appears to have consolidated toward pro-independence. It's therefore likely that the burden of responsibility to engineer the recovery in Europe will continue to fall on the ECB.
---
ASIA-PACIFIC FIXED INCOME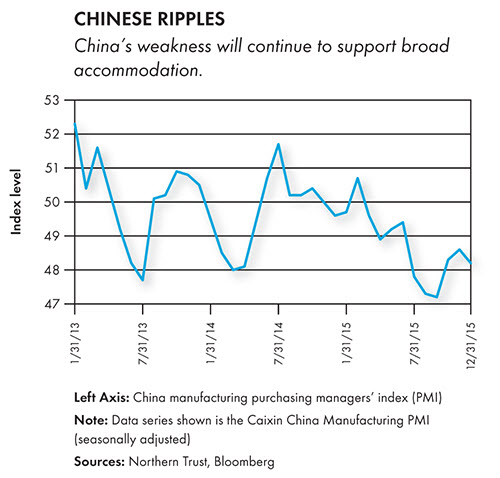 Markets wobble over fears of an accelerated slowdown in China.
Bank of Japan announcements fuel policy easing expectations.
A weak China manufacturing PMI survey accelerated concerns about a global slowdown that resulted in a selloff across global equity and credit markets, while U.S. Treasury bond yields fell to pre-Fed hike levels. Although the renminbi continues to weaken against this backdrop, recent moves have prompted the People's Bank of China (PBoC) to dispute assertions that it's engaging in purposeful devaluation. However, this shouldn't prevent the PBoC from enacting further interest rate cuts this year to manage financial stability and support its long-term growth target. The Bank of Japan (BOJ) announced the inclusion of a new exchange-traded fund program in its policy tool kit, which prompted markets to increase expectations for further stimulus. Although technically there has been no change in quantitative easing, recent comments from BOJ's Governor Haruhiko Kuroda underline the commitment to lead inflation to the 2% target.
---
CONCLUSION

Our asset allocation discussions this month focused on the markets' recent poor performance, and whether it was signaling an outlook for growth that's worse than our expectations. We haven't been bullish on economic growth in recent years, as our "Slow Burn of Low Growth" theme expects muted growth due to high debt, worsening demographics and maturing emerging-market economies. Muted growth, however, doesn't mean recessionary conditions. We see little sign of overheating in the real economy, as consumers have been reluctant spenders (outside of certain areas like autos) while corporations have had little incentive to expand productive capacity. The plunge in oil prices has had a more immediate negative impact on growth than we expected, and the benefits from lower oil prices have turned up in limited spots so far. Our current view is that while we expect heightened volatility in equity markets to continue this year, we don't see fundamentals deteriorating to the level typically seen in a bear market.

We made no changes in our tactical asset allocation recommendations this month, and remain moderately overweight risk. With markets having already declined sharply in the first weeks of the year, and investor sentiment turned dour, it doesn't seem like an opportune time to reduce risk. We expect some improvement in earnings in the developed world this year, and don't expect much upward movement in interest rates to disrupt valuations. We're concentrating our overweights in U.S. equities and U.S. high yield — which has been under some pressure this year but has fallen much less than the equity markets. We continue to be cautious toward emerging markets and the commodities complex. Our focus on the risks emanating from China has turned toward the country's management of the capital account and its currency — as gauging its true economic growth rate is difficult. We feel that the risk of slowing growth from China is currently being reflected in market prices and expectations, and that the risk of a hard landing has now transitioned from the economic to the financial sphere. Hence, we'll be paying close attention to China's currency as a sign of successful capital account management.

Global central banks are walking a "tightrope" as they attempt to balance the objectives of meeting growth and inflation targets while being mindful of increased market volatility. Meeting inflation targets looked challenging enough before the most recent decline in energy prices. We expect accommodative monetary policy to continue through 2016, and believe the Fed will be unable to reach its plan of four rate hikes during the year. We think the sluggish growth outlook, combined with market volatility, will limit the Fed to no more than two hikes — in line with market expectations. An upside surprise to the Fed Funds rate will likely be concurrent with an improved growth outlook — otherwise the Fed faces a market riot. A downside surprise to the Fed Funds rate would probably be the result of disappointing global growth, which some will say is already occurring. We're not yet in that camp, and will be focusing on that question in months to come. Meanwhile, the Fed, the ECB and their brethren will continue to be the lonely policy makers engaged in trying to improve the outlook for the global economy.