Click on the links to access the printable versions
The horrific terrorist attacks in Paris on November 13 were a stark reminder of the gravely unsettled political situation in the Middle East. The leaders of the G-20 met the week of November 16 in Turkey, and discussions about a way forward in Syria were front of mind. However, the complex nature of the conflicts in the Middle East, along with the varying alliances involved, make major progress extremely difficult. These developments haven't yet created any major warning signs in the financial markets. We've seen little upturn in demand for safe haven assets such as U.S. Treasuries and gold, and oil prices remain near six-year lows. Financial assets are likely to continue to be influenced primarily by the outlook for economic growth and monetary policy, and geopolitical events would need to affect one of those areas to have a sustained impact on asset prices.

The strong October payroll report in the United States has, once again, led markets to conclude that the Federal Reserve is positioned to raise interest rates. If we have another good jobs report before the Fed's December meeting, it will likely raise rates, but the Fed could also be dissuaded by a renewed bout of market volatility. Regardless of whether the Fed makes the first rate increase this year or sometime in the first part of 2016, we expect its pace to be gradual. In that environment, our study of market history and our view of the current outlook suggest that rate increases shouldn't be disruptive to the financial markets. The most negative prospect would be for the Fed to find itself "behind the curve" as inflation takes off. We would need to see a material change in current inflation dynamics or a significant upturn in global growth for that to occur — and we think neither of those outcomes are likely.

While U.S. payroll growth has regained some momentum, import data and retail sales have been disappointing. European growth appears to be holding up reasonably well, as domestic demand is solid but exports are softening. Japan went into a technical recession in the third quarter, but the downturn appears to be driven by an inventory correction. Finally, the slowdown in global trade has hit emerging markets the hardest, and their economies still aren't showing signs of stabilization. All in all, the global growth picture remains relatively slow, with the result that monetary authorities such as the European Central Bank (ECB), Bank of Japan (BOJ) and the People's Bank of China (PBOC) are likely to continue easing monetary policy. In this environment, the Fed will be forced to be cautious in its path of interest rate normalization.


---
U.S. EQUITY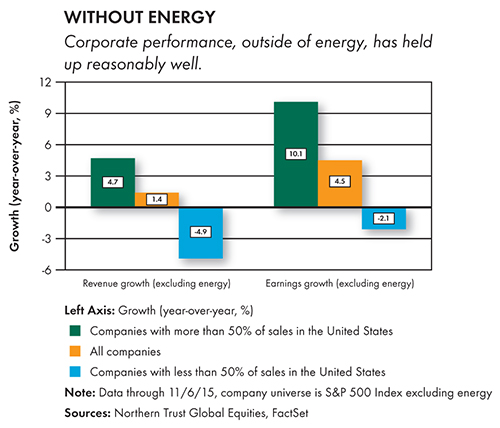 Third-quarter revenue and earnings (excluding energy) show growth.
U.S. vs. non-U.S. focused firms show significant divergence in fundamentals.
As the third-quarter earnings season draws to a close, headline revenue and earnings growth will end up in the red for the second consecutive quarter. While sales growth (excluding energy) of 1.4% and earnings growth of 4.5% aren't exactly robust, the dollar's roughly 18% increase year-over-year has also weighed on results. As evidence of the effect of the dollar and the relatively better growth in the United States, companies with more than 50% of revenue coming from the United States saw revenue growth of nearly 5%, while those with more than 50% of sales outside the United States saw revenue fall 5%. With commodity and dollar year-over-year headwinds likely to abate after the fourth quarter, we expect better growth in revenue and earnings in 2016. This is a key factor supporting our U.S. equity market outlook.
---
EUROPEAN EQUITY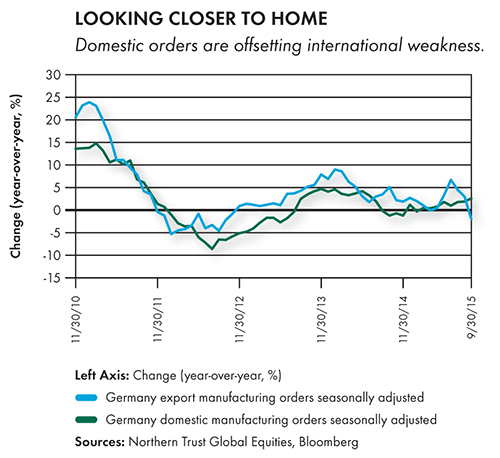 German foreign manufacturing orders continue to lose strength.
German domestic manufacturing orders are offsetting foreign weakness.
The STOXX Europe 600 Index rose roughly 4% during the last four weeks, but was offset by a 5% decline in the euro relative to the U.S. dollar. The European economy continues to surprise to the upside, but this is most likely attributable to relatively low expectations given its slow, albeit steady, growth. Domestic demand is a source of consistent strength, while foreign demand has been weak. In export-dependent Germany, export manufacturing orders have been noticeably weaker since peaking in June, and are down 2% from last year. In contrast, domestic orders have increased 2.6% from last year. With this foreign weakness, total factory orders are now flat over the past year. Therefore, we'll be paying close attention to whether the domestic economy can continue to pick up the slack caused by slower global growth.
---
ASIA-PACIFIC EQUITY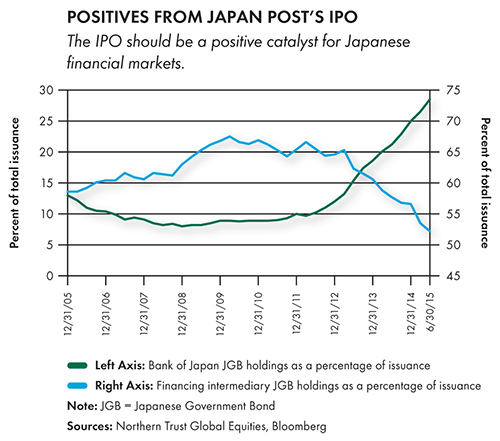 Japan Post's IPO could provide significant monetary stimulus.
The privatization further advances corporate governance improvement.
Japan's equity market rose almost 7% in the last month, offset marginally by a 2% yen depreciation. The Japan Post initial public offering (IPO) should help at least two of the three arrows of Abenomics: monetary easing and structural reform. In regard to monetary easing, Japan Post has roughly 207 trillion yen in assets under management, of which just over half are allocated to Japanese Government Bonds (JGBs). Even if 10% of JGBs are rotated into equities or other assets, it would be the equivalent of three months of monetary easing. The potential rotation out of JGBs also supplies the BOJ with much-needed supply to purchase, as its quantitative easing program becomes an increasingly large buyer of JGB issuance (see accompanying chart).With respect to structural reform, Japan Post's public ownership should drive more shareholder-friendly corporate governance and increased lending from its bank operations.
---
EMERGING-MARKET EQUITY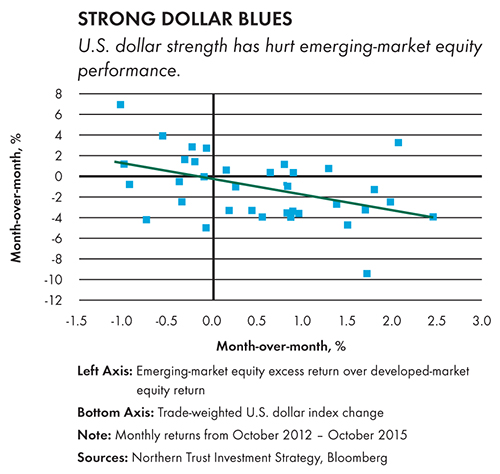 U.S. dollar appreciation has led to underperformance from emerging-market equities.
Fed action during the next year is likely to continue this trend.
Emerging-market equities continue to be heavily influenced not only by growth expectations, but also by currency markets. China's active policy response during the last year, through interest rate cuts, bank reserve standards easing and fiscal policy, has led to some improvement in market sentiment toward growth. In fact, the Shanghai Composite Index has rallied more than 20% from its August lows, and MSCI recently announced plans to add 14 Chinese stocks listed in the United States to its Emerging Markets Index. Despite these developments, emerging-market shares in general have continued to lag developed markets. As shown in the accompanying chart, strength in the U.S. dollar has accompanied relative underperformance of emerging-market equities during the last three years — and we expect that trend to continue.
---
REAL ASSETS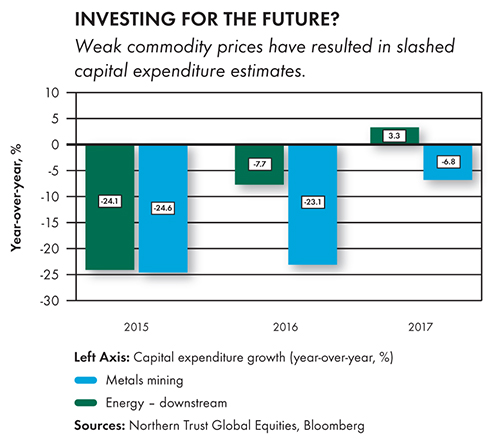 Commodity prices are sliding as the dollar strengthens and inventories remain high.
The battle between short- and long-term fundamentals continues in natural resources.
Weakness has once again resumed across many natural resources. Since mid-October, the prices of key commodities such as oil and copper are down more than 10%. The dollar, which appreciated by 5% during the same period, was the primary culprit, but continued high inventories aren't helping. In a recent report, the International Energy Agency predicted low global demand growth would take an extended period to mop-up excess supply, resulting in an elongated recovery period. Natural resource producers — both in the energy and metals mining sectors — seemingly agree with this lower-for-longer price environment, slashing planned capital expenditures. This sets up the market for a supply response that pushes prices higher at some point. But that point appears to be pushed out once again, and we remain tactically underweight.
---
U.S. HIGH YIELD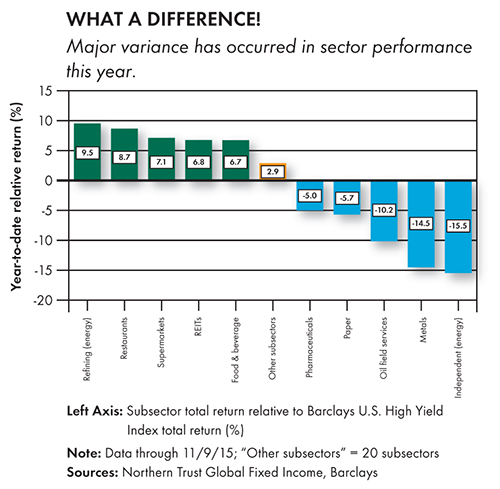 Even though high yield is roughly flat this year, a few sectors have shown negative returns.
A return differential among sectors creates opportunity.
Even though the Barclays 2% High Yield Index return is -0.5% through November 9, there's been a wide dispersion in returns. There's a 26% return differential between the best-performing sector (refining) and the worst-performing sector (independent energy). Of the 45 sectors in the Barclays index, 34 have positive returns and 16 have returns greater than 5%. In contrast, losses have been concentrated to just six sectors, with returns ranging from -5.5% to -15.9%. These sector returns show that high yield is no longer a beta-driven market fueled by accommodative Fed policy. Therefore, we believe sector and security selection will be key determinants of returns going forward — which we see as an opportunity for active managers with good credit risk management.
---
U.S. FIXED INCOME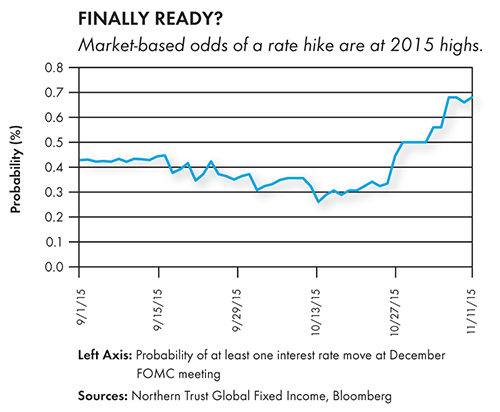 The odds of a December interest rate increase have doubled during the last month.
The projected path of future increases, not the timing of the first move, is the key.
The September Federal Open Market Committee meeting left many investors confused about when the Fed would begin to tighten monetary policy, causing the implied probability of a December rate increase to fall below 30%. In the weeks that followed, the Fed released a hawkish October statement and various Fed speakers positioned for a year-end hike, causing market expectations to climb back up. Most recently, the October nonfarm payroll data came in stronger than expected, pushing the probability of a December rate increase to 68%. While many investors have been focused on the timing of the first rate hike, we feel the projected future path of increases is more important and that the Fed will follow a shallow path as long as inflation remains well anchored.
---
EUROPEAN FIXED INCOME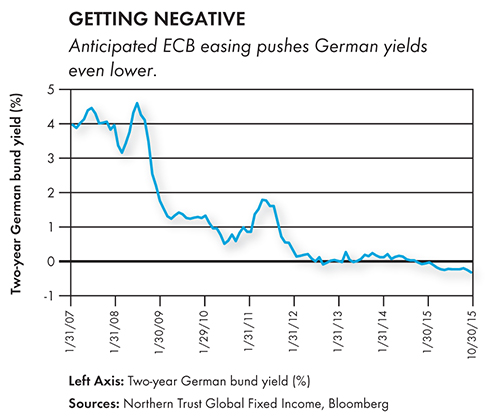 Dovish ECB rhetoric thrusts two-year German bund yields to a record low.
Political developments in Portugal lead peripheral countries back under the spotlight.
Comments from the ECB about slowing global growth have cemented expectations for further stimulus in December. Indicating the ECB's willingness to use any of the available policy tools, markets have priced in a cut in the deposit rate, which has taken short-dated bund yields significantly below the -0.2% floor for ECB purchase eligibility. Whether this will be a preferred measure vs. an extension of quantitative easing is still up for debate, but given the low inflation outlook, we expect the ECB to maintain an accommodative bias beyond 2016. News that minority Socialist parties in Portugal are combining efforts to push out the recently elected right-winged government has reignited concerns over progress in the peripheral European countries. Portuguese spreads have risen as a result, adding to the pressures on the ECB.
---
ASIA-PACIFIC FIXED INCOME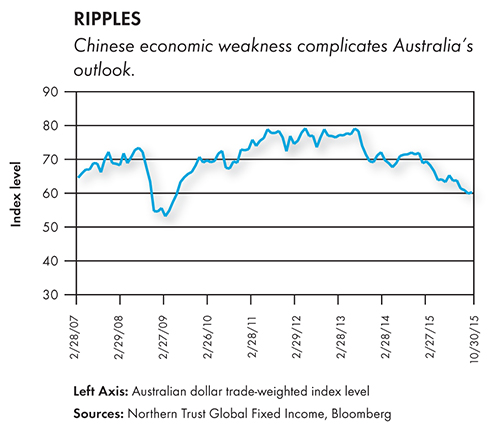 The PBOC has stepped up its monetary easing.
The Reserve Bank of Australia faces pressures to cut rates.
Last month the PBOC announced a number of rate reductions to both bank lending and savings rates to boost domestic demand. Additionally, a removal of interest rate controls underlined the authorities' commitment toward financial market liberalization. Together, these measures reduce the odds of a hard landing in China, which has helped stabilize market confidence. However, set against seemingly ambitious growth targets, we expect more policy stimulus early in 2016. With heavy exposure to Asia and the commodity sector, the reduction in the Reserve Bank of Australia's official growth and inflation forecasts were no surprise. This dovish message keeps the door open for a further reduction in interest rates, but the Australian dollar is already close to its low seen at the time of the global financial crisis.
---
CONCLUSION

We used the downturn in risk assets in August and September to add to our recommended tactical risk exposure, on the view that we were experiencing a garden-variety correction and not the start of a bear market. During this month's investment strategy discussions, we faced a fundamental outlook with little major change, other than asset prices that had rallied back from the selloff. With our tactical positioning modestly overweight risk assets, we stood pat with our policy recommendations as we didn't see any compelling market opportunities.

Of the fundamental developments during the last month, the increased likelihood of a Fed rate hike garnered much discussion. We've felt that the Fed was predisposed to raise rates away from the zero-bound, but kept running into roadblocks. With a moderation in global market volatility, and the resumption of good job growth in the United States, the way has been cleared for the initial hike. Our study of historic rate cycles indicates that most asset classes can perform well during the initial phases of the rate cycle. The key issues are proper preparation of the markets and confidence that the rate cycle isn't going to lead to an economic recession. Even though we have some concerns about the effectiveness of its communication policies, we're comfortable that the Fed won't raise rates so quickly that they'll choke off the expansion and throw the economy into recession.

We've discussed for months our risk cases involving the potential for a hard landing in China and fallout from the strength of the U.S. dollar, and they remain concerns. The U.S. Congress delivered a positive surprise last month by agreeing on both a budget deal and an extension of the debt ceiling, which puts those issues to rest until after the 2016 presidential election. We added a new risk case to our outlook this month, and this involves the importance of improved communications from the Fed. The Fed's mixed message from the September meeting caused unnecessary market uncertainty, which the Fed has (so far) managed to moderate. However, with the first rate hike likely taking place during the near term, the Fed's communication about the pace of future rate hikes will be critical. In addition, its intentions around the management of its more than $4 trillion balance sheet will be a sensitive topic that will help influence investor risk appetite. In the end, the Fed will be operating with one hand tied behind its back because global interest rates will remain low and there's only so much dollar appreciation it'll be able to tolerate.