Northern Update
Read relevant articles on market trends, economic insights and investment perspectives.
Building Bridges — Engineering a link between active and passive investing could combine important aspects of both management styles
Winners and Losers from the Oil Price Crash — Declining prices can prove to be a slippery slope for some
Investment Strategy Commentary — 2015 Outlook – Watching our weightings
Standards Bearer — The Northern Small Cap Core Fund seeks outperformance through quality and diversification
Northern Advantage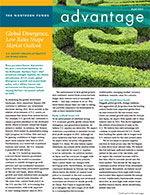 Guide to Northern Funds mutual funds and services.
Global Divergence, Low Rates Shape Market Outlook — U.S. Market Remains Attractive on World Stage
IRA, ESA contribution forms arriving soon
Northern Update content moves to website
MarketScape showcases Northern Trust Insights
Shares of the Northern Funds are offered only by a current Prospectus and are intended solely for persons to whom shares of US registered funds may be sold. This site shall not constitute an offer to sell or the solicitation of an offer to buy nor shall there be any sale of shares of the Northern Funds in any jurisdiction in which such offer, solicitation or sale would be unlawful.