Learn about how, when and why advisors employ investment outsourcing as part of their practice management strategy.

Financial advisors are becoming more open to outsourcing the investment management of client assets. This is a topic in which Northern Trust Asset Management has deep interest. We've surveyed advisors about their investment outsourcing attitudes since 2010. Take a look at our most recent survey results and our historical research to learn about the changing attitudes of financial advisors, and their clients, on this practice management strategy.
2014 Survey Results

Investment Management Outsourcing:
Impact on Clients
How clients react to the news and the changes that result from outsourcing was the focus of our third study on financial advisors' increasing adoption of investment management outsourcing. Intelligence on advisors' perspectives on the impact outsourcing has on their clients and business is also explored in this research. We also queried advisors that don't outsource to understand their viewpoints.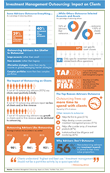 Infographic of 2014 Survey Highlights
Quickly see highlights of the 2014 advisor survey including how advisors rate their satisfaction with the solution and the top reasons they choose to outsource – or not to outsource – their investment management function.

Want More Information?
Visit our dedicated Investment Outsourcing website to access:
Videos
Whitepapers
Historical Research