Northern Trust's Private Equity Group is focused on providing comprehensive private equity solutions to its investors. Since 2001, the group has managed multi-manager solutions and separate accounts for wealthy families and institutions. Leveraging the Northern Trust platform, we strive to deliver attractive risk-adjusted returns.
Private Equity Sectors
The private equity asset class encompasses several different sectors that have different risk/return characteristics.
(Click image to view enlarged version)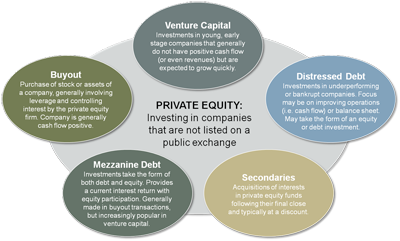 Leveraged Buyout: We target funds in both the U.S. and Europe that are under $1 billion in assets and focused on the lower-middle market. These funds tend to have lower dependence on financial leverage and more focus on operational improvements. We believe smaller funds managed by proven investors can provide the best opportunity for outperformance.
We also opportunistically invest with distressed debt managers looking to ultimately take control of their businesses and create significant operational improvements.
Venture Capital: We look to invest in funds focused on information technology, life sciences and to a limited extent clean technology. Investments are predominately in the U.S., with a small portion in emerging countries such as China and India.
Secondaries: The Private Equity Group selectively buys existing limited partner interests in private equity funds. Secondary investments may mitigate the J-curve and provide quicker return of capital. Secondary transactions are executed in both leveraged buyout and venture capital funds.