OVERVIEW
Even with the slight market pull back in January, the first half of 2014 has provided a fairly steady upward climb for equity markets, although returns have been less attractive than they were in 2013. Given the limited fixed income opportunity set, investors are once again beginning to see the value of hedge fund allocations in portfolios. The current environment continues to provide our managers unique sources of return, and we maintain a disciplined approach to manager selection and portfolio construction on behalf of our investors. Highlights from our midyear review include:
Exciting opportunities in the event driven space given high levels of M&A activity
Continued high conviction in long/short equity strategies, with unique opportunity sets across geographies
Moderate conviction in global macro strategies and continued cautious view of relative value and commodity trading advisors (CTAs) given the challenging environment
Strong practice of risk management and continued monitoring of volatility
Northern Trust continues to approach the hedge fund markets through partnering with smallto mid-sized, niche managers who are able to provide strong performance through differentiated trade opportunities. As a result of these partnerships with select managers and our portfolio construction work, InvestHedge named our NT Alpha Strategies Fund the Star of 2013 for global multi-strategy funds managing between $500MM-$1B.
FIRST HALF OF 2014: EVENT DRIVEN STRATEGIES TAKE THE SPOTLIGHT
"It feels like 2006 all over again!" At a recent hedge fund conference, this was a comment from an event-driven hedge fund manager explaining his joy at the rich opportunity set in this environment. We came into this year expecting a strong backdrop for event driven strategies and have not been disappointed. M&A and corporate action activity has picked up significantly, particularly in the second quarter, as announced and proposed deal volume YTD through May reached levels not seen since 2006. And in 2006, out of the four broad Hedge Fund Research Inc. (HFRI) style indices, the event driven strategy had the highest return for the year.
We believe the conditions remain in place for this trend to continue, including low interest rates, high corporate cash balance sheet levels, accommodative debt capital markets, and rising corporate board room confidence. Management teams need new avenues for earnings growth and have turned to acquisitions as the magic bullet. This year, global hostile M&A stood at the highest level since 2007, creating a positive reinforcing dynamic where companies must "eat or be eaten." This should all continue to provide a rich opportunity set for our equity-oriented event driven managers.
General market valuation levels are higher and have grown closer to more "fairly-valued" levels. We are confident in managers focused on catalyst-rich, idiosyncratic opportunities that are less dependent on the overall direction of the markets, of which activists are a good example. While we expect the global economy to continue to strengthen, we are ever-watchful of late cycle behavior that could eventually lead to the next market correction. As a result, we may see hedge fund managers that can create alpha credit short trades to position themselves for a downturn while also gearing up for the next distressed credit cycle.
(Click to enlarge)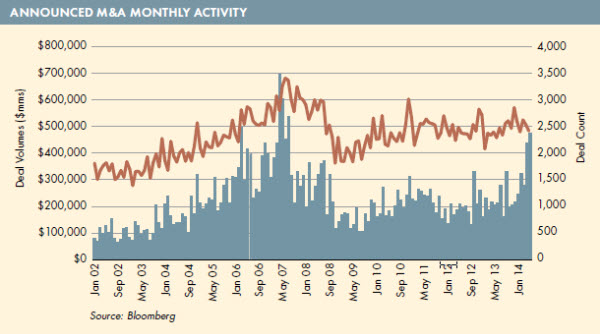 Northern Trust Hedge Fund Outlook
Similar to our full year process, our midyear outlook process involves reviewing our conviction and the opportunity set available across various hedge fund strategies through discussions with our hedge fund managers and leveraging the resources of Northern Trust's investment policy committee and thought leadership. The chart summarizes the highlights of our views, followed by detailed descriptions of what we look forward to the rest of this year. Our research, portfolio, and risk investment team members use the information presented in this piece as a guide to create and manage hedge fund portfolios for our investors.
(Click to enlarge)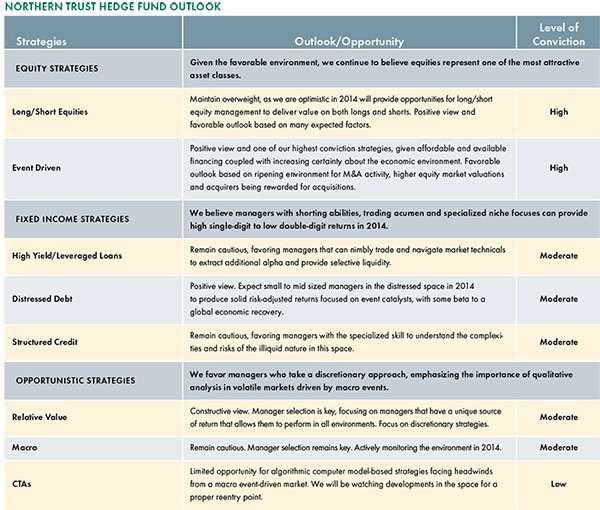 EQUITY STRATEGIES
U.S. View
We entered 2014 with a strong start, as our U.S. long/short equity managers successfully protected capital in January amid the market's drawdown and captured a large portion of the subsequent month's recovery. However, a number of our managers suffered losses partly as a result of a sharp drop in momentum and sell-off of growth stocks during March and April, particularly in the technology and healthcare sectors. Fortunately, our managers generally maintain well-balanced portfolios, and their short books mitigated losses. While we were correct in our expectation of value outperforming growth this year due to accelerating U.S. GDP growth, the sudden rotation out of growth was unexpected and largely driven by a technical unwind. We saw considerable improvement in our managers' performance in the latter part of April and early May as companies reported earnings and fundamentals re-emerged as the primary determinants of stock performance.
Entering 2014, we had an overweight allocation in U.S. long/short equities due to the expectation of an attractive opportunity set for our managers to deliver alpha on both long and short positions. We maintain our high conviction in the long/short equity strategy as we continue to see a constructive setup for fundamental long/short investing and believe that many of the factors that informed this positive view remain intact.
However, we remain vigilant towards the risks that may impact this positive outlook. More recently, the strategy's disappointing performance in March and April has caused concern over the overcrowding of hedge funds in certain stocks to resurface. We have always paid considerable attention to this risk, and monitor it through our position-level transparency analysis as well as through our frequent discussions with our managers. There are also concerns regarding the increased level of market volatility that is likely to accompany the Federal Reserve's tapering of quantitative easing (QE). We believe that incorporating managers with properly balanced portfolios is a key advantage to managing this important risk and mitigating any potential drawdowns that may result. However, it should be noted that an increase in market volatility could actually be a positive development as it may lead to a greater level of intra-stock dispersion, which would benefit fundamental long/short investors.
International View
We have been pleased this year with many of our hedge fund managers that focus on international markets. These managers have added value not only through idea generation, but also through their ability to access a differentiated opportunity set. We continue to source new managers, notably in Europe and Asia (including Japan) and grow allocations to existing managers. Each region (Europe, Asia, and emerging markets) has provided a unique set of opportunities for us to navigate.
In Europe, the Eurozone continues to emerge from its long recession and the backdrop remains generally positive despite a market rotation that occurred during the spring. Our managers generated performance by investing in themes including financials, the rebound in the periphery (e.g. Greek banks), and domestically oriented recovery plays. We had a positive view on Europe heading into this year and continue to maintain a level head about risks given FX considerations and how technicals are stretched and earnings continue to lag. For these reasons, we believe European markets could get a bit rockier over the summer and early fall, but our outlook may be rosier again after the European Central Bank announces its Asset Quality Review results in October. We anticipate a pick-up in lending activity and therefore continue to look for event driven and credit strategies that can take advantage of increased M&A and other event driven situations.
Our views on Asia remain country specific. Given the favorable outlook with which we entered 2014, we have been both surprised and disappointed by the Japanese equity market's performance thus far. However, we remain bullish on Japan in the second half of 2014 as we expect economic expansion to continue to be driven by quantitative easing. We also see many potentially positive catalysts on the horizon. Our view on China remains more balanced. While we do not believe China will encounter a "hard landing," we do expect a slowdown in growth and continued bouts of extreme volatility as the country transitions from an investment-driven to consumer-driven economy. We continue to believe that opportunities will continue in select sectors, including outbound Chinese tourism, technology, gaming and environmental related industries.
We remain broadly underweight emerging markets (EM) as we believe many countries will continue to face cyclical pressures. We are also concerned that short-term growth will be hurt more than expected by the tightening of monetary and fiscal policy that several countries are considering and/or currently undertaking. However, these measures are likely necessary and positive in the long run. We will continue to invest in EM more opportunistically on a country-specific basis. Given that a handful of EM countries have performed poorly on a relative basis since the financial crisis, we anticipate reaching a bottom, and have started to selectively conduct due diligence.
FIXED INCOME STRATEGIES
When we started the year, the consensus view was that rates would continue to rise as the Fed commenced tapering. Instead, the opposite has occurred with a slight rally in 10-year Treasury bonds through mid-June. As a result, traditional fixed income indices, particularly high yield, have had solid returns year-to-date. But with credit spreads relatively tight, coupon rates at record lows, and the economy picking up momentum with unemployment trending down, we find current traditional credit opportunities less compelling. However, we have maintained moderate conviction across alternative strategies in high yield and leveraged loans, distressed debt, and structured credit and have been pleased with the absolute returns our managers have generated thus far this year.
High yield and leveraged loans are hampered by credit spreads that remain at historic lows. While investor flows have been robust over the past year and a half, particularly in floating-rate leveraged loans, they have recently tempered, and we remain cautious over new deal leverage levels with covenant-lite aspects. From a structural aspect, many investment banks have shut down proprietary capital trading desks, and dealer inventory has dwindled to the lowest levels since the credit crisis. With less competition, we see this situation benefitting managers that can nimbly trade and navigate market technicals to extract additional alpha and provide selective liquidity.
In distressed debt, while U.S. corporate default rates remain low, managers continue to benefit from post-restructured equities and liquidation plays. While larger defaulted opportunities have been reduced, our managers continue to see opportunities in smaller issuance size in industries like energy, shipping, power and basic materials. This benefits our group's focus on medium-sized managers who can meaningfully size these smaller opportunities in their funds. In addition, more and more select opportunities are emerging in Europe at attractive levels.
Within the structured credit market, opportunities remain but are more nuanced and idiosyncratic. The beta trade in non-agency residential securities has largely played out as spreads have tightened, having priced in strong gains in home price appreciation. On the other hand, we are more optimistic about the commercial real estate space, which has lagged the residential market and is more idiosyncratic. While prices have risen this year, we continue to see room for further growth on the commercial side as many of these structures have shed risk and de-levered. Additionally, capital market appetite has allowed for bonds to refinance as property values continue to recover.
OPPORTUNISTIC STRATEGIES
At the start of 2014, the more normalized environment led us to be optimistic about macro strategies. In light of the challenges we have since seen in the recent trading environment, as well as volatility remaining at all-time lows, we are altering our conviction to a moderate level. Macro funds generally take long positions on volatility, and the suppression of market volatility created by central bank policies has been a headwind. The HFRI Macro Index was down -2.8% over the past 12 months through April and has annualized at -2.3% over the past three years. However, we are optimistic that opportunities are on the horizon for macro as a result of potential central bank policy shifts. We remain very highly convicted in the managers in which we have invested, but will keep a slightly more cautious outlook given the pockets of opportunity we anticipate our managers to access.
We continue to hold a moderate level of conviction in relative value. This year, relative value managers are beginning to benefit from an improving backdrop of reduced correlation and increasing dispersion across global assets, increasing market activity, and a re-emergence of the convertible bond market. We focus on managers with discretionary strategies and seek those who can deliver a unique source of returns. For example, managers with an ability to invest in off the beaten path strategies, such as Canadian convertible bonds, are able to avoid the crowded consensus trades.
Finally, we eliminated systematic strategies from our portfolios in 2013 and maintain our low conviction coming into this year. In hindsight, this was a good call, as the HFRI systematic index is down -5.8% over the past 12 months through May 2014. We continue to watch developments in the space for a potential re-entry point in CTAs, but this decision to redeem has been a positive move, both from an absolute and opportunity cost basis, as the strategy continues to struggle this year.
Overall, our outlook for these opportunistic strategies is to be cautiously optimistic with a focus on manager selection. Even with the headwinds of a difficult environment for the general strategy, we are finding pockets of opportunity with truly exceptional managers who provide unique sources of return. With the continuation of low yields, flat curves, and low volatility, we see limited opportunity in the traditional trades in these strategies. However, given the potential for increased volatility surrounding the Fed's exit strategy, in addition to the ECB's increasingly aggressive stance towards fighting low inflation, we are aware that the opportunity set in these strategies could potentially expand in short order.
PORTFOLIO POSITIONING UPDATE
In light of opportunities we see in the hedge fund space, our continued conviction in the managers we invest with, and our thorough research process, we retain our strategy targets for our flagship fund. We continue to monitor these opportunities at our weekly investment committee meeting and formally reassess on a quarterly basis with the thought leadership of each of our research strategy leads and our portfolio team. Depending on the outcomes of our research and discussion and market opportunities, we adjust targets appropriately.
RISK MANAGEMENT UPDATE
In Northern Trust's full year outlook for 2014, we discussed the risks in the portfolio that we continue to monitor. Risk management is integral to our process of hedge fund investing, enabling us to best understand the exposures and factors we should be monitoring. In particular, we discussed volatility as being perpetually on our radar. In observing the markets year-to-date, equity market risk remains low overall. Even given the drawdown in global equities in January and some dispersion between growth and value and large caps and small caps, global equities remain up +4.2% through May. This is more positive than the muted returns that were the consensus expectation after a tremendous 2013. While there were some small upticks in volatility, it has remained fairly low. The maximum daily close for the VIX this year has been 21.4, which is below the long term average since 1997 of 22.5. However, on a one-year basis, it has averaged 14.5. The only time volatility has been lower for a longer period was in 2003 – 2007, when it averaged 16.5 for the entire five-year period.
We suspect that investors are investing more in equities, given the unappetizing long-term outlook for bonds from depressed rates through Fed actions. As a result, equity volatility is being depressed. Until QE is completely unwound and the Fed starts to budge on rates, we anticipate equity volatility to remain low. In today's environment, we believe our current overweight to event driven and equity hedge, while historically signalling higher volatility, will actually contribute to returns without adding increased volatility.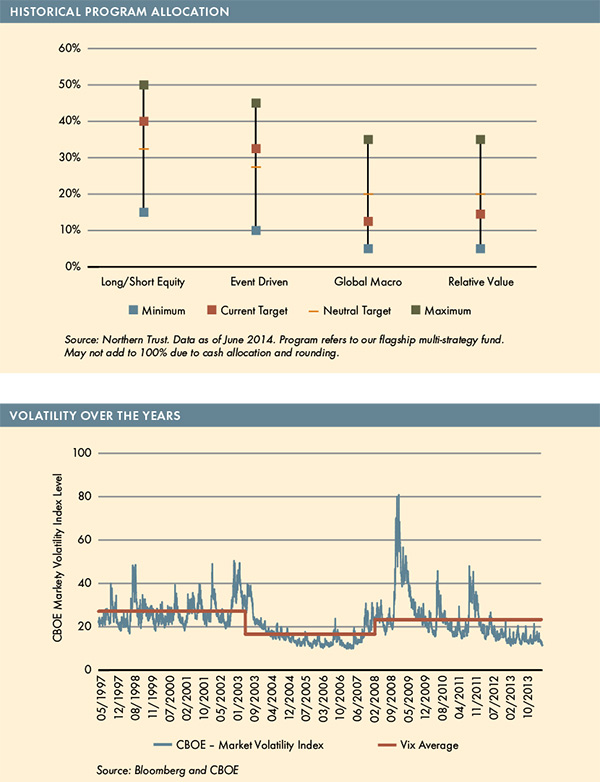 CONCLUSION
As we move into the second half of 2014, we continue to feel confident that we are well positioned and have the right mix of managers to pursue strong performance. Our bias towards smaller, unique and nimble funds has led us to some exceptional managers who have been able to navigate a tough environment while capitalizing on opportunities and taking advantage of the market's advance. As a testament to our hard work, we are proud that our flagship multi-strategy fund has received the Star of 2013 award from InvestHedge in the category of funds within the $500MM - $1B for strong performance and high Sharpe ratios. While we celebrate this recognition, we continue to look at what is ahead and remain optimistic about the opportunities in the market, particularly in event and long/short equity strategies. We believe the second half of 2014 will see a continuation of solid risk-adjusted returns for our portfolios.