Click on the menu links in the left column to view each section of the Northern Trust Perspective. Click on the links below to access the asset allocation chart and the printable version.
U.S. Perspective - to be posted soon
Global Perspective - to be posted soon.
Click on the links to access the printable versions
This month has finally brought us to the conclusion of the U.S. elections, and our expectations of status quo in Washington have come to pass. The markets' focus has immediately turned to the "fiscal cliff," which the Congressional Budget Office estimates has the potential to lead to a 2.9% decline in growth in the first half of 2013 if left unaddressed. While initial pronouncements from both parties have indicated some flexibility, we expect uncertainty to remain high into the first quarter of 2013. On tax policy, certain tax rates are likely to increase, and tax revenue will be one part of the long-term solution to the deficit problem. One of the clearest results of the election is that we're likely to have a more dovish Federal Reserve during the next five years than we would have had under a Republican administration.

The impact on growth from the fiscal cliff negotiation is a wildcard, but we believe neither party sees political benefit by creating a new recession. A key issue to watch in the negotiations is flexibility around taxation of high-income taxpayers — compromise in this area could be the linchpin to a deal. We believe the most likely result of the fiscal cliff negotiation is a series of patchwork agreements as opposed to a grand bargain. The trick will be making sufficient progress on the long-term deficit to avoid further ratings downgrades on U.S. Treasury debt.

The uncertainty around the U.S. fiscal drag comes at a time of continued uneven global growth trends. Solid consumer spending in the United States, along with improving residential construction activity, is helping offset weak capital spending trends. The economic impact from Hurricane Sandy will modestly reduce growth in the fourth quarter, but should contribute to growth in the first half of 2013. Emerging-market growth appears to have bottomed this summer, and we expect it to accelerate into 2013 as previous policy measures help support growth. The improving U.S. and emerging-market growth will, however, be tempered by the accelerating weakness in Europe and Japan.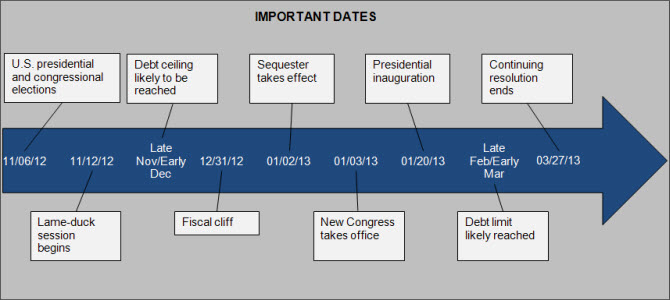 ---
U.S. Equity
S&P 500 (excluding financials) earnings and revenue declined in the third quarter.
We expect growth to resume, and see possibility for modest multiple expansion to drive equities.
With more than 80% of companies reporting, third-quarter results showed the first year-over-year decline in both revenue and earnings this cycle (excluding financials). We've been less optimistic than consensus for 2013 earnings, and downbeat forward company guidance and commentary has led to a lowering of Wall Street estimates. Despite this, consensus revenue and earnings growth expectations reflect a material ramp during the next four quarters. Our forecast is for slower (but still positive) growth, and we see revenue and earnings growth closer in line with one another because of an expectation of more stable operating margins. As we've indicated previously, modest multiple expansion is typically seen at this point in the cycle, creating opportunities for appreciation despite our slower growth forecast.
---
European Equity
The eurozone economic situation is showing fitful signs of improvement.
Stability in the region still appears to be some way off, with Spain the latest country to move close to calling for a European Union bailout.
Eurozone economic data remained lackluster in October, with the battle against recession and austerity measures continuing in Europe. The growth environment, supplemented by the high levels of uncertainty, remains brittle, especially in peripheral Europe. Confidence in the economic recovery slipped for the eighth consecutive month, while unemployment climbed to a high of 11.6% in September. Inflation moved to a six-month high as the eurozone Consumer Price Index increased by 2.7% in September. Retail sales continue to be depressed across the region as the record levels of unemployment continue to bite into consumer spending. Despite S&P's downgrade of Spain's debt to near junk status, the country has yet to request a bailout request is yet to materialize, an elephant in the room that is particularly unwelcome.
---
Asia Pacific Equity
Japan's economy continues to slow as the whole region closely watches China's Politburo handover.
The Australian economy remains relatively resilient despite subdued exports.
In Japan, a slew of data points continue to illustrate a troubled economy. Manufacturing activity shrank, with the manufacturing PMI falling to 46.9 in October. Factory output is also depressed, declining by 4.1% in September. With the eurozone crisis impact still hitting Japanese manufacturing, exports slumped 10.3%, causing the trade deficit to further widen. Japan is the Asian economy most in need of real long-term improvement if it's to extricate itself from deflation. Australia's trade deficit narrowed significantly, with declining imports being the main cause of the decrease. While Australia's economy has been resilient, it's unlikely the outlook will improve until China's economy starts picking up steam.
---
Emerging Markets Equity
Emerging-market economic growth is starting to improve.
We expect improving stock performance to follow.
Last month we wrote about the unusual performance of emerging-market equities, as they underperformed during the last year in a generally rising market. This anomalous behavior continued last month, as they outperformed during a "risk off" period with developed market equities under selling pressure. We believe this is the start of a period of outperformance, as relative economic and earnings growth is set to improve. With China's political transition nearing completion, we expect some firming in that benchmark country's growth to underpin emerging-market growth expectations and investor sentiment toward the asset. With a 12-month horizon, we would overweight emerging-market equities to capture what we believe will be attractive relative performance.
---
U.S. Fixed Income
Investment-grade corporate spreads to U.S. Treasuries reached their tightest levels since 2007.
Corporate credit remains attractive in the low interest rate environment.
The Fed's plan to purchase $40 billion of U.S. government agency mortgage securities each month has driven mortgage spreads tighter, forcing money into the corporate bond market as investors search for yield. We believe corporate debt with five- to 10-year maturities represents good relative value for fixed income investors. This is especially true in the low-interest-rate environment we envision during the next several years as the Fed keeps rates low to try to boost growth and hiring. Corporate balance sheets remain in excellent condition, as corporations continue to carry a large amount of cash and are reluctant to invest in their businesses. This provides fixed income investors with confidence in companies' abilities to repay their debts.
---
European Fixed Income
Pressure continues to mount for Greece to enact austerity measures.
With the Outright Monetary Transactions in place, any future breakup concerns should be relatively muted.
The Greek parliament narrowly voted to pass its latest round of budget consolidation. Three years on from the genesis of the European sovereign debt crisis, the low-hanging fiscal fruit continues to elude Greek politicians. The latest package features job, salary and pension cuts for civil servants. We can ask why it has taken so long to get to this stage, but we must also recognize that Greece is heading toward a sixth consecutive year of negative growth. The political process is able to sustain the social environment for only so long. Once again, we're turning full circle and looking toward European leaders' benevolence to avoid catastrophe.
---
Asia Pacific Fixed Income
Little reform is expected from the new general secretary in China.
Additional rate cuts are expected from the Reserve Bank of Australia (RBA).
The People's Republic of China concluded its week-long party congress and selected Xi Jinping as the next general secretary of the Communist Party. The incumbent president, Hu Jintao, delivered a characteristically cautious speech with little hint of the bold economic reform that many commentators have called for. Unless the new premier deliberately undermines his predecessor, which we view as extremely unlikely, we should expect little innovation from the new leader. In Australia, the RBA once again surprised markets, this time by leaving rates on hold, adopting a wait-and-see approach to future policy, although the phrase "for the time being" certainly implies a bias toward future easing.
---
U.S. High Yield
Media attention has focused on new issues to fund dividends and acquisitions..
Issuance for aggressive activities hasn't been widespread and doesn't change our outlook.
The high yield market has garnered some recent headlines about new issues for purposes that reduce credit quality. There have been several new issues to pay dividends to investors who wish to take out capital prior to possible tax increases in 2013. Potential tax increases have also provided an additional motivation for some owners to sell their companies. Although these issues have caught attention, there hasn't been a broad shift in new issue use of proceeds. In 2012, 23% of new issuance has been for acquisitions, leveraged buyouts and dividends. Recent aggressive issuance hasn't been enough to change the expected default rate or our overall constructive view toward high yield bonds.
---
Real Assets
Global listed infrastructure complements global real estate exposure.
Infrastructure stocks combine high and stable income generation with inflation sensitivity.
As governments deleverage and the burden of infrastructure investment is passed on to the private sector, those companies that can provide such services are increasingly attractive as a fulfillment option within a real asset portfolio. The global listed infrastructure universe spans the spectrum from power generation and shipping to toll roads and airports. Because of the steady cash flows provided by these industries, volatility in the asset class is lower and income generation is higher vs. both global real estate and broader global equities. Infrastructure stock returns, although positive, have trailed other risk assets year-to-date — this is expected given the "risk on" environment. However, the asset class continues to be attractive as an income generator with the pricing power to mitigate inflationary environments.
---
Conclusion
Risk appetite has waned during the last two months as investors grappled with fiscal uncertainty in the United States and with uneven growth signals globally. While the S&P 500 is down more than 6% from its mid-September highs, credit markets have been calmer. Noninvestment-grade high yield bonds have seen credit spreads widen by 0.50% during this period, but investment-grade credit spreads have tightened by 0.10%. This appetite for yield has bolstered other asset classes' performance as well; global real estate has fallen a comparatively modest 2.6% during this period.
While the U.S. fiscal cliff remonstrations will certainly add to market volatility during the next several months, we think the markets' focus gradually will turn to the prospects for global economic growth. With consumer confidence, housing markets and jobs showing some improvement in the United States, corporate capital spending is the notable laggard. While confidence in end-demand is the ultimate driver of capital investment, a reduction in fiscal uncertainty would help. We believe China's prospects for growth should improve next year when new leadership is in place and the measured stimulus-to-date kicks in. The improving growth in the United States and China combined with declining growth in Europe and Japan leaves the global economy generating subpar growth rates. We think this will lead the world's central banks to keep their feet on the gas pedal and, combined with continued cautious investor positioning, leaves us with a supportive environment for risk markets as we look toward 2013.
Our tactical asset allocation recommendations continue to focus on relative value bets rather than positioning for major market moves. With the Fed unlikely to raise rates for several years, we would underweight cash and investment-grade bonds, with the proceeds going to higher yielding assets like U.S. high yield bonds and global real estate. On the equities front, the strength in relative growth rates in the United States and emerging markets leads us to favor those over Europe and Japan. President Obama's re-election bolsters the likelihood of expansionary monetary policy at a time when other global central banks also are expanding their balance sheets to record levels. We think this reinforces our tactical overweight to gold, which we view as more of an alternative currency than inflation hedge.
Jim McDonald
Chief Investment Strategist
---
Investment Process
Northern Trust's asset allocation process develops both long-term (strategic) and shorter-term (tactical) recommendations. The strategic returns are developed using five-year risk, return and correlation projections to generate the highest expected return for a given level of risk. The objective of the tactical recommendations is to highlight opportunities during the next 12 to 18 months where our Investment Policy Committee sees either increased opportunity or risk. The tactical recommendations are highlighted on the first page of this report.
Our asset allocation recommendations are developed through our Tactical Asset Allocation, CapitalMarkets Assumptions and Investment Policy Committees. The membership of these committees includes Northern Trust's Chief Investment Officer, Chief Investment Strategist and senior representatives from our fixed income, equities and alternative asset class areas.
If you have any questions about Northern Trust's investment process, please contact your relationship manager.