Click on the links to access the printable versions
Positive financial market momentum has carried over into the new year, although the results vary noticeably by region and asset class. This move to greater differentiation, if it persists, would be a welcome sign of a return to a more fundamentally driven investing environment. In local currency terms, U.S., Chinese and Japanese shares have led major markets with returns of 6% to 8%, but European equities have struggled to break even. Interest rates have increased in benchmark U.S. and German 10-year bonds by 0.2% and 0.3%, respectively, while credit spreads have held tight across developed and emerging markets as the search for yield continues. Inflationary pressures in commodities have been limited so far, but we're watching the price increases in Brent crude oil and China's food.
Private sector growth trends have continued into the first quarter, particularly in the global manufacturing arena. New order levels have risen each month since July 2012, while employment trends also have been improving. Even though the services sector saw some slowing activity in January, new orders and employment increased. This gradual growth improvement is coming at an opportune time as the United States faces new headwinds to growth through increased taxes and mandated spending cuts.
Easy monetary policy has underpinned market performance for several years, and we believe this will continue to warrant investor attention. Developed-market central bankers face little pressure to tighten policy with core inflation below targets and unemployment levels still elevated. Emerging-market central bankers have monetary policy on a shorter leash because of output gap pressures and greater sensitivity to commodity inflation, but they're also worried about currencies that have appreciated due to global capital flows. We believe financial asset inflation has been an objective of developed market central banks, but talk of a "great rotation" from bonds to stocks seems overstated. Both asset classes have seen strong seasonal inflows at the start of the year, and we think the eventual reallocation from bonds to stocks will be a multiyear affair.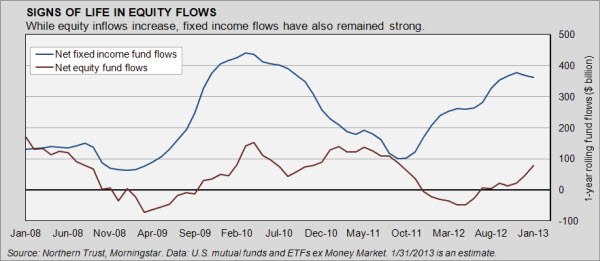 ---
U.S. EQUITY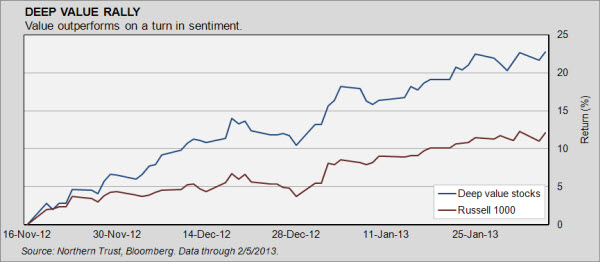 High-quality stocks typically outperform over a full market cycle.
Lower-quality stocks are currently enjoying their time in the spotlight.
Our research demonstrates that the top tiers of quality stocks outperform over a full market cycle. Even though this has been a persistent phenomenon, there are shorter periods where lower-quality stocks will outperform, including in 2009 and the "risk-on" trade in the first quarter of 2012. We saw similarly strong performance by deep-value, high-beta stocks (such as airlines, refiners and certain natural resources stocks) since the election in November, with the group returning 22.7% vs. 12.1% for the Russell 1000 index. We believe this reflects investors' relief following the election and fiscal cliff negotiations, and the fact that the stocks were attractively valued. While this outperformance could continue short-term because of momentum, it doesn't shake our preference for higher-quality companies that should do better across the full cycle.
---
EUROPE EQUITY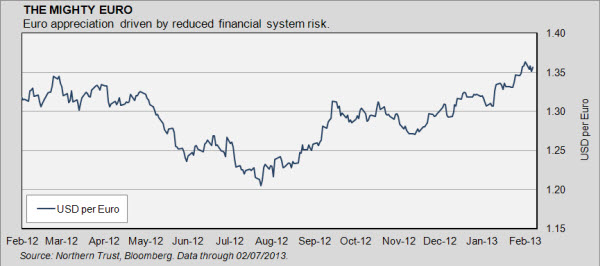 Recent political developments in Spain and Italy are yet to become a meaningful concern.
The German government proposed a bill to reform the banking system.
While allegations of government corruption in Spain and the re-emergence of Silvio Berlusconi in Italy have briefly troubled markets, we believe the situations are manageable. However, investors may once again begin to worry about political turmoil in Europe should Berlusconi start to regain momentum. Fortunately, the European Central Bank can step in with its Outright Monetary Transactions program if long yields in peripheral countries rise sharply, as long as the troubled countries can gather the political will to apply for aid. Germany revealed banking reforms to separate deposit activities from banks' proprietary activities where the latter exceed 20% of total assets or 100 billion euros, affecting 10 to 12 large German banks. The bill also includes the requirement for major banks to provide a national "living will," i.e., reorganization or break-up plans in the event of failure.
---
ASIA PACIFIC EQUITY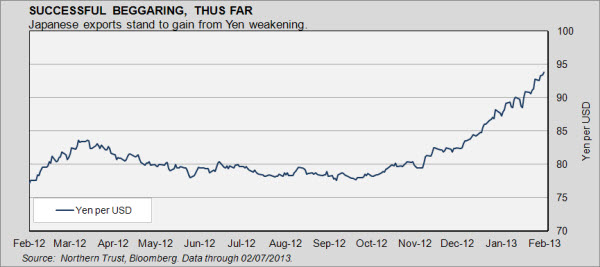 China's central bank expressed concern about inflation in its quarterly report.
The weakening yen is benefitting Japanese exporters.
Japanese and Australian economies remain relatively light on new directional news; regional direction continues to derive from China's growth. The People's Bank of China (PBOC), meanwhile, is expressing concern about inflation, based on the upturn in Chinese growth in the fourth quarter of 2012, and with the loose monetary policies of Japan's and United States' central banks. As a result, the PBOC faces a dilemma regarding the renminbi exchange rate. It either lets it rise to combat inflationary pressure, or forces it lower, as it is currently doing, to make Chinese exporters more competitive against Japanese exporters. Across the Asian sphere, it may be largely a zero-sum game for exporters as the gains of one country will come at the expense of another.
---
EMERGING-MARKET EQUITY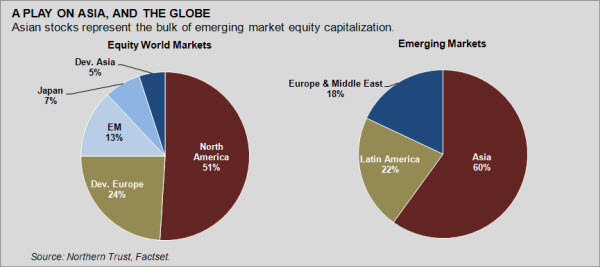 Asia dominates the emerging-market stock indexes.
Domestic growth, along with increased exports, should drive performance.
Emerging-market economic growth continues to be bolstered by strong domestic consumption, but highly variable demand comes from investment spending and export growth. With Asia representing 60% of emerging-market capitalization (led by China, followed by Korea, Taiwan and India), the recent improvement in Chinese growth data is important. But the developed world remains the destination of the majority of exports, so improvement in growth there would be an additional catalyst. Emerging-market stocks are trading at a price-to-earnings ratio (p/e ratio) of just 12.5, compared with a historic median of 15.6, and trade at a larger-than-normal discount to U.S. stocks. We think this high-beta group will begin outperforming if global stock markets keep advancing this year, which is our expectation. One visible risk is higher inflation, interrupting otherwise supportive monetary policy.


---
U.S. FIXED INCOME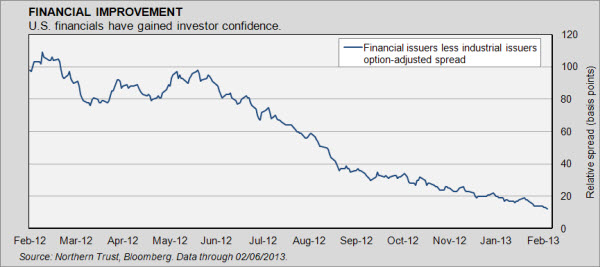 Financial sector spreads tightened significantly in 2012.
We believe spreads can tighten further because of improved financial fundamentals.
U.S. financial companies are in their best shape since 2007. These firms have generated consistent earnings in the past few years, allowing them to replenish the capital they lost during the credit crisis. They have liquid balance sheets, strengthening credit profiles and are experiencing loan growth again. Moreover, they've used the low interest rate environment to refinance their balance sheets at record-low interest rates. Before the credit crisis began, financial companies traded at lower spreads to U.S. Treasuries than industrial companies. We believe this relationship will return as investors continue to reassess their financial stability and creditworthiness. Overall credit spreads, however, are at the bottom end of our expectations, and therefore we expect overall credit returns to be capped by current yields.


---
EUROPE FIXED INCOME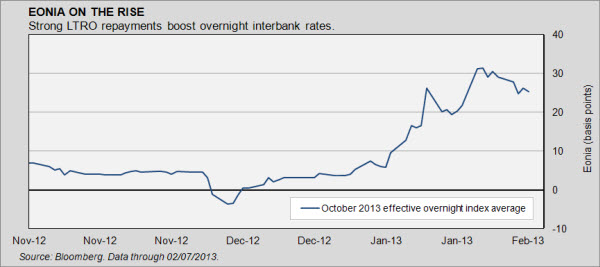 Long-term refinancing operation (LTRO) repayments suggest growing confidence in bank funding.
Recent strength in the euro may hamper the region's recovery.
In January, the first repayment window opened for eurozone banks to repay LTRO loans made a year ago. Originally, approximately €1 trillion were supplied to the banking system for up to three years. The resultant excess liquidity has driven euro short rates to a de facto policy rate of zero. The initial repayment of €137 billion was in excess of most estimates, and as a result, forward Euro Overnight Index Average (EONIA) rates have steepened appreciably. Further expected liquidity reduction has led to a de facto monetary tightening. This is a further sign of recovery in the eurozone structures. However, from a growth perspective, the last thing needed is policy tightening in the face of a rising currency. Taken together it seems unlikely for growth to surprise to the upside this year.


---
ASIA PACIFIC FIXED INCOME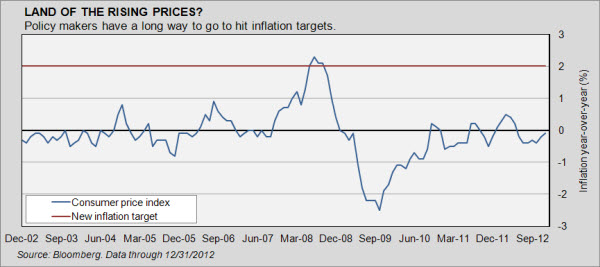 The Bank of Japan (BoJ) raised the official inflation target.
Substantial reform in Japan remains uncertain.
The BoJ's January meeting was hotly anticipated by market participants given the pressure exerted by incoming Prime Minister Abe. The result was a study in constructive inaction. The inflation target was moved from 1% to 2% (previously 2% was a medium term target). With regard to asset purchases, the current program was left unchanged and a new open-ended program was pledged for 2014. Governor Shirawaka is to step down three weeks earlier than planned, which leads to the more important questions of who will lead the BoJ and what new policies may accrue. Turning to China, fourth-quarter gross domestic product increased to 7.9% from 7.4% in the third quarter and further encouragement for Chinese growth watchers (i.e. the entire globe) came with improvements in key January data, such as from the purchasing managers' index.


---
U.S. HIGH YIELD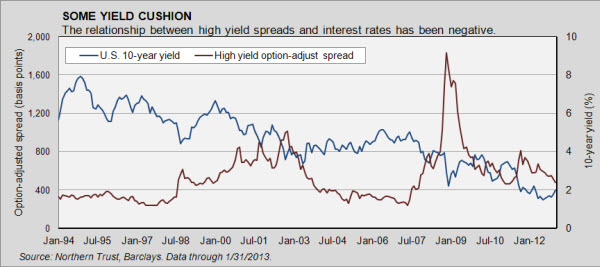 Treasury yields have recently risen, affecting the lowest yielding high yield bonds.
High yield hasn't been highly correlated with interest rates historically.
U.S. Treasury rates have recently increased, with the 10-year yield approaching 2%. This has negatively affected the lowest yielding securities in the high yield market. Across the whole market, however, high yield spreads have been negatively correlated to interest rates (-0.52 correlation over a 20-year period). As shown in the accompanying graph, there were substantial periods in the 1990s where high yield spreads had minimal reaction to rates. For example, the period from 2003 to 2007 shows substantial spread tightening in the face of a rising rate environment. We believe that credit performance of high yield securities overwhelms the interest rate impact on performance. So as long as interest rate exposure is managed, we believe high yield bonds can still perform acceptably in a rising rate environment.


---
REAL ASSETS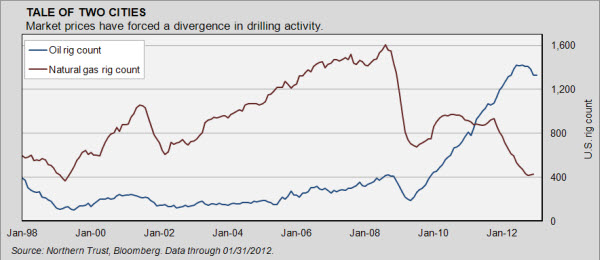 Energy markets are trapped in a fight over short- and long-term factors.
Improving global growth should ultimately provide support for energy prices.
It's a tale of two cities within the energy markets, trapped in a fight over which drivers (short-term or long-term) will dominate the future direction of market prices. Within the oil markets, the price of the U.S.-based proxy for oil (West Texas Intermediate) has remained stubbornly high but materially below its global counterpart (Brent) — to the tune of approximately $25 per barrel — given record high levels of inventory at the land-locked Cushing, OK hub. We expect this differential to decrease as inventories make their way from Cushing to more attractive markets. Natural gas prices have remained low because of mild winter temperatures and negative investor sentiment. However, the potential for a shift to natural gas as the fuel of choice for power generation should provide longer-term demand support.


---
CONCLUSION

We believe the continuing strength in global stock markets is supported by gradually improving economic growth, reduced tail risks and prospects for continued easy monetary policy. While there is much discussion about how long the Federal Reserve will continue its current pace of quantitative easing, we think the market is discounting a slowing of the pace of purchases in the second half of the year if economic data continues to improve. We think we're a long way from the Fed raising interest rates, as progress toward the unemployment threshold of 6.5% will be fairly slow. Thus, monetary policy looks unlikely to upset the risk markets in 2013.
Equity markets, especially those in the United States and Asia, have advanced quickly this year. This raises the question of whether they've come too far, too fast. Even though some consolidation in stock prices would be understandable, we don't believe the market will sell off because stocks have become too expensive. U.S. large-cap stocks are trading at a p/e ratio of 15 times trailing earnings, 10% below the 16.5 median p/e ratio of the market since 1955. We also see value in emerging-market equities, trading at a 12.5 p/e ratio as compared with a median p/e ratio of 15.6 since 1979. The valuation comparisons against bonds, where yields have been suppressed by central bank buying, are even more compelling.
We made no changes to our overweight risk positioning within our global tactical asset allocation policy this month. In the current environment, we see reasonable prospects for equities as earnings growth continues and valuations aren't demanding. In the bond market, we still favor credit, but the very low interest rate environment means that small upward moves in interest rates can quickly offset current income in risk-free bonds. During the near-term, we remain focused on growth trends and how the United States will address its fiscal challenges in a growth-sustaining manner. Longer-term, the primary risk is how successful central banks will be in gradually reversing the low interest rate environment that underpins current corporate finance and asset allocation policies.