Mixed Economic News – Jobless Claims, Philly Fed Survey, Leading Economic Indicators
July 21, 2011
Download PDF Version
Economic reports - jobless claims, Philly Fed survey, leading index - published this morning contain mixed economic news.  Initial jobless claims rose 10,000 to 418,000 for the week ended July 16.  The 4-week moving average holds at 421,250.  Continuing claims, which lag initial claims by one week, declined 50,000 to 3.698 million.  Each of these claims numbers point to continued weakness in hiring.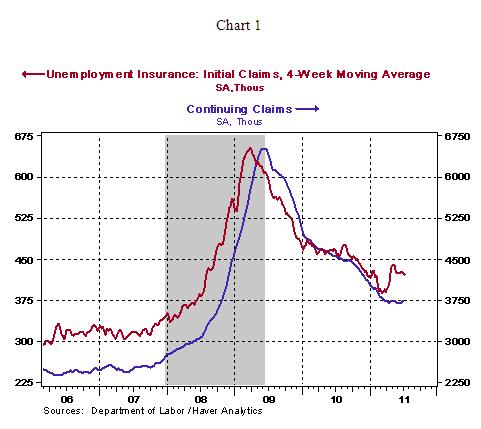 The Federal Reserve Bank of Philadelphia's factory survey gives an early glimpse about factory conditions.  The survey results for July show a small improvement.  The July diffusion index of current conditions turned positive (+3.2) after a negative reading in June (-7.7).  Indexes tracking new orders (+0.1 vs. -7.6 in June), shipments (4.3 vs. 4.0 in June) and employment (8.9 vs. 4.1in June) moved up slightly.  The diffusion index measuring business conditions six months ahead posted a strong increase (23.7 vs. 2.5 in June) and capital expenditures (18.1 vs. 12.9).  Summing up, the July report contains traces of improvement.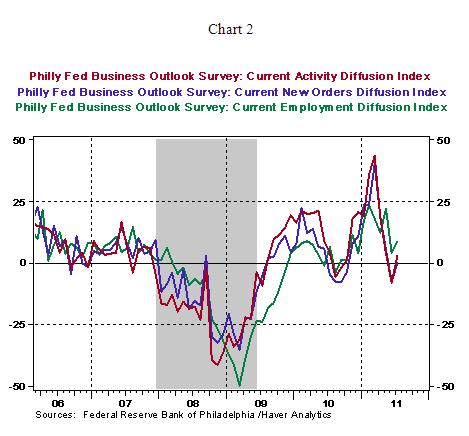 The Conference Board's Index of Leading Indicators (LEI) rose 0.3% in June, following a 0.8% jump in the prior month.  In the second quarter, the LEI increased 5.5% from a year ago, nearly matching the increase seen in the first quarter.  The decelerating trend of LEI suggests slowing economic conditions in the near term (see Chart 3). 



In June, real money supply, interest rate spread, building permits, the index of supplier deliveries, and manufacturers' new orders for consumer goods were the advancing components, while stock prices, the index of consumer expectations, average weekly manufacturing hours, and manufacturers' new orders for nondefense capital goods fell.  Average weekly initial claims for unemployment insurance held steady in June.