Global Factory Sector: On the Brink of Significant Weakness?
September 1, 2011
Download PDF Version
The U.S. ISM manufacturing index for August slipped to 50.6 from 50.9 in the prior month. Readings above 50 of the Purchasing Managers' Index (PMI) denote expanding activity. The August reading signals that factory activity is growing in the U.S. economy but a slower rate compared with July. The headline index sends an exaggerated positive message because the strength is from inventories not from production and new orders.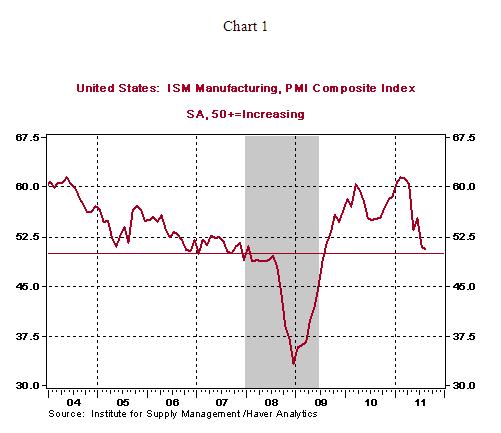 Indexes tracking new orders and production are below 50 and denote contraction, while export orders fell (50.5 vs. 54.0 in July) and stands for slower growth. Historically, the U.S. Purchasing Managers' Index (PMI) advanced one quarter and the year-to-year change in real GDP have a strong positive correlation (see Chart 2). This relationship suggests that July-August average of the PMI (50.75) vs. 56.4 in the second quarter points to a slow economic growth in the final three months of the year compared with the third quarter.

Survey results from across the globe show that factory activity for the most part is contracting. The PMI of China increased slightly (see Table 2). The German factory sector shows an increase in the pace of activity but at a noticeably slower pace compared with July (see Table 2). The overall factory sector of the Euro Zone contracted in August, as is the case with Brazil and South Korea . The overall tone of factory surveys points to the global economy shifting to a lower gear of operation in the third quarter.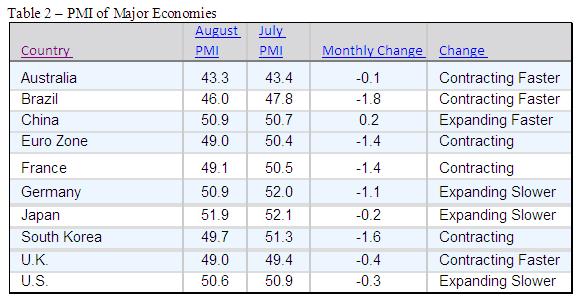 Source: http://blogs.wsj.com/economics/2011/09/01/world-wide-factory-activity-by-country-17/tab/interactive/


Decline in U.S. Construction Spending in July Bodes Poorly for Residential and Non-Residential Structures Components of Q3 GDP

Construction spending numbers are reputed for large revisions. May and June estimates of construction spending show significant upward revisions, but the July readings are on the soft side and augur poorly for residential investment expenditures and non-residential structures of Q3 GDP. All components of construction spending fell in July (see Table 3).




Jobless Claims Fell, Partly Due to End of Verizon Strike

Initial jobless claims fell 11,000 to 409,000 during the week ended August 27 reflecting partly the return of striking Verizon workers. The 4-week moving average (410,250) continues to hold above 400,000. The tally of initial jobless claims of the next few weeks will be distorted by the impact of bad weather in the East. Continuing claims, which initial jobless claims by one week, dropped 18,000 to 3.735 million. The August employment numbers scheduled for publication on September 2 are most likely to indicate significantly soft employment conditions. The unemployment rate is projected to have risen to 9.2% from 9.1% in July. Payroll employment is predicted to show a moderate increase (+70,000) after a gain of 117,000 jobs in July.






Auto Sales Dipped Slightly in August, Tepid Gain in Q3 Consumer Spending

Auto sales posted a small decline in August to an annual rate of 12.12 million units from 12.2 million units in July. The July-August average of auto sales (12.17 million units) marginally exceeds the 12.15 million unit average of the second quarter. The bottom line is that consumer spending is likely to show only a tepid gain in the third quarter after only a 0.4% increase in the second quarter.

First-Half Productivity of the United States is Disappointing

Productivity of the U.S. economy declined 0.7% in the second quarter after a 0.6% drop in the first quarter. Productivity from a year ago rose only 0.7% (see Chart 6). The positive aspect of a decline in productivity is that hiring should increase but we are yet to see strong back-to-back gains in payroll employment. Reflecting the loss of productivity is the upward trend of unit labor costs (see Chart 7). The mixed implications of this report warrant watching because rising labor costs translate into gains in consumer prices.