Today's String of Economic Reports Present a Mixed Picture Once Again
September 15, 2011
Download PDF Version

It is a challenge to find uplifting economic news these days, so let's start with the good economic data among the string of reports published today. Industrial production moved up 0.2% in August after a 0.9% jump in the prior month. The 3.0% drop in utilities production in August and 2.8% increase in July account for part of the variation in the headline. Factory production increased 0.5% in August after a 0.6% increase in July.

These strong readings are coming from a 1.7% increase in auto production in August and a 4.5% jump in July. Excluding autos, factory production increased 0.3%, matching the increase seen in July. High-tech production increased 1.5% in August after a 0.9% drop in July. Excluding high-tech and autos, factory production rose 0.45% and 0.34%, respectively in July and August. So the long and short of the industrial production report is that the nation's factories are in reasonable good shape.
The diffusion index of industrial production increased 59% in August (see Chart 3), the highest since January. The operating rate of the nation's industries rose to 77.4% in August from 77.3% in the prior month. The capacity utilization rate of the factory sector increased to 75% from 74.7% in July. It is still below the historical average of 80.6%.
The Empire State survey and the Philly Fed survey for September present weak factory conditions, with index measuring new orders showing a decline. These factory surveys contradict the pace of activity depicted in actual production numbers. The nationwide factory survey results for September will be published on October 3.
The Consumer Price Index (CPI) for August increased 0.4% in August after a 0.5% increase in July. Higher prices food and energy prices have raised the overall CPI in the past two months. The energy prices index increased 1.2% in August after a 2.8% gain in July, while food prices have risen 0.4% and 0.5%, respectively, in July and August. Gasoline prices at the wholesale level have dropped in the last three months but retail prices are yet to reflect the decline of the past two months.


On a year-to-year basis, the CPI had risen 3.8% in August. The core CPI, which excludes food and energy, increased 0.2% in August, putting the year-to-year increase at 2.0% (see Chart 6). The year-to-year readings of both price gauges are above the Fed's preferred non-official threshold of around 2.0%. The Fed tracks the personal consumption expenditure price index and its associated core. Both of these indexes for July also indicate a rising trend for inflation readings (see Chart 7) The Fed has indicated on several occasions that these price increases are temporary and a moderation is predicted given predictions of moderate growth in the quarters ahead.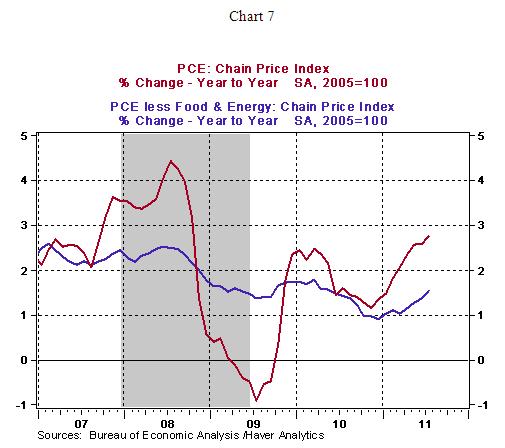 In August, the core CPI, which excludes food and energy, increased 0.2%. The August gain marks the fifth consecutive monthly increase of the core CPI when increases have ranged between 0.2% and 0.3%. The shelter index moved up 0.2%, the fourth monthly gain in a row of at least this magnitude. The index for rent roses 0.4%, the largest gain since June 2008, while owners' equivalent rent increased 0.2%. As a result of these gains, the shelter price index has risen 1.6% from a year ago after declining in 2010 (see Chart 8). Clothing prices have also increased in recent months. In August, the apparel price index rose 1.1% in August vs. a 1.2% jump in July; this price index has shot up above 4.0% from a year ago in August (see Chart 8).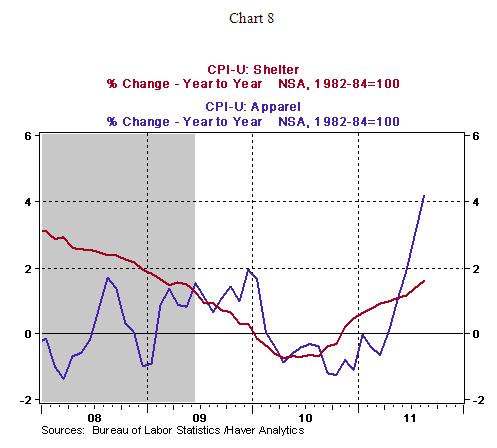 The import price index of goods from China shows a sharp upward trend in recent months (see Chart 9). Although a disaggregated index of imported clothing would be a more superior indicator, the import price index of all goods from China suggests that it may be one of the reasons behind the rapid increase in clothing costs.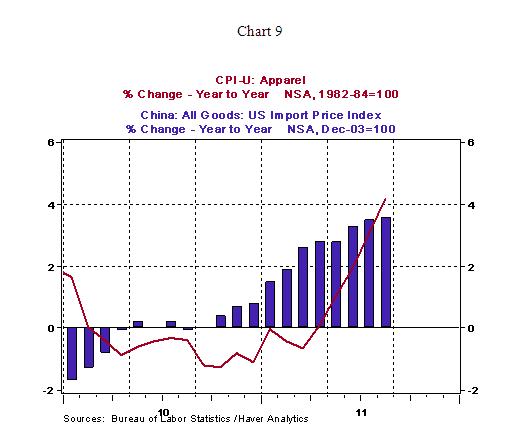 Higher prices for new and used cars and airfares are the other sources of inflationary pressures in the economy (see Chart 10).

Charts 6-10 indicate that there is a noticeable upward trend of prices in place. At the same time, market expectations of inflation (see Chart 11) are well contained. The Fed's latitude to introduce additional monetary accommodation will be restricted if actual inflation readings fail to show a decelerating trend in the next few months. Projections of sub-par growth in the near term make a case for expectations of a moderation in consumer prices. The Fed is most likely to announce further monetary policy easing by way of extending maturities of Treasury securities in its portfolio at the close of the September 20-21 meeting.
The labor market news this morning was disappointing. Initial jobless claims increased 11,000 to 428,000 during the week ended September 10. In the past five weeks, initial jobless claims have increased 29,000. Continuing claims, which lag initial jobless claims by one week, fell 12,000 to 3.726 million. The elevated level of jobless claims remains a source of concern.