April Retail Sales: 2012:Q2 Starts on a Soft Note
May 15, 2012
Download PDF Version

Retail sales rose only 0.1% in April, after a 0.7% jump in March. The swings in gasoline prices have played a big role in influencing headlines. Gasoline prices fell in April and led to a 0.3% drop in purchases. Therefore, numbers excluding gasoline provide a better read on the fundamentals. Excluding gasoline, retail sales advanced 0.2% in April versus a 0.6% gain in the prior month. Unit auto sales were nearly steady in April compared with March. Auto sales in the retail sales report shows a 0.5% increase. Unit auto sales matter in the computation of GDP. Excluding autos and gasoline, retail sales moved up only 0.1% in April, while the 1.8% drop in sales of building materials results in a 0.3% increase in retail sales excluding the autos, gas, and building materials. So, we essentially have a soft report for retail sales even after excluding the usual culprits. The outlook for second quarter consumer spending is somewhat poor if May and June retail sales fail to show stronger growth.


The strength in retail sales during April was from an increase in sales of furniture (+0.7), food (+0.3%), autos (+0.5%), and electronics (+0.2%) which was nearly offset by declines in purchases of apparel (-0.7%), general merchandise (-0.1%), and building materials (-0.8%).

April Consumer Prices Index: Lower Gasoline Prices Hold Down Headline

The Consumer Price Index (CPI) held steady in April, after posting of 0.4% and 0.3% in February and March, respectively. The 2.6% drop in gasoline prices was the primary reason for an unchanged CPI in April. The food price index increased 0.2% in April, matching the increase seen in March. From a year ago, the CPI moved 2.3%, a noticeable deceleration from a high of 3.9% in September 2011. On this front, the Fed's projection of a moderation of headline inflation has been validated (see Chart 2).
The core CPI, which excludes food and energy, increased 0.2% in April after a similar increase in March. The core CPI has risen 2.3% from a year ago in April and has held between 2.2% and 2.3% for the last six months. The Fed's preferred measures of inflation are the personal expenditure price index and the core personal expenditure price index. These measures share the trend of the CPI but the magnitudes of year-to-year changes are smaller (see Chart 3). Irrespective of which measure of inflation is used, two common conclusions are drawn: (1) The all items inflation readings show a distinct deceleration and (2) the core inflation numbers are close to the Fed's threshold of tolerance of inflation. Therefore, is the Fed concerned about inflation more than economic growth at the moment? The Fed predicts that inflation will run at or below the level consistent with price stability, implying that the focus is on growth in the inflation-growth debate. Moreover, the ingredients for runaway inflation are not in place, given the muted pace of economic growth.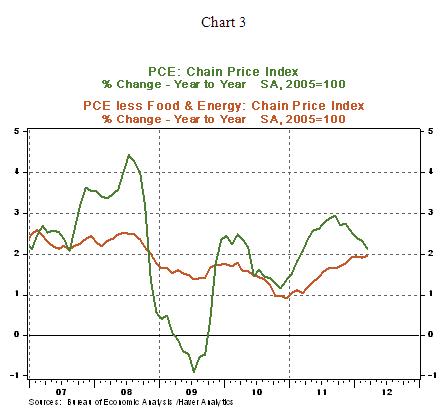 In April, the shelter price index rose 0.2%, the medical price gauge moved up 0.3%, airline fares rose 2.1%, new car prices increased 0.4%, and clothing costs advanced 0.4%. Shelter (the largest component of core CPI) costs continue to advance at a steady but gradual pace and share this trait with that of the services less energy services (see Chart 4). These readings need to stabilize in the near term for the Fed to maintain its current stance.