> Download Funding Educational Opportunities PDF
Planning for the education of a child or grandchild is an important priority for many families. Whether saving starts early or the child is heading to college within the year, numerous options exist to tailor planning to the anticipated financial needs, as well as the time constraints, of the family. Before addressing the "how," a family should first consider the "what." Planning considerations may vary for college and graduate studies or for educational plans that also include pre-school. Likewise, different educational goals involve different types of expenses.

TAX ADVANTAGED CONSIDERATIONS
A family may choose to take advantage of the annual gift tax exclusion–$14,000 in 2014–to cover education expenses without incurring any gift tax liability. Additionally, direct tuition payments for a student attending college or graduate school are eligible for an unlimited gift tax exclusion. The exclusion for direct tuition payments is available regardless of the relationship between the donor and the student, but the tuition payments must be made directly to a qualifying educational institution. The exclusion does not extend to books or room and board, however.

SHORT-TERM PLANNING OPTIONS
An option for parents sending children to college shortly, or wishing to pay for graduate school, is to consider the use of funds in an individual retirement account (IRA). Normally, for both Roth and Traditional IRAs, an early withdrawal prior to age 59½ will be subject to a 10% penalty. However, if an early withdrawal is used to pay for a qualifying post-secondary education expense (i.e. tuition payment for college or graduate school) no early withdrawal penalty will be imposed. In order to qualify for penalty relief, payments must be made for the IRA owner, the owner's spouse, or any child or grandchild of the IRA owner or spouse. If distributions exceed qualified education expenses, the earnings portion of the excess is subject to the 10% penalty. There is no requirement that the payment be made directly to the educational institution. The definition of qualified higher education expenses for this purpose includes tuition, fees, books, supplies, required educational equipment, and room and board for students who attend at least half-time. Although the distribution may avoid the 10% penalty, the typical income taxation rules apply to distributions from Traditional IRAs.

LONG-TERM PLANNING OPTIONS
By some estimates, the cost of a college education for a child born in 2014 will almost triple by the time that child reaches 18. Parents and grandparents of younger children may consider a number of options available to them including Uniform Transfers to Minor Accounts, 529 Plans and, for certain families with larger funding capabilities, education trusts.

Uniform Transfers to Minors Accounts
Uniform Transfers to Minors Accounts (UTMAs) are commonly used for gifts to children and grandchildren. However, if a family is considering using an UTMA to fund education, they should remember that the beneficiary has complete access to the account at age 21 (18 in some states) and use of the funds is not limited to education.

529 Plans
A 529 Plan, also known as a qualified tuition plan (QTP), may be established for post-secondary education. Two types of 529 Plans exist: an individual may contribute cash to a 529 Plan account or, alternately, prepay college tuition for a beneficiary for "qualified higher education expenses." Qualified higher education expenses include tuition, fees, books, supplies, and required educational equipment. Also, if a beneficiary is enrolled at least halftime, qualified higher education expenses include the "reasonable" cost of room and board.

Generally, as long as distributions from a 529 Plan do not exceed the beneficiary's qualified higher education expenses, they are not included in the gross income of the donor or the designated beneficiary. Unlike some other education plans, there are no phase-out limitations of modified adjusted gross income for contribution to a 529 Plan. However, families should remember that distributions in excess of qualified higher education expenses are included in a beneficiary's gross income. If the reason for a non-qualifying distribution is due to any reason other than death, disability or the alternate availability of scholarships, an additional 10% penalty will apply.

When a parent or grandparent contributes money to a 529 Plan, that contribution is treated as a completed gift for gift tax purposes and any gift tax applies in the year of contribution, not distribution. However, contributions qualify for the annual gift tax exclusion ($14,000 in 2014). If a contribution is in excess of the annual gift tax exclusion, the taxpayer may elect to treat the contribution as made over a five-year period. Therefore, in 2014 $70,000 may be contributed to a 529 Plan free of gift tax. This five-year election is not automatic, however. In order to take advantage of the five-year rule, a gift tax return must be filed by April 15th of the year following the contribution.

Once a 529 Plan has been established, it is possible to roll it over into another 529 Plan without Federal tax consequences. Such a rollover must be done within 60 days, and can involve a rollover for the benefit of the same designated beneficiary (as long as no other account has been rolled over within 12 months) or for the benefit of a family member. From a Federal tax perspective, if the rollover is not done correctly, income tax may be due and a 10% penalty may be imposed on the earnings. Additionally, depending on the plan, some states may reclaim the state tax benefits bestowed on the account. Other penalties may apply if the beneficiary is changed. Therefore, a rollover should be undertaken with care and with the assistance of professional advice.

Saving Plans Considerations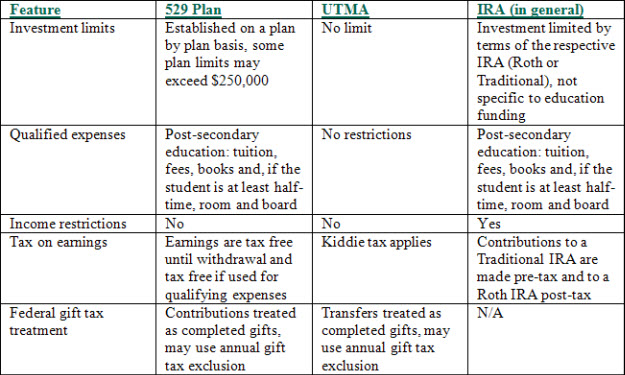 Education Trusts
Some families might consider creating a discretionary trust or a 2503(c) trust for the purpose of supporting the education of children and grandchildren. When establishing an education trust, the settlor may delineate a more expansive definition of education in the trust document, allowing for payments for private schools and other opportunities.

A 2503(c) trust is one example of a trust that may be established for the benefit of a minor for educational purposes. Named for Internal Revenue Code section 2503(c), the trust is structured as a gift of a present interest to a beneficiary for gift tax purposes, fully distributable when the child reaches the age of 21.

For a 2503(c) trust treated as a gift of a present interest, families may choose to take advantage of the annual gift tax exclusion amount ($14,000 in 2014) to minimize or eliminate gift tax liability. If a 2503(c) trust continues past the beneficiary achieving 21 years of age, the beneficiary should be given a right to withdraw the trust for a designated timeframe beginning at the age of 21. When establishing a 2503(c) trust, parents and grandparents should consult with their advisors about potential generation-skipping transfer tax implications.

FUNDING GOALS
Working with advisors to realistically consider options will help increase confidence that children and grandchildren will be fully supported to pursue their education. Additionally, as expenses are paid, careful records will need to be kept, including receipts necessary to substantiate the use of funds for education expenses. Ultimately, thoughtful planning will help families support the education goals of younger generations.

FOR MORE INFORMATION
Wealth Planning Advisory Services at Northern Trust includes financial planning, family education and governance, philanthropic advisory services, business owner consulting, tax strategy and wealth transfer services. If you'd like to learn more, contact a Northern Trust professional at a location near you or visit us at northerntrust.com.

Special thanks to Amanda C. Andrews for her contributions to this piece.