Click on the links to access the printable versions
U.S. Perspective - May 14, 2013 to be posted soon
Global Perspective - May 14, 2013 to be posted soon
What's not to like about stabilizing growth, falling inflation and easier monetary policy? Signs of all three developments emerged during the last few months, and global stock markets rallied in response. In the United States, worries over a "Spring swoon" in the economy have eased somewhat as the labor market generated moderate growth in April and prior job gains were revised higher. The housing market's building recovery is providing a critical offset to the fiscal drag coming from reduced defense expenditures, sequestration spending cuts and increased taxes. We expect this to be a multiyear phenomenon, where strength in construction helps offset softer growth in other parts of the economy.

European growth remains challenged, as unemployment continues to increase across the eurozone. The European Central Bank (ECB) gave politicians breathing space last August through its Outright Monetary Transactions (OMT) program. However, progress so far has been limited to falling government bond yields, with little improvement in the region's growth prospects. Signs of improving growth are emanating from Japan, as consumer and business confidence is rising in the wake of the Bank of Japan (BOJ's) massive bond-buying program. While the exact level of China's growth remains of debate, the majority of the world's fastest-growing economies remain in the developing world.

Amid this stabilizing growth environment (at still-disappointing levels), the world's central banks remain committed to low interest rates and easy monetary policy. The ECB finally responded to its weak growth outlook by reducing interest rates, and the BOJ appears willing to do whatever it takes to boost inflation. The Federal Reserve swatted back the hawks this month by mentioning its willingness to further increase its bond-buying programs should conditions warrant. Finally, emerging-market central banks from India to South Korea also have recently cut interest rates to bolster growth. With such aggressive monetary policy in place, financial market liquidity remains robust, and investor risk-taking should continue to be rewarded.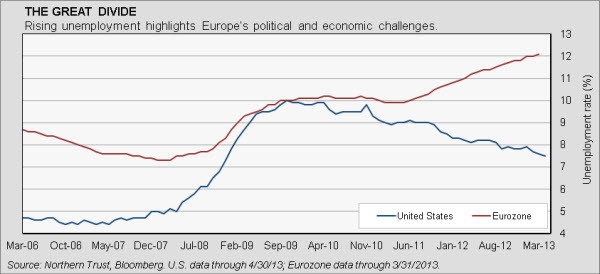 .  
---
U.S. EQUITY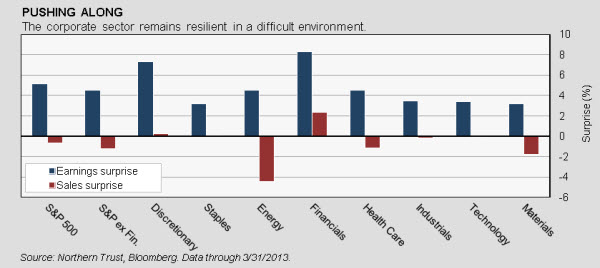 First-quarter earnings exceeded expectations by 5%, but sales were disappointing.
Full-year estimates have moved slightly lower during the earnings season.
Even though earnings have exceeded consensus estimates for the first quarter, cautious management guidance and top-line headwinds — particularly for companies with European and Asian exposure — have contributed to full-year estimates declining modestly (toward our $108 S&P 500 earnings estimate). Downward revisions so far this year have been most notable for the most globally exposed stocks and sectors, including materials and technology, while financials are up modestly and energy has finally shown stabilization. As we have previously indicated, modest multiple expansion is typically seen at this point in the economic cycle, creating opportunities for market appreciation despite the slow earnings growth environment. We continue to think investors will favor U.S. equities, as domestic growth appears dependable and stocks offer a play on global growth.
---
EUROPEAN EQUITIES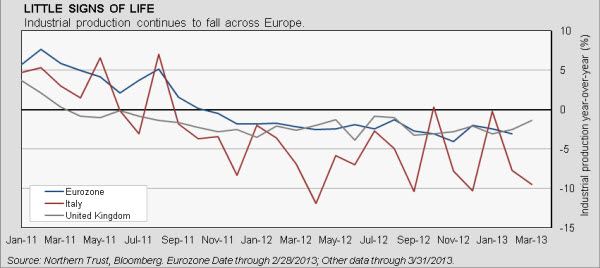 European economies need political leadership.
The United Kingdom sees increased pressure for a referendum on European Union membership.
Europe's economic growth continues to disappoint, with all countries still looking for firm leadership as a route out of the economic quagmire. German Chancellor Merkel has stepped back slightly in the election year to concentrate on domestic issues. One leader who may not fill the void is U.K. Prime Minister David Cameron, because he's facing increased criticism at home after recent poor results in local elections, which have been largely taken as a negative verdict on the austerity drive. Turning back to the continent, Italy formed a new grand coalition in April after a series of increasingly fraught attempts to find a prime minister. Incredibly, Silvio Berlusconi is the king maker and once again will cast his shadow over Italian politics.
---
ASIA-PACIFIC EQUITIES


Markets are expecting Japanese inflation.
More work is needed to sustain Japan's economic growth.
Despite Japan recently reporting a −0.9% year-over-year change in consumer prices, the market expects Prime Minister Abe's economic agenda to gain traction as inflation expectations continue to rise. This would be a dramatic reversal for a nation that has seen its consumer price index average approximately −0.3% since 2000. Meanwhile, household spending increased 5.2% in March over the prior year. A reappearance of domestic demand in Japan would be welcomed by investors of all stripes. In reviewing recent developments, Prime Minister Abe's checklist might read something like this: appoint new central bank team, yen down, Nikkei up, win Upper House elections in July, fiscal expansion, structural reform, wage inflation and then, hopefully, growth.
---
EMERGING-MARKET EQUITY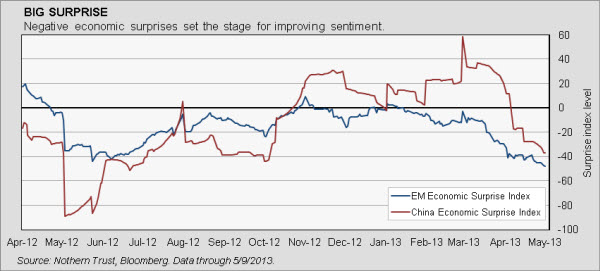 Negative investor sentiment may begin to reverse.
Contribution to global growth shouldn't be underestimated.
Emerging-market stocks kept pace with the strong rally in global equities during the last month, after underperforming handily earlier in the year. Concerns over China's growth haven't abated, but growth in many other emerging economies remains the envy of the developed world. Also, investor sentiment toward these countries may be approaching a nadir, as economic surprises in both China and across the emerging markets broadly have hit a recent low. While China's specific growth rate remains uncertain, growth of 7% to 8% on an economy of roughly $7 trillion contributes about $525 billion annually to global growth. In contrast, the $14 trillion U.S. economy growing at 2% to 3% contributes around $350 billion annually. With valuations of emerging-market stocks at a 22% discount to world equities, we believe they remain attractive both near and long-term.
---
U.S. FIXED INCOME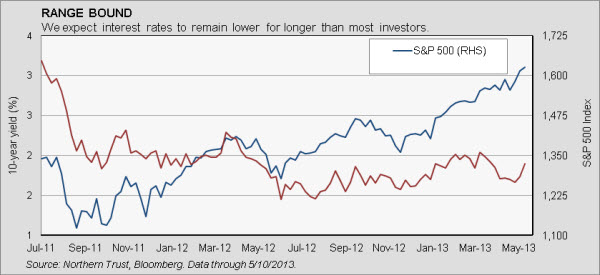 U.S. 10-year yield continues to trade in a narrow range.
Real yields are expected to remain negative during the next several years.
Since the Fed changed its communication strategy surrounding when the Fed Funds rate will begin to rise, the term premium in the U.S. Treasury curve has been reduced. The 10-year Treasury note has traded in a very narrow range since. Indeed, since August 2011, there have been only two range breaks to the upside before settling back into the lower range. The first break occurred in October 2011, when stocks bottomed and European worries diminished considerably. The second break occurred in March 2012, when the market interpreted the Fed as being inclined to raise rates sooner. We continue to believe the Fed Funds rate will remain near zero during the next few years, forcing investors to accept negative real returns in short-term investments.
---
EUROPEN FIXED INCOME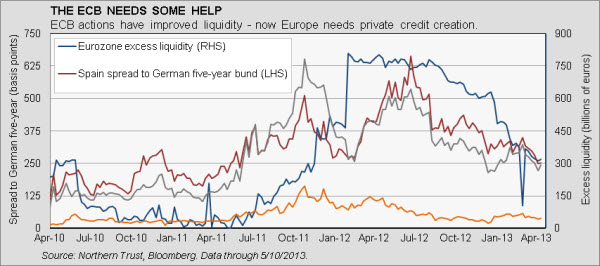 ECB cut interest rates in May.
Periphery countries are unable to gain access to cheap central bank financing.
The ECB met market expectations on May 2 by cutting the main refinancing rate to 0.5%. Citing ongoing weakness in both demand and inflation, ECB President Draghi suggested that further cuts might be in the offing, including the deposit rate (currently at 0.0%). Markets reacted with a collective yawn, underlining the ECB's dilemma. Both the amount and price of liquidity are more than adequate. Unfortunately, private sector credit creation, particularly in peripheral countries, isn't reflective of this cheap central bank financing. A more ambitious credit-easing program has been hinted at, but as usual, the politics, legality and logistics are far from simple. In the meantime, while anti-austerity rhetoric has increased during the past month, no concrete action has been taken on the fiscal side to stimulate growth.
---
ASIA-PACIFIC FIXED INCOME
The Reserve Bank of Australia cut interest rates to a record low.
Chinese economic data continues to modestly disappoint.
The Reserve Bank of Australia cut interest rates to 2.75%, and the country saw its currency dip below parity to the U.S. dollar for the first time in more than 10 months. The Aussie dollar has declined approximately 2% vs. the U.S. dollar in the second quarter after rising more than 50% during the previous four years. While Australia remains one of the faster-growing economies in the developed world, the surging currency has hurt exports during the past several years. Unfortunately, China, one of Australia's largest export markets, reported a lower than expected first-quarter gross domestic product, coming in at 7.7% year-over-year vs. 7.9% in the fourth-quarter and 8% consensus. A reaccelerating China would be a boon to the Australian economy.
---
U.S. HIGH YIELD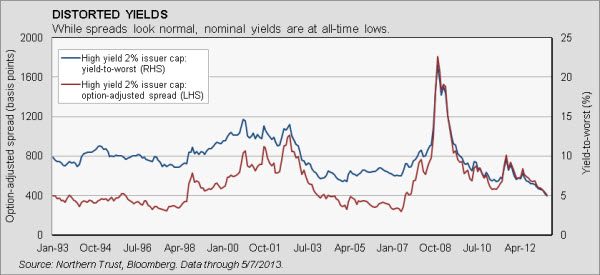 Central bank activity has driven the yield of the high yield index to historical lows.
Although yields are low, spreads are still far from record levels.
High yield bonds appeared to reach a yield floor early this year, as the market feared that a reduction in Fed support would cause rates to rise and even the highest quality bonds to be sold off. However, softer economic numbers in recent months have created the perception that markets would have Fed support indefinitely. In addition, the BOJ's aggressive monetary easing program is driving assets out of Japan as investors seek to avoid currency devaluation. High yield appears to have gained a material amount of these assets, pushing yields to a new low. However, credit spreads are still well off historical lows, and we expect high yield to continue to draw new assets.
---
REAL ASSETS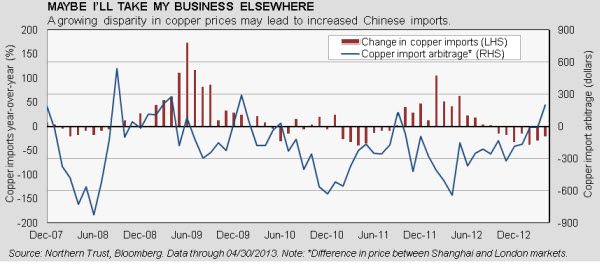 Commodity prices have been soft despite a "risk on" environment.
Various factors potentially are signaling an inflection point.
Capital markets have been in the midst of a substantial and persistent "risk on" rally since November. While global equity markets have increased 21% since their November bottom, the equity-based commodity exposure (proxied by the Morningstar Global Natural Resources Index) has provided only a 7% return, while the futures-based DJ-UBS Commodity Index has fallen 5%. However, there's reason to believe this trend will reverse. China — which we identified last month as a contributor to commodity underperformance — continues to create credit at a rapid pace. Furthermore, China's initiatives to control housing price appreciation may be backfiring as less supply is being brought online, which could tighten the housing market and force the government to rethink its strategy. Finally, technicals are at play — with the difference between copper prices in London and Shanghai creating an incentive for imports
---
CONCLUSION

Global markets continue to view the world's central banks as the major swing factor, because politicians are disappointing, economic growth is uninspiring and inflation is declining. So far, most central banks have played along and even the most reticent, the ECB, has cut rates recently. This behavior continues to shape investor flows into financial markets, as real yields remain negative across most investment-grade fixed-income curves and high yield bonds have reached record-low nominal yields. Only recently, however, have we started to see positive flows into equity mutual funds, indicating that investor risk sentiment is now starting to embrace the level of risk inherent in stocks.

While markets are always subject to short-term volatility, we expect this positive risk appetite to persist. The most likely suspects to derail the markets include an abrupt change in monetary policy, a sudden downturn in economic growth or some geopolitical shock. With most inflationary data during the last several months showing inflation below central bank targets, we think the odds of a central bank pullback are low. We also think the slow but steady economic growth outlook will persist — led by the U.S. housing recovery and Chinese growth in the 7% to 8% range. While we continue to discuss the outlook for the Middle East and the Korean Peninsula, we don't think either currently warrants any action in client portfolios.

With a relatively steady growth outlook, and little prospect for monetary policy change in store, we made no changes to our global tactical asset allocation model this month. We continue to believe several themes will be in play during the next year or longer. First, a slow normalization of the economic and monetary policy environment means there is less need for portfolio hedges (such as gold). Second, we favor those economies that we think are most structurally sound (such as the United States' and emerging markets'). Finally, we expect a persistently low interest rate environment to keep credit spreads tight and investors favoring relatively higher yielding securities in both the fixed income and equity worlds.