Creating pools of assets
Combining individually owned assets of family members or legal entities creates pools of wealth large enough to take advantage of significant investment opportunities as well as "economies of scale" related to investment counseling fees. Northern Trust has substantial experience creating such partnerships for many of the world's wealthiest families.
The most common legal vehicle for doing this is a partnership or LLC (Limited Liability Company.) Partnerships avoid the "double taxation" problem of the corporate form of ownership at the federal level and aren't subject to the participant restrictions of Subchapter S Corporations.
Partnerships can be:
Structured with varying degrees of ownership rights and restrictions, allowing partners to invest in the types of activities with the level of participation they desire
Created to cover almost any investment activity for any number of partners
Made up of individuals, trusts, estates, corporations, or other partnerships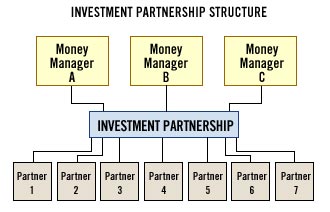 Benefits to using Investment Partnerships include:
Money manager availability—partners with smaller account sizes have the same access to managers as those of larger size
Efficiencies in trading—larger asset block size achieved by pooling creates efficiencies
Lower fees—less paid to individual managers as well as for custody, reporting, and performance analysis services
Number of accounts—fewer managed accounts (due to pooling) reduces overall administrative burden
© 2016 Northern Trust Corporation