Lead, Follow, or Get Out of the Way
After a quiet second half of August, stock market volatility has once again picked up as we enter September. Concerns over slowing economic growth have increased and are highlighted by the August U.S. jobs report, which showed zero job growth. European sovereign credit worries have also been rekindled, as the European Union's policy process continues to stumble forward. Against this backdrop, our expectation is that economic growth will hold up better than bearish expectations, translating into 1% to 2% growth over the next 6 to 12 months.
Our biggest worry remains the European sovereign credit situation, which has been the catalyst for our recommended tactical underweight to non-U.S. equities (and resulting overweight to U.S. stocks) and overweight to gold. While stocks have struggled year-to-date, fixed income and real assets have generated strong returns and have offset much of the equity market weakness. Investors face several key events in the next few months, including potential action by the Federal Reserve, economic proposals from the Obama administration, plans from the Congressional "Super Committee" on deficit reduction, and approval of the European Financial Stability Facility. Lack of political leadership has undermined market confidence this year, and investors want politicians and central bankers to heed the words of Thomas Paine: "Lead, follow, or get out of the way." Without this, it will be more difficult for investors to regain confidence and for market volatility to subside.
EXHIBIT 1: PRIVATE HIRING, PUBLIC FIRING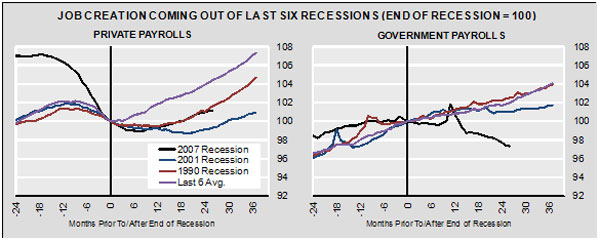 Source: Bloomberg, Northern Trust Global Investments, Data through August 2011 jobs report.
Much of the current economic angst was crystallized in the August U.S. jobs report. Private employers have been adding jobs at a pace similar to or better than recent "jobless" recoveries. What is different this time is the behavior of the government sector. Bond market and economic pressures have forced state and local governments to shed workers, holding back overall job growth. This is part of a desirable long-term rebalancing between spending in the public sector and the private sector, but the fiscal drag will continue in 2012 and beyond. The shrinkage in government work rolls surely will embolden the politicians who believe such reductions are the key to our future success — thereby hardening the political divide in Washington.
The expected third-quarter rebound in the global economy, after Japan bounced back from its earthquake-related disruptions and pressures abated from higher commodity prices, looks set to disappoint. Global purchasing manager indexes (PMIs) slipped in August after holding steady the prior three months. Of note, the United States has been a relative outperformer. After several regional PMIs disappointed earlier in August, both the Chicago PMI and the national PMI (manufacturing and nonmanufacturing) surprised on the upside. This coincides with U.S. data showing good retail sales and solid durable goods orders in July and August. The household employment survey, which is used to compute the unemployment rate, showed better job creation than the payroll report. But even accounting for slightly better U.S. data, it is clear that growth is insufficient. Labor income growth is slowing, imperiling the expected gains from lower inflation in the second half of the year. Declining global growth, high unemployment and financial market stresses all point toward the need for an aggressive policy response.
EXHIBIT 2: NOT MUCH FIREPOWER


Source: Bloomberg, Gallup, Northern Trust Global Investments. Data through 8/31/2011.
President Obama is set to announce his jobs program on September 8, after the lamentable scrum over the timing of the speech. The signals about his intended policy have been inconsistent. Immediately after the publication of the August jobs report he announced a delay of Environmental Protection Agency rules on ozone limits, to the delight of the business community. He subsequently travelled to Detroit to give a fairly mainstream Democratic Labor Day speech. Congress hasn't passed much legislation this year (29 laws in total, of which 13 just extended current laws and five involved the naming of buildings). Republicans seem to be disinclined to compromise unless they are able to extract significant concessions — a President with an approval rating this low is going to have a big challenge getting a split Congress to cooperate. So President Obama has to offer some significant policy concessions to the Republicans if he wants to see his proposed legislation pass.
The Fed has telegraphed a dovish position with its pledge to keep short-term rates near zero through mid-2013, and through its discussion of alternative paths to easy monetary policy. The recent expansion of the September meeting to two days also is an indication of the seriousness of the Fed's focus on alternative actions. The data that has been reported since the August 9, 2011, Federal Open Market Committee meeting has been on the weaker side, especially when considered alongside the European debt crisis situation. We think the odds of the Fed further easing monetary policy at this upcoming meeting have increased, but may be constrained by the Fed's already ballooned balance sheet and a hostile political environment. An "Operation Twist" (selling short-term bonds to buy long-term bonds, with no expansion of the balance sheet) seems to us to be the most likely outcome. This will have a continued effect of signaling the Fed's resolve to support growth and avoid deflation, but the impact will likely be less than either QE1 or QE2.
Increased tensions in European debt markets are also a major contributor (and maybe the larger contributing factor) to recent market weakness. The markets are again testing policy makers, as Greek two-year debt is yielding more than 40% and Italian 10-year bonds are back at 5.5% (compared to German bunds, which are below 2%). Negotiations on the Greek bailout remain messy, with Finnish collateral demands unmet and the Greek budgetary progress under question. Because European banks own sovereign debt in large scale relative to their capital, the markets have driven the European financial stocks down by nearly 31% this year. This nervousness has affected banks' risk appetite, as banks are now less willing to lend to each other and are instead parking their overnight funds at the European Central Bank (ECB). Current overnight deposits at the ECB are elevated, but still below levels from prior stress periods.
EXHIBIT 3: STRESSING IN EUROLAND

Source: Bloomberg, Northern Trust Global Investments. Data through 9/6/2011
We don't have clear visibility toward the eventual solution in Europe, which is why we still consider this the top risk in today's markets. The German constitutional court is set to rule September 7 on the legality of Germany's participation in the European bailouts — which may slow future actions. The Italian government needs to refinance significant amounts of debt over the next month, and will be relying to a significant degree on domestic buyers. So while we are far from sanguine about the path to resolution, we do draw some comfort from the actions banks took to extend their funding during the last several years to make themselves less vulnerable to financing pressures.
Turning to the United States, financial market conditions are showing some signs of stress but remain much healthier than during the 2008-2009 financial crisis. Money market conditions have deteriorated some, but the scale pales in comparison to what was seen then. Bond market indicators, such as credit spreads, have moved up lately — but they aren't close to prior stress levels seen in 2008-2009. Municipal bond/Treasury spreads have risen above levels reached in March 2009, and we think value exists in municipal bonds today. Stock market indicators, such as price returns and volatility, are well off the levels reached in the 2008-2009 period. Comparing these conditions to our most recent analysis ("Voting With Their Feet" from August 12, 2011) shows some small degradation in money and bond market conditions, but improved stock market indicators.
EXHIBIT 4: LESS STRESS IN THE UNITED STATES

Source: Bloomberg, Northern Trust Global Investments. Data as of 9/2/2011.
Financial markets hate uncertainty, and both the economic and sovereign fiscal outlooks are unusually uncertain. Our base-case scenario has been that the global economy will slow but will beat pessimistic forecasts, and that stocks offer good long-term value. We have hedged our risk case scenarios by relative value bets on the U.S. stocks over ex-U.S. stocks, and through a tactical recommendation to gold. Fully diversified portfolios historically have been able to weather these difficult markets the best, and have demonstrated that investment-grade fixed income provides the best protection against a downturn in the equity markets.
Special thanks go to Phillip Grant and Jason Mann for data research.

« View other Investment Strategy Commentary, Market Research and Educational Tools
PAST PERFORMANCE IS NOT INDICATIVE OF FUTURE RESULTS.  This material is for information purposes only.  The views expressed are those of the author(s) as of the date noted and not necessarily of the Corporation and are subject to change based on market or other conditions without notice. The information should not be construed as investment advice or a recommendation to buy or sell any security or investment product.  It does not take into account an investor's particular objectives, risk tolerance, tax status, investment horizon, or other potential limitations.  All material has been obtained from sources believed to be reliable, but the accuracy cannot be guaranteed.

Northern Trust and its affiliates may have positions in, and may effect transactions in, the markets, contracts and related investments described herein, which positions and transactions may be in addition to, or different from, those taken in connection with the investments described herein. Securities mentioned are for illustrative purposes only and are neither a recommendation nor an endorsement.
© 2013 Northern Trust Corporation