Twisted Outcomes
Stock markets worldwide regained some stability during the last month, with global stocks increasing nearly 3% for the 30 days ending September 20, and the S&P 500 rallied a hearty 7%. As widely expected at the end of the Federal Reserve's two day meeting on September 21, the Fed announced what is being dubbed as "Operation Twist" – an effort to boost economic growth through lowering long-term interest rates. In its statement, however, the Fed noted "significant downside risks to the economic outlook, including strains in global financial markets." So instead of bolstering risk-taking by lowering interest rates, the Fed statement may have gotten a "twisted outcome" by boosting the risk aversion of traders and investors increasingly worried about both global growth and the European debt crisis. Given this environment, important considerations have been given to the near-term effects of Operation Twist, the market's recessionary signals, the effect of recessions on corporate profits and the performance of stock markets after significant declines.
EXHIBIT 1: FED TWISTS, STOCK MARKET SHOUTS

Source: Bloomberg, Northern Trust Global Investments. S&P 500 data through 9/22/2011.
The extra day the Federal Open Market Committee (FOMC) added to its regularly scheduled September meeting gave it time to design Operation Twist – a reference to a similar Fed-Treasury program undertaken in 1961. In this version, the Fed is planning to sell $400 billion in Treasury securities that mature within three years, using the proceeds to purchase other Treasury securities with longer maturities (six years and higher). The Fed is also now reinvesting proceeds from mortgage-backed securities back into that market. The goal of Operation Twist is to avoid increasing the monetary base (the Fed's balance sheet will remain the same size) while still bringing down longer-term funding costs for both consumers and businesses. The Fed appears to find itself increasingly between a rock and a hard place – with politicians on one side saying further quantitative easing is an abuse of power and the markets saying additional money injections are the only cure for the current economic malaise. In our view, the primary benefit of the twist is the signal it sends that the Fed is committed to boosting growth and employment. We don't feel the lower interest rates will have a meaningful impact, and believe that the Fed may find itself implementing QE3 next year if the economy continues to be weak.
Views on global economic growth have been tempered over the last several months, as the expected bounce-back from the Japanese supply-chain disruption and lower commodity prices has been more muted than forecast. The U.S. leading economic indicator index has risen in a virtually uninterrupted fashion since March of 2009, but its heavy reliance on the money supply and yield curve are not as reliable in an economy with artificially low interest rates and a potential liquidity trap. The U.S. purchasing manager index data from both the services and manufacturing sectors are not flashing recessionary signals. Purchasing manager indexes from both Europe and China have however disappointed of late, and stock market signals show signs of worry. The underperformance of cyclical stocks, starting in July of this year, is one such sign.
EXHIBIT 2: TRADITIONAL INDICATORS FAILING

Source: Bloomberg, Northern Trust Global Investments. Leading Economic Indicator data through 8/2011; Cyclical Stock Relative Performance is calculated as the Morgan Stanley Cyclical Index divided by the S&P 500 and is through 9/22/2011.
We are of the view that the U.S. economy is not going into recession, and that it will outperform pessimistic market expectations. The rate of growth, however, is slow enough that it may struggle to overcome outside shocks. In the current situation, the outside shock could be coming from financial market uncertainty surrounding Europe. We expect a managed default of Greek debt, which is clearly reflected by yields on Greek two-year debt exceeding 40%, and believe the market also views this as the likely outcome. The systemic shock risk lies, therefore, more in the containment of the issue and the capital adequacy of the European banks. Group of 20 finance chiefs announced yesterday that they are "committed to a strong and coordinated international response to address the renewed challenges facing the global economy." While this was probably better than no statement at all, the markets won't be reassured until there are specific plans in place to increase the rescue mechanisms in Europe. Steps to boost capital levels in systemically important banks in Europe are a critical part of the solution.
Since the recent market peak on July 7, the S&P 500 declined 16.5% in price – which clearly reflects a deteriorating earnings environment, but also a riskier overall environment. The corporate sector has been the star performer in this economic recovery, and earnings in the second quarter annualized at a rate of $100 for the S&P 500 – meaning that stocks are currently trading at just 11.3 times trailing operating earnings. Recent corporate reports haven't sounded a recessionary bell, but management teams haven't had a good historical track record in this regard. With this caveat in mind, two companies have reported recently: Oracle Corporation's August quarter results beat expectations and they raised guidance, but Oracle grew right through the 2008-2009 recession, so this may be a false positive signal. In the consumer spending arena, Bed Bath & Beyond reported solid sales results and raised guidance. Our research in the materials and transportation space indicates more worrisome trends, potentially indicating disappointing growth out of China and softening elsewhere. Of note, copper prices fell 7% on September 22 during the stock market sell-off.
EXHIBIT 3: RECESSIONARY IMPACT ON EARNINGS

Source: Bloomberg, Northern Trust Global Investments.
Exhibit 3 shows the decline in earnings realized through the last eight recessions, which averaged 23%. The 44% decline in earnings in the 2007-2009 period was heavily influenced by the global financial crisis, with financial earnings in particular plummeting. Financial company earnings represented 23% of overall S&P 500 earnings in the fourth quarter of 2006, compared with 16% in the second quarter of this year. Technology earnings have jumped from 13% to 18% during the same two periods, while energy and materials earnings have increased from 17.7% to 18.9%. Thus, earnings will still be leveraged to the global economy, but U.S. earnings should not be nearly as vulnerable as experienced during the 2007-2009 period. If we slashed the current operating earnings run rate of $100 by 20% for a recession, the S&P would be currently trading at 14 times earnings – a reasonable multiple on what would prove to be trough earnings.
We have felt that the recessionary risk in the United States was low due to a lack of excesses in the real economy. Evidence of this includes the fact that consumer and public company capital expenditures currently represent just 14% of gross domestic product, a near-record low in the post-WWII environment. In addition, the deleveraging cycle means that credit extension has been meager and hasn't artificially boosted consumption. U.S. consumers have boosted savings, and while this has suppressed spending, it has returned consumption growth to a more healthy relationship with nominal income growth. U.S. corporate leverage is also down, as S&P 500 debt/equity levels have fallen 28% since the end of 2006 (significantly due to the financial sector). Exhibit 4 shows the performance of the U.S. stock market during major declines (such as experienced this July and August). As expected, the ensuing market performance is noticeably worse if a recession occurs. Twelve of the 22 episodes were coincident with recession, with the worst occurring during the 1930s.
EXHIBIT 4: RECESSIONS HOLD BACK THE BOUNCE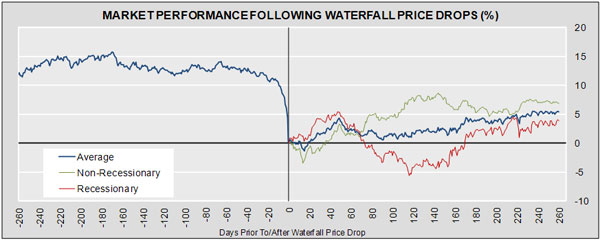 Source: Bloomberg, Northern Trust Global Investments.
Note: Covers 22 episodes of 18% or greater market declines, from 1929 to present.
Chart Concept: Ned Davis Research..
The Investment Policy Committee, in its most recent meeting, focused on the importance of progress on the European debt crisis and the state of the global economy. Worries about both these issues have brought stocks down to attractive valuation levels – U.S. and emerging market stocks are trading at 12.4 and 10.0 times trailing earnings, respectively, compared with historic medians of 16.9 and 13.6 times. We think these valuations warrant a modest overweight to equities today, favoring the United States over Europe, Australasia and the Far East (EAFE), at the expense of investment grade bonds. Although we don't anticipate a recession, we can't rule out the possibility. However, should a recession take hold, attractive valuations should help reduce the downside risk in equities. Treasuries have now outperformed stocks over the last 30 years, with a return of 11.1% vs. 11.0% for stocks. While this won't help with timing, it likely tips the odds in the favor of equities over the medium- and longer-term.
Special thanks go to Phillip Grant and Jason Mann for data research.
« View other Investment Strategy Commentary, Market Research and Educational Tools
PAST PERFORMANCE IS NOT INDICATIVE OF FUTURE RESULTS.  This material is for information purposes only.  The views expressed are those of the author(s) as of the date noted and not necessarily of the Corporation and are subject to change based on market or other conditions without notice. The information should not be construed as investment advice or a recommendation to buy or sell any security or investment product.  It does not take into account an investor's particular objectives, risk tolerance, tax status, investment horizon, or other potential limitations.  All material has been obtained from sources believed to be reliable, but the accuracy cannot be guaranteed.

Northern Trust and its affiliates may have positions in, and may effect transactions in, the markets, contracts and related investments described herein, which positions and transactions may be in addition to, or different from, those taken in connection with the investments described herein. Securities mentioned are for illustrative purposes only and are neither a recommendation nor an endorsement.
© 2016 Northern Trust Corporation