Consumer Spending is Significantly Weak and Likely to Trim Q3 Real GDP Growth
August 2, 2011
by Asha Bangalore
Real consumer spending held nearly steady in June (-0.03%), after declining in April (-0.14%) and May (-0.11%). The level of consumer spending in the second quarter nearly matches the first quarter reading. Essentially, consumers were conservative in June and saved. The personal savings rate as a percentage of disposable was 5.4% in June, up 5.0% in May.
Real disposable income shows a decelerating trend on a year-to-year basis (see Chart 2) since November 2010. Real disposable income recorded gains of only 1.1% in the May-June period. Early in the year, high energy prices held back the growth of real income and spending. Stronger employment conditions will be necessary to revive consumer spending in the near term. Strong monthly increases of consumer spending in each of the three months of the third quarter will be necessary for a 2.0% jump in consumer spending.
The Fed has a dual mandate of full employment and price stability. Economic data fully supported action taken in November 2010 (QE2) when the year-to-year change of the personal consumption expenditure price index and the core personal consumption expenditure price index, which excludes food and energy, were both trending down (see Chart 3) and the unemployment rate stood at 9.8%. In June, core inflation is approaching the unofficial inflation target of around 2.0% and the all-items inflation measure has crossed the threshold of tolerance (see Chart 3). The unemployment rate in June 2010 is 9.2%. The justification for easy monetary policy under current conditions requires more evidence of weakening economic conditions. The GDP report for the second quarter and ISM factory report of June were soft and are supportive of the additional easing of monetary policy. If the economy continues to stall, the Fed would be considering QE3 by the end of 2011 or early-2012.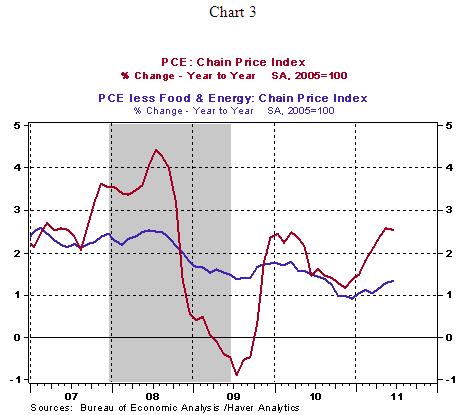 In related news, auto sales moved up slightly in July 12.2 million units vs. 11.45 million units in the prior month. The June 2011 reading is the lowest since a year ago (11.17 million units). Employment conditions should be robust to support a strong performance of auto sales in the rest of the year.
The opinions expressed herein are those of the author and do not necessarily represent the views of The Northern Trust Company. The Northern Trust Company does not warrant the accuracy or completeness of information contained herein, such information is subject to change and is not intended to influence your investment decisions.
© 2013 Northern Trust Corporation