Jobless Claims Holding At Elevated Level
August 4, 2011
by Asha Bangalore
Download PDF Version
Initial jobless claims fell 1,000 to 400,000 for the week ended July 30. Continuing claims, which lag initial claims by one week, fell 10,000 to 3.73 million. Initial jobless claims have ranged between 412,000 and 428,000 for three straight months. The main message is that firms are not hiring at a robust clip. The July employment report is scheduled for publication on August 5. Payroll employment rose 18,000 in June after a small gain of 25,000 in May. Jobless claims data indicate a small drop in initial jobless between survey periods of June and July (429,000 in June vs. 422,000 in July). Payrolls are predicted to have risen 75,000 during July. The market consensus is an increase of 85,000 jobs and an unchanged unemployment rate of 9.2%.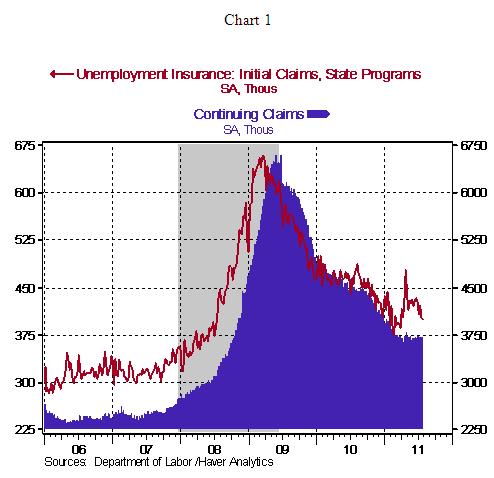 Japan: Currency Intervention Succeeded in March for a Brief Period, Will it Work Now?

The yen closed at 78.74 per dollar on March 17 following the earthquake and tsunami on March 11; a similar strengthening occurred with respect to the euro also at this time. The yen was trading around 82 yen per dollar prior to the natural disaster. The strengthening of the yen led to a massive coordinated intervention of central banks in currency markets by March 18. The intervention was successful in bringing about a depreciation of the yen and the yen/dollar exchange rate closed at 85.26 on April 6. However, as Chart 2 shows, it was a temporary achievement and the yen continued to strengthen thereafter. On August 1, the appreciation of the yen reached a new level, with the yen/dollar rate at 76.87 and 109.14 yen vis-à-vis the euro (see Chart 2). The yen has also strengthened vis-à-vis China's renminbi (yuan) and the South Korea's won (see Chart 3). The Bank of Japan intervened today; as of this writing, the yen was quoted at 78.85 per dollar, implying that the intervention is successful. But, if recent history is a guide, the probability of a sustained depreciation of the yen is small.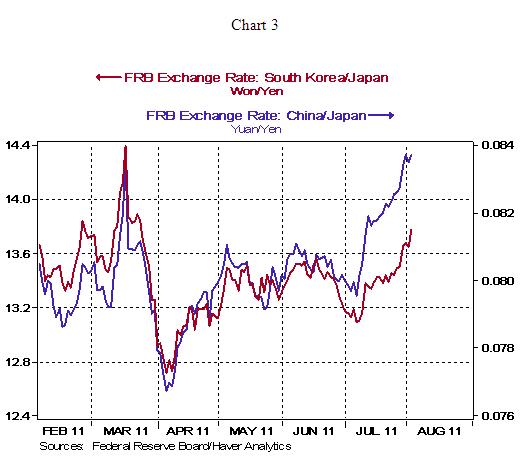 The opinions expressed herein are those of the author and do not necessarily represent the views of The Northern Trust Company. The Northern Trust Company does not warrant the accuracy or completeness of information contained herein, such information is subject to change and is not intended to influence your investment decisions.
© 2013 Northern Trust Corporation