Double Dip – Facts and Forecasts
August 10, 2011
by Asha Bangalore
There is a growing fear that the U.S. economy is likely to experience another recession or a double dip in the quarters ahead. Robert Hall, prior Chairman of the Business Cycle Dating Committee of the National Bureau of Economic Research (NBER), refers to a double dip as a long recession marked by a brief period of economic growth. He explains further that during a double dip "activity might rise for a period, but not far enough to complete a cycle, then fall again, and finally rise above its original level, only then completing the cycle." The U.S. has not experienced such an event in the post-1950 period (see Chart 1).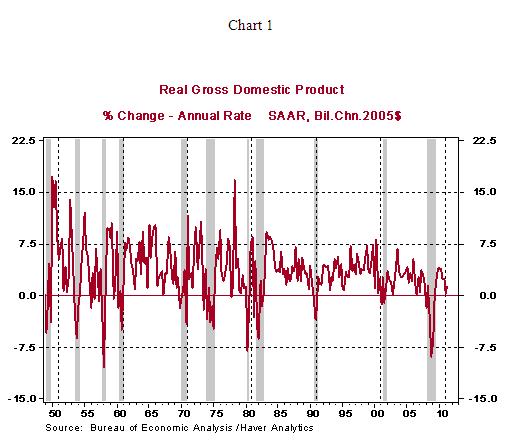 The 1980 recession followed by the 1981-1982 recession is a close approximation of a double dip but the NBER identifies these episodes as separate recessions. The 1980 recession spanned from January – July 1980, while the next recession stretched from July 1981-November 1982 (see Chart 2).
According to the NBER, the recent recession commenced in December 2007 and ended in June 2009. Real GDP has advanced for eight quarters after the recent recession ended, but the level of real GDP in 2011:Q2 held below the peak reading registered in 2007 (see Chart 3). If real GDP declines in the second half of 2011, then the experience would fit the definition of a double dip.
.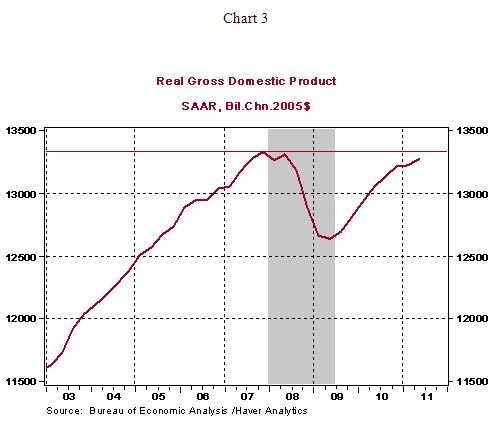 The Fed has not published its new forecast but the tone of the August 9 policy statement implies a significant downgrade of its earlier forecast. The Fed's central tendency of real GDP growth in 2011 was 2.7%-2.9% on a Q4/Q4 basis, as of June 2011. It will be interesting to determine how much the Fed has lowered this forecast when new projections are published. The Blue Chip Consensus forecast for real GDP growth shows a large downward revision in the past month. The August 2011 forecast of real GDP growth for the third and fourth quarters of 2011 is 2.2% and 2.5%, respectively. In July 2011; the consensus was a gain of 3.2% in real GDP in both quarters of the second-half of the year. Our current forecast of real GDP growth for the third and fourth quarters of 2011 is 2.3% and 2.2%, respectively. These predictions show that a double dip is not the baseline forecast, as yet.
The opinions expressed herein are those of the author and do not necessarily represent the views of The Northern Trust Company. The Northern Trust Company does not warrant the accuracy or completeness of information contained herein, such information is subject to change and is not intended to influence your investment decisions.
© 2013 Northern Trust Corporation