"I was sent to Washington to Change the Trajectory of Government Spending"
August 11, 2011
by Paul Kasriel
This is what a number of congressmen and senators have been saying of late. And to them I say, "Mission Accomplished!" As Chart 1 shows, in the 12 months ended July 2011, cumulative total federal outlays were 2.69% higher than cumulative federal outlays in the 12 months ended July 2010. The average year-over-year percent change in 12-month cumulative outlays from 1956 through today has been 7.58%.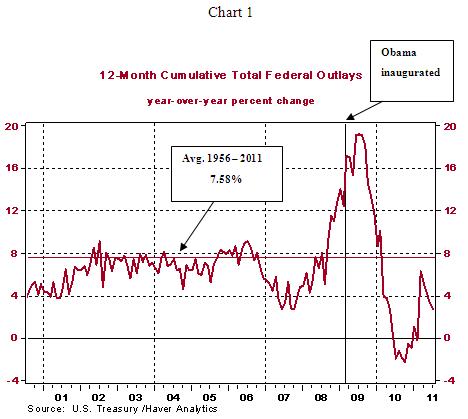 And with 12-month cumulative total federal receipts growing at 8.76% (see Chart 2), the cumulative deficit in the 12 months ended July 2011 was $1.225 trillion, $36 billion less than the cumulative deficit in the 12 months ended July 2010 (see Chart 3). With continued fiscal "progress" of this nature, S&P will be upgrading U.S. sovereign debt faster than the Fed can change its economic forecast!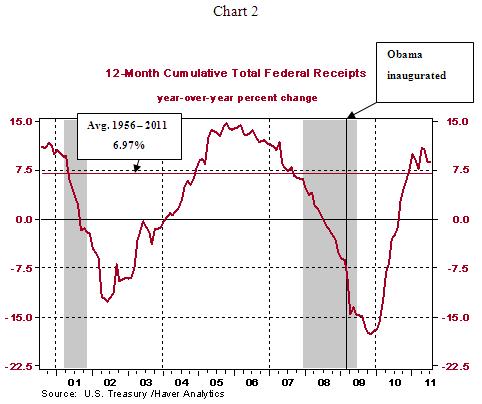 Trade Deficit Widens in June, Knocks Off a Few Tenths of Advance Q2 GDP Estimate
By Asha Bangalore
The trade deficit widened to $53.1 billion during June from $50.8 billion in the prior month. Real exports of goods fell 3.3% in June after a 1.4% decline in the prior month. Real imports of goods dropped 0.2% in June vs. a 1.9% drop in the previous month. The trade deficit is wider than assumptions included in the advance estimate of second quarter GDP. If retail sales and inventories do not call for changes after tomorrow's publication of these data, second quarter real GDP is most likely to be revised down a few tenths from the current estimate a of 1.3% increase. The trade deficit widened vis-à-vis China, Canada, Mexico, and the Euro area in June compared with May.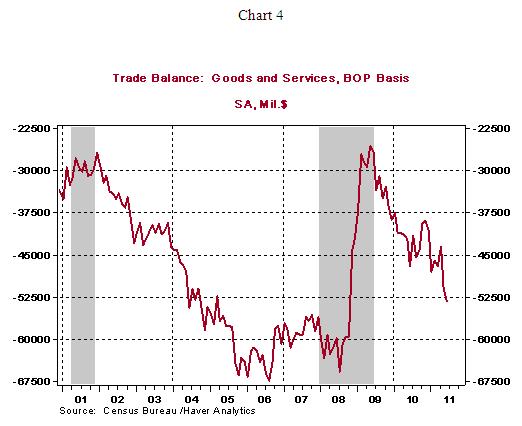 Jobless Claims: Direction of Change is Noteworthy, But Magnitude is Paltry
Initial jobless claims fell 7,000 to 395,000 during the week ended August 6. This is the lowest level since April 2, 2011. The four-week moving average stands at 405,000, but this reading still exceeds the low seen in the first week of April 2011 (see Chart 5). Essentially, a part of the gain in initial jobless claims of recent weeks has been wiped out, but we need to see further declines to declare that it is a meaningful improvement. Continuing claims, which lag initial claims by one week, fell 60,000 to 3.688 million, while the 4-week moving average has held virtually steady since March 2011 (see Chart 6). Going forward, jobless claims numbers have to show readings that are below the current levels to say with strong conviction that the labor market has improved.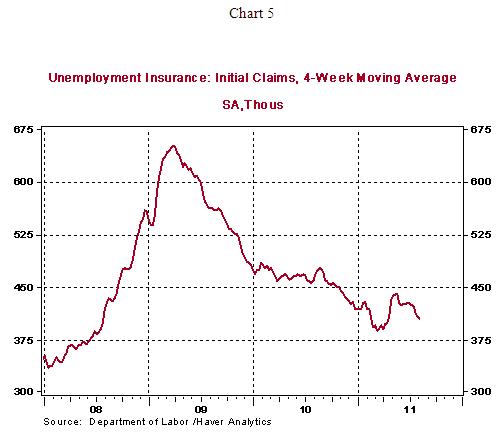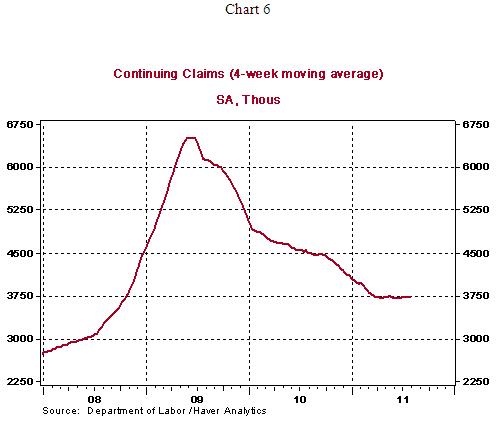 The opinions expressed herein are those of the author and do not necessarily represent the views of The Northern Trust Company. The Northern Trust Company does not warrant the accuracy or completeness of information contained herein, such information is subject to change and is not intended to influence your investment decisions.
© 2013 Northern Trust Corporation