Pickup of Consumer Spending in July is Noteworthy, But Lacks Durability
August 29, 2011
by Asha Bangalore
Real consumer spending increased 0.5% in July after holding steady in May and June. Consumer outlays of durables (+2.0%) raised the overall reading; it was largely an increase in purchases of cars (12.2 million vs. 11.6 million in June). The 0.5% gain in service expenditures reflects a big increase in health care expenditures. Purchases of non-durables declined 0.3% in July vs. a 0.4% increase in the prior month. Personal income advanced 0.3% and saving as a percent of disposable income was 5.0% in July. Strong employment and income growth are necessary to support consumer spending. Real disposable income advanced 1.2% (see Chart 1) from a year ago but slipped 0.1% on a monthly basis. As Chart 1 indicates, the decelerating trend of disposable income is not favorable for consumer spending.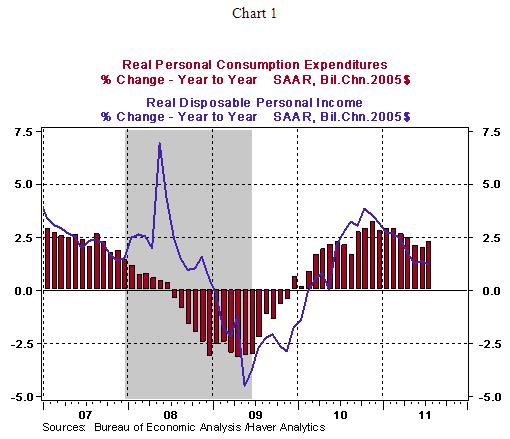 The personal consumption expenditure price index moved up 0.4% during July, after a 0.1% drop in the prior month, putting the year-to-year increase at 2.8%. The core personal consumption expenditure price index, which excludes food and energy, rose 0.2% in July. The core price gauge has risen 1.6% from a year ago. These year-to-year gains of both the overall and core price measures show that an upward of inflation is in place. Stability of energy prices in recent weeks, projections of slow-to-moderate growth of the economy, and contained inflation expectations are factors supporting the Fed's focus on economic growth in the inflation-growth debate.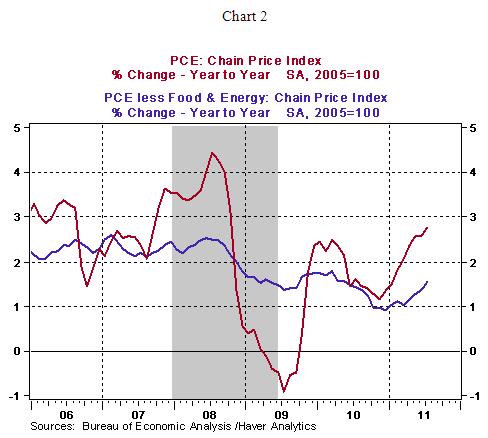 Pending Home Sales Index Slips in July
The Pending Home Sales Index (PHSI) of the National Association of Realtors fell 1.3% in July, after two monthly gains. The PHSI leads actual sales of existing homes by 1-2 months. The July drop of the index bodes poorly for actual sales of homes in August and September. Sales of existing homes have posted declines in three out of the four months ended July. The level of existing home sales is close to recession lows even after two years of economic recovery.
The opinions expressed herein are those of the author and do not necessarily represent the views of The Northern Trust Company. The Northern Trust Company does not warrant the accuracy or completeness of information contained herein, such information is subject to change and is not intended to influence your investment decisions.
© 2013 Northern Trust Corporation