Europe's Economic Woes in Pictures
September 6, 2011
by Asha Bangalore
Equity prices around the world declined today largely in response to the persistent debt crisis in Europe. Let us set the facts straight, Greece is a problem member of EU-27 but wiping out Greece from the European Union (EU) with a magic wand is not the solution. Central government debt of EU-26 as a percent of GDP is marginally different from that of EU-27 (see Chart 1). In other words, the EU's debt woes will plague financial markets until a solid solution is put into place in the near term.
Moving on to near term economic prospects of the region, Charts 2-5 suggest that dark economic clouds are hovering around the EU. The year-to-year growth of Monetary Financial Institution (MFI) credit of the Euro area has a strong positive correlation with year-to-year growth of GDP (see Chart 2). MFI credit growth of the Euro area has slowed to 2.6% growth in the second quarter along with the growth of GDP. EU real GDP grew only 0.2% in the second quarter, essentially a stalled economy. The upshot is that until there is a pickup in extension of MFI credit, the region is most likely to post significantly tepid growth. Monetary aggregates also show a significant deceleration in recent months (see Chart 3), another factor pointing to soft economic conditions. Confirming signals from the financial side of the economy, the Ifo Business Climate Index fell 4.2 points to 108.7 in August (see Chart 4) and new orders for the factory goods fell 2.8% in July, the first drop since March. In sum, economic conditions of the EU remain worrisome.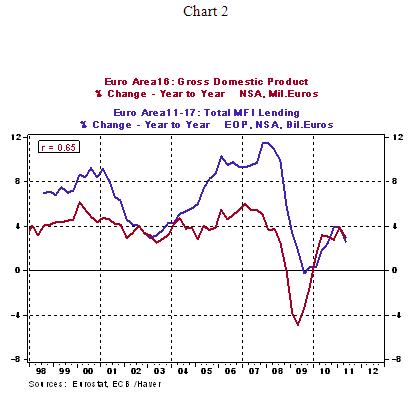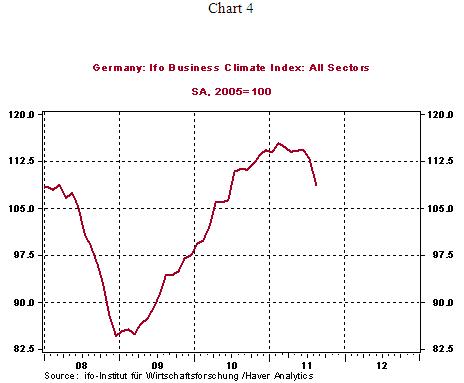 The opinions expressed herein are those of the author and do not necessarily represent the views of The Northern Trust Company. The Northern Trust Company does not warrant the accuracy or completeness of information contained herein, such information is subject to change and is not intended to influence your investment decisions.
© 2013 Northern Trust Corporation