Small Business Survey - Headline and Details are a Source of Concern
September 13, 2011
by Asha Bangalore
The Small Business Optimism Index fell to 88.1 in August from 89.9 in the prior month, marking the sixth consecutive monthly decline (see Chart 1), which speaks volumes of the shaky underlying fundamentals of the small business sector.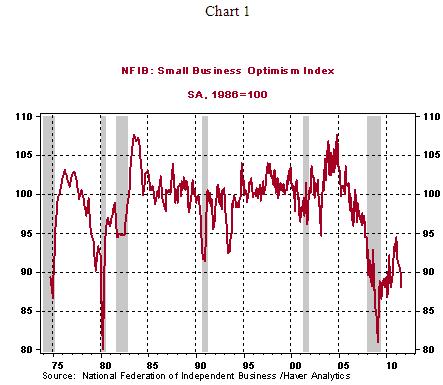 The sub-indexes highlight the pockets of weakness. Twenty-five percent of respondents noted that poor sales have been problematic during August, up from 23% in July (see Chart 2). Among the ten categories of issues that respondents rank as challenges, poor sales received the largest response.
In addition, there was an increase in the number of respondents pointing out that credit is hard to obtain (see Chart 3). Credit keeps the engines of small businesses running. Therefore, tight credit conditions translate to stalled/weak business situations. The details of the survey indicate that the small business sector needs aid to turn things around. Aspects of the American Jobs Act under consideration are suitable to support and promote operations of the small business sector.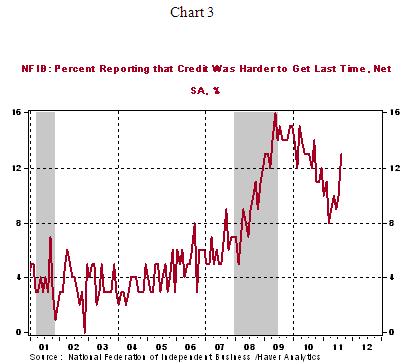 Import Prices of Chinese Goods Continue to Advance
The import price index slipped 0.4% in August, reflecting declines in prices of imported petroleum. The import price measure excluding fuels moved up 0.1% in August. Both these import price gauges show an upward trend (see Chart 4) on a year-to-year basis.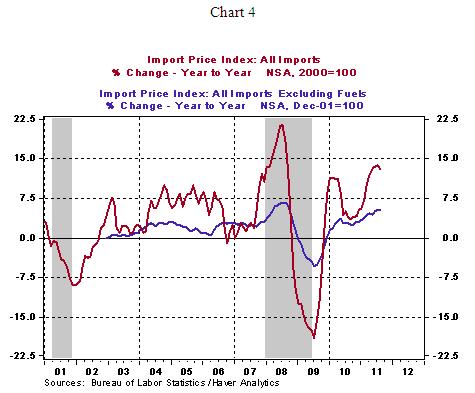 Prices of imported goods from developing countries show a larger gain compared with goods imported from developed economies. Of interest is the fact that the price index of imports from China posted a 3.6% year-to-year increase in August after declining in 2009 and 2010 (see Chart 6). The implication of these numbers is that a complete pass through of higher imported prices to retail prices will occur when self-sustained economic growth close to potential is in place, which is several quarters away.
The opinions expressed herein are those of the author and do not necessarily represent the views of The Northern Trust Company. The Northern Trust Company does not warrant the accuracy or completeness of information contained herein, such information is subject to change and is not intended to influence your investment decisions.
© 2013 Northern Trust Corporation