Retail Sales and Wholesale Prices – "Unchanged" is the Flavor of the Month
September 14, 2011
by Asha Bangalore
Download PDF Version

The headlines for August retail sales and wholesale prices match the payroll estimate for August – "Unchanged." The unchanged retail sales reading for August combined with a small downward revision of retail sales numbers for July (+0.3% vs. first estimate of +0.5%) point to a tepid increase in consumer spending in the third quarter. Consumer spending increased only 0.4% in the second quarter. Putting these numbers together, along with Chairman Bernanke's remarks of concern about consumer spending on September 8, it appears that the economy is in a significantly vulnerable position. The details of the retail sales and employment reports of August make a strong case for Fed monetary policy action at the September 21 FOMC meeting.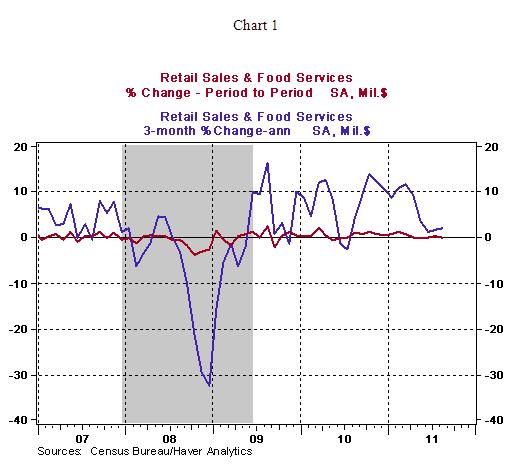 In August, sales of gasoline (+0.3%) rose, with retail sales excluding gasoline holding steady. The drop in auto sales (-0.3%) is consistent with unit auto sales numbers. Purchases of furniture (-0.2%) and apparel (-0.7%) also dropped in August. General merchandise (+0.1%) and building materials (+0.2%) posted small gains. Retail sales excluding the usual culprits, autos, gasoline and building materials inched up 0.1% in August. The July-August tally of retail sales yields only a 1.6% annualized increase in total retail sales vs. a 4.7% increase in second quarter. Excluding gasoline, retail sales moved up 1.9% in the July-August months compared with a 3.1% gain in the second quarter. Therefore, as noted earlier, a tepid trajectory for consumer spending in the third quarter is nearly certain.
The Producer Price Index (PPI) of Finished Goods held steady in August after a 0.2% increase in July. Although the energy price index fell in August (-1.0%), the 1.1% jump in food prices and a 0.1% increase in core PPI, which excludes food and energy, were the offsets. A large part of the increase in food prices was from higher prices for meat, eggs, and processed poultry. Higher prices for tires (+1.4%) lead to a 0.1% increase in the core PPI of finished goods.




At the earlier stages of production, intermediate goods price index and core intermediate goods price index rose 10.3% and 7.6%, respectively. Both these wholesale price gauges suggest that price pressures are abating (see Chart 3). Although it is premature, wholesale prices show a moderating trend and allow the Fed to maintain the easy monetary policy stance.




The opinions expressed herein are those of the author and do not necessarily represent the views of The Northern Trust Company. The Northern Trust Company does not warrant the accuracy or completeness of information contained herein, such information is subject to change and is not intended to influence your investment decisions.
© 2013 Northern Trust Corporation