Details to Note Prior to Fed Announcement on September 21
September 20, 2011
by Asha Bangalore
It is widely anticipated that the Fed will announce new monetary policy support following the 2-day FOMC meeting on September 21, 2011. The Fed is expected to put in place "Operation Twist" to bring down rates at the long-end by purchasing long term U.S. Treasury securities to replace U.S. Treasury securities of short maturities in its portfolio. A large percentage of the Fed's holdings are of 1-5 years maturity (see Chart 1).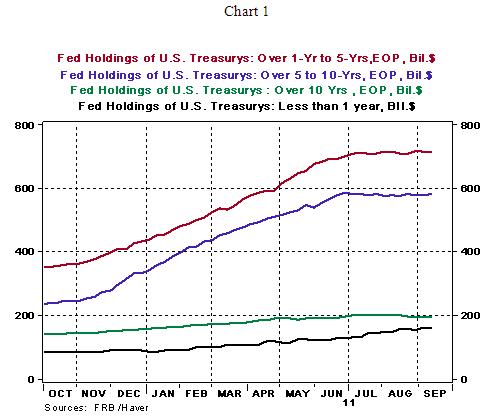 The 10-year Treasury note is trading at 1.95% as of this writing. It is noteworthy that the 10-year Treasury note yield has been declining since the peak on February 7, 2011 (3.68%). The completion of QE1 (quantitative easing) and QE2 both resulted in lower ten-year yields. Fed's guidance about expectations regarding its policy actions will be insightful. The likely limited benefit of Operation Twist is the subject of the U.S. Economic Outlook of September 9, 2011.
Home Construction Declines, Permits Post a Small Gain
Construction of new homes and apartments fell 5.0% to an annual rate of 571,000 during August after a 2.3% drop in the prior month. Starts of both multi-family (-13.5%) and single-family starts (-1.4%) fell in August. The disappointing news is that the level of housing starts continues to hover at recession lows. The nearly 30% drop of housing starts in the Northeast and a 3.3% drop in the South brought down the headline, while housing starts rose in the Midwest (+2.6%) and West (+2.2%). Permit extensions rose 3.2% in August, inclusive of a 2.5% increase in permits for single-family homes, which bodes positively for home construction in September. However, the Housing Market Index of the Home Builders Association fell to 14 in September (close to the recession low see Chart 4), which is not indicative of a likely increase in home building activity. The inevitable conclusion from these numbers is that the housing sector is yet to recover.
The opinions expressed herein are those of the author and do not necessarily represent the views of The Northern Trust Company. The Northern Trust Company does not warrant the accuracy or completeness of information contained herein, such information is subject to change and is not intended to influence your investment decisions.
© 2013 Northern Trust Corporation