FOMC Engages in Operation Twist, Another Unconventional Step
September 21, 2011
by Asha Bangalore
Download PDF Version
The Fed left the federal funds rate unchanged, as expected, at 0.0-0.25%. The much awaited action called "Operation Twist" was part of the policy announcement. It was not an unanimous vote, three Fed Presidents -- Richard Fisher of Dallas, Narayana Kocherlakota of Minneapolis and Charles Plosser of Philadelphia – who are concerned about inflation dissented. These three Fed officials opposed the FOMC's August 9, 2011, decision that included an assurance of holding short-term interest rates near zero until mid-2013.
As per today's announcement, the Fed will purchase $400 billion of Treasury securities with maturities of 6-30 years and finance this operation with sales of an equal amount of Treasuries with three years or less left on them. Operation Twist will not increase the current size of the Fed's balance sheet. It is unlike the $600 billion program (known as QE2) which increased the size of the balance sheet to around $2.8 trillion and ended in June 2011. The objective of Operation Twist is to lift economic activity, that has slowed in the first-half of the year, by bringing about lower interest rates for home mortgages and business investment outlays. The FOMC included a surprise package – it will now reinvest early payment of mortgage securities back in debt issued by Fannie Mae and Freddie Mac.
The Fed continues to believe that "there are significant downside risks to the economic outlook, including strains in global financial markets." The reference to global financial markets is new in the September statement and reflects the ongoing debt crisis in Euroland. The Fed anticipates a deceleration of inflation in the months ahead and continues to maintain that longer-term inflation expectations are stable.
In the Fed's opinion, the rearrangement of it current portfolio "should put downward pressure on longer-term interest rates and help make broader financial conditions more accommodative." However, if the unemployment rate fails to register a significant improvement, households who were not able to obtain a mortgage at already historically low rates (see Chart 1) are unlikely to pass strict underwriting standards that are in place now. The likely limited benefit of Operation Twist is the subject of the U.S. Economic Outlook of September 9, 2011. If this forecast is accurate and economic growth remains lackluster, Chairman Bernanke would most likely embark on QE3 in the early part of 2012.







Sales of Existing Homes Recover, But Level Still Close to Recession Low

Sales of all existing homes rose 7.7% to an annual rate of 5.03 million units. Single-family unit sales were stronger (+8.5%). Regionally, sales of existing homes increased in all four regions, with the nearly 19% jump in the West as the largest gain. From a year ago, sales of existing single-family homes have posted double-digit gains in July and August because of a base effect. Sales of existing homes in July-August 2010 fell sharply after the first-time home buyer credit program expired. Therefore, the year-to-year comparisons partly exaggerate the trend of existing homes sales.

The National Association of Realtors has pointed out that a larger number of cancellations, due to underwriting problems stemming from appraisals values coming in less than negotiated price, occurred in August (18% of realtors reported vs. 16% in July) compared with July. Also, foreclosures and short sales made up 31% of sales in August, up from 29% in July but down from 34% in August 2010.
The median price of a single-family existing home fell 1.1% to $168,400 from a month ago. On a year ago basis, the median price of an existing single-family home dropped 5.5%. As long as distressed properties makeup 30% of existing home sales and the inventory of unsold homes is above the historical median and the labor market continues to show only tepid gains in hiring, prices of homes should continue to show a declining trend. The seasonally adjusted inventory of unsold existing single-family homes fell to 7.7-month supply in August from 8.7-month supply in the previous month. The median for the inventory-sales ratio is 7.3 month supply. The inventory-sales ratio is moving in the right direction (see Chart 5), but it is not clear if the August improvement is a fleeting event or further declines are likely. Weak labor market conditions suggest that it most likely a one-off event.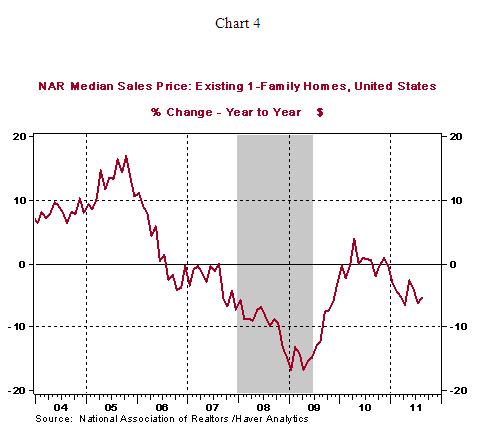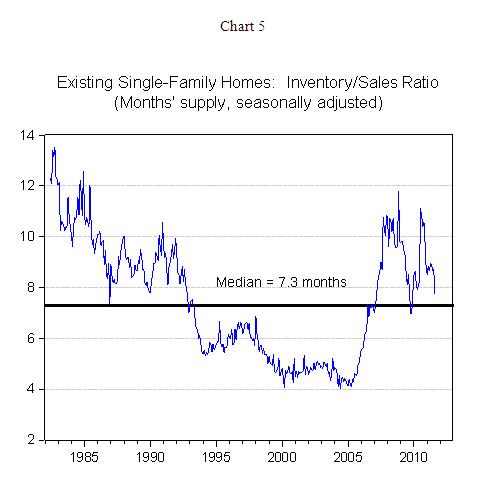 The opinions expressed herein are those of the author and do not necessarily represent the views of The Northern Trust Company. The Northern Trust Company does not warrant the accuracy or completeness of information contained herein, such information is subject to change and is not intended to influence your investment decisions.
© 2013 Northern Trust Corporation