Record Low for 10-year Treasury Note Yield – Will it Last?
September 22, 2011
by Asha Bangalore
Download PDF Version

The 10-year Treasury note yield was trading at 1.73% today, record low for this security. The Fed's Operation Twist aims to bring down long rates such that it will spur economic activity by rendering a reduction in cost of home mortgages and new ventures of entrepreneurs and making replacement cost of machines and equipment less expensive. The 10-year Treasury note closed at 1.88% on September 21 after the Fed announced the launching of Operation Twist. Thus, the Fed appears to have succeeded, but the rally in the U.S Treasury market today is largely a flight to safety. The durability of this low reading is tied to the persistence of a weak global economy; incoming data point to slowing economic conditions in several major economies of the world.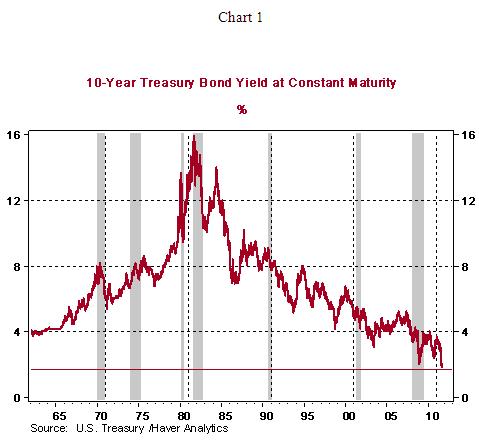 Doubts about global economic growth were enhanced as the flash estimates of the manufacturing sector's conditions in China showed a contraction in factory activity (49.4 vs. 49.9) and the Eurozone's composite purchasing managers' index including services and manufacturing, fell to 49.2 in September from 50.7 in August. Readings below 50.0 denote a contraction and this is the first since July 2009. Market assessment of weak global economic conditions is visible in the recent decline of commodity prices. Today, crude oil was trading at $81.60 vs. a high of $90.21 last week; today's intra-day reading is the lowest since late-2010, excluding the temporary drop in August 2011 (see Chart 2). Data points stop at September 21, 2011 in Charts 2 and 3, with the horizontal lines representing today's intra-day quotes.



Copper was trading at $7635.75, the lowest level since September 2010, after closing at $8300 on September 22, 2011. The key message of Charts 2 and 3 is that drop in oil and copper prices are indicative of weakening global economic conditions.
In other related news, initial jobless claims fell 9,000 to 423,000 during the week ended September 17. The 4-week moving average of initial jobless claims stands at 421,000, which is hardly representative of improving labor market conditions. Continuing claims, which lag initial claims by one week, fell 28,000 to 3.727 million and are holding around this level since April. Essentially, labor market data continue to present a gloomy picture.


Improvement of Home Prices?

The FHFA House Price Index rose 0.8% in July, marking the fourth monthly increase. The Core-Logic House Price Index also has posted gains in the each of the four months ended July (see Chart 5). Both these price indexes show a moderation of year-to-year price declines (see Chart 6), with the July drop being less negative than the June readings. The median price of an existing single-family home, published by the National Association of Realtors, shares a similar trend but the pace of improvement is less impressive compared with the other price indexes. It is early to say with confidence that home prices are moving toward stability as sales and inventories numbers are not supportive of this, as yet.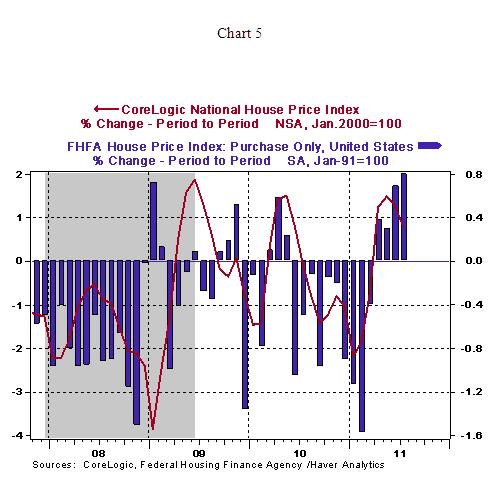 The opinions expressed herein are those of the author and do not necessarily represent the views of The Northern Trust Company. The Northern Trust Company does not warrant the accuracy or completeness of information contained herein, such information is subject to change and is not intended to influence your investment decisions.
© 2013 Northern Trust Corporation