Durable Goods Orders – Headline Suggests Weakness, Details Present a Different Story
September 28, 2011
by Asha Bangalore
Orders of durable goods fell 0.1% in August, after 4.1% jump in July. The headline number spells out soft conditions. But, the details are less weak because orders of computers, general machinery, electrical appliances, and aircraft (both non-defense and defense). The 8.5% drop in orders of autos and 5.7% decline of defense capital goods offset these gains. Shipments of durables slipped 0.2% in August vs. a 2.1% gain in July. Shipments of non-defense capital goods excluding aircraft increased 2.8% in August after a 0.4% increase in July. The July-August data point to a strong gain in equipment and software spending in the third quarter. Inflation adjusted shipments of non-defense capital goods excluding aircraft rose at an annual rate of nearly 13% in the July-August period vs. a 7.9% gain in the second quarter. A larger increase of shipments of non-defense capital goods occurred when aircraft are included in the computation. On a year-to-year basis, shipments and orders of durable goods posted a larger gain in July vs. August. There is an inconsistency in factory sector reports to the extent that surveys (see Chart 2) paint a weaker factory sector compared with the production, orders, and shipments data.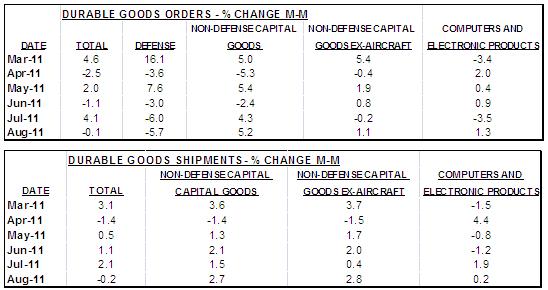 Housing Market Update: Refinancing Index Shows Sharp Increase, But Purchase Index Continues to Languish
The Mortgage Bankers Association's Purchase Index rose slightly to 176.6 during the week ended September 23 from 172.2 in the prior week. For the month of September, the Purchase Index is most likely to show a small gain compared with August. The recent trend of the Purchase Index is not encouraging (see Chart 3) and does not bode strongly for a significant increase in home sales. The Refinance Index has risen noticeably in 2011 and it posted an 11.8% jump in the week ended September 23 reflecting the recent decline in mortgage rates. This is a big plus for consumer spending and the housing market. Lower mortgage payments enable households to purchase more consumer goods and the ability to refinance allows homeowners to retain ownership when they are experiencing severe balance sheet stress and facing challenges of mortgages exceeding the value of their homes. At the same time, lenders have lower income when borrowers refinance their mortgages. The net impact will be positive if credit in the economy increases, which is not guaranteed by refinancing per se. If refinancing includes a cash component which would reflect an increase in credit, the net impact would be positive. Historically low mortgage rates are inadequate to turn the housing market around. At the cost of being repetitive, robust growth in employment is necessary to support sales in the housing market.
The opinions expressed herein are those of the author and do not necessarily represent the views of The Northern Trust Company. The Northern Trust Company does not warrant the accuracy or completeness of information contained herein, such information is subject to change and is not intended to influence your investment decisions.
© 2013 Northern Trust Corporation