Fed Officials Voice Dissenting Opinions Again
September 29, 2011
by Asha Bangalore
Download PDF Version

Chairman Bernanke highlighted the gravity of the unemployment problem in the Q&A session in his speech after markets closed yesterday.
"This unemployment situation we have, the jobs situation, is really a national crisis," We've had close to 10 percent unemployment now for a number of years and, of the people who are unemployed, about 45 percent have been unemployed for six months or more. This is unheard of."
As Chart 1 indicates, the combination of high unemployment and a large percentage of them unemployed for an extended is a new occurrence in the post-war period. Around 43% were unemployed for over 27 weeks in August 2011 vs. about 25% during the 1981-82 recession (the jobless rate peaked at 10.8%).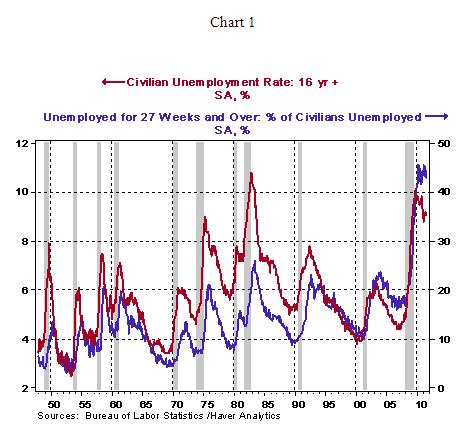 This is Bernanke's first speech after the FOMC policy action referred to as "Operation Twist" was announced on September 21. The Fed indicated it would purchase $400 billion of long-term Treasury securities to replace short-term securities of the same value and hold its balance sheet size unchanged. The Fed also announced plans to purchase expiring and pre-paid mortgage back securities. Fed Presidents Rosengren and Lockhart of Boston and Atlanta, respectively, have spoken in favor of this program this week. Bernanke also noted that there is room for other policy options to address the woes of the U.S. economy. Rosengren and Lockhart are both non-voting members of the FOMC.
"Monetary policy is not a panacea," Bernanke said. "There are certainly some areas where other policy makers could contribute," and "strong housing policies to help the housing markets recover would certainly be useful."
The threat of deflation also featured in the Bernanke's Q&A session. He noted that the Fed would need to act if inflation or inflation expectations fall too low. Inflation expectations, as measured by the difference between the 5-year Treasury note yield and 5-year TIP, have dropped to 157 bps from a high of 255 bps as of May 2011 (see Chart 2), but actual inflation stood at 3.8% in August, while core consumer prices, which exclude food and energy, show a 2.0% year-to-year gain. Given projections of weak economic conditions, inflation readings are predicted to show a moderating trend.

However, there are different views within the Fed. Fed Presidents Plosser and Fisher of Philadephia and Dallas, respectively, voiced their serious reservations about the recent policy action. Plosser warned that the Fed's extraordinarily easy policies would lead to an inflationary situation in the months ahead, even with high inflation. He noted that a deflationary threat or a severe European debt crisis leading to financial market meltdown would persuade him that further easing would be necessary. Fisher is also concerned about the inflationary potential of Fed's position and holds the opinion that costs of Operation Twist outweigh its benefits. Both these them cast dissenting in the August and September FOMC meetings. Summing up, current economic evidence offers strong support to Bernanke and members of the Fed who are focused on the elevated unemployment rate.
Q2 Real GDP Growth Revised Up, Jobless Claims Decline Partly Due to Technical Issues

Real GDP of the U.S. economy increased at an annual rate of 1.3% in the second quarter, slightly higher than the earlier estimate of a 1.0% gain. The main reasons for the larger gain in GDP were stronger growth of structures, consumer service sector outlays, exports, and residential investment expenditures. The final estimate also shows small upward revisions of inflation data. Going forward, real GDP is expected to grow around only 2.0% in the second half of 2011, which would put the increase in real GDP in 2011 significantly below the 3.0% increase recorded in 2010.



In other economic news, initial jobless claims fell 37,000 to 391,000 during the week ended September 24. Seasonal factor issues related to calendar timing is partly responsible for the drop in initial jobless claims according to a Bloomberg report citing the Department of Labor. The four-week moving average continues to hold at a high level (see Chart 4) and continuing claims, which lag initial jobless claims by one week, fell 20,000 to 3.729 million. It is interesting to note that continuing claims have held nearly steady for several months (see Chart 5). The evidence continues to point to significantly weak trends in hiring.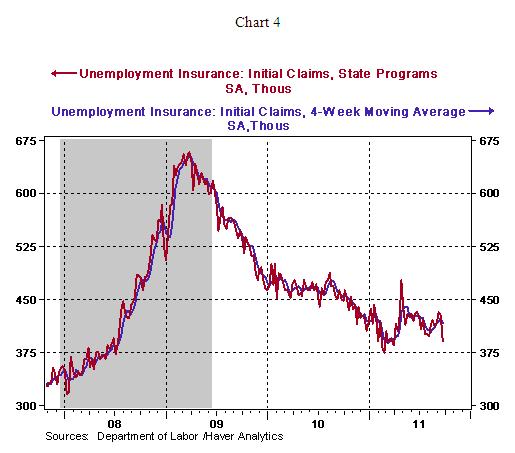 The opinions expressed herein are those of the author and do not necessarily represent the views of The Northern Trust Company. The Northern Trust Company does not warrant the accuracy or completeness of information contained herein, such information is subject to change and is not intended to influence your investment decisions.
© 2013 Northern Trust Corporation