Purchasing Managers' Indexes Point to Sluggish Factory Conditions
October 3, 2011
by Asha Bangalore
The ISM manufacturing survey results for September suggest that sluggish conditions continue to persist in September. The composite index rose slightly to 51.6 in September after posting a small decline in August (50.6 vs. 50.9 in July). But, the composite index has dropped in the third quarter (51.0 vs. 56.4 in 2011:Q2). The implication is that factory activity in the third quarter grew at a slower pace compared with the second quarter. From the details, the index tracking production rose to 51.2 in September vs. 48.6 in the prior month, new orders index held steady at 49.6 and points to a contraction. Readings above 50 denote an expansion of activity and readings below 50 stand for a contraction. There has been a distinct deceleration in the pace of factory activity in the U.S. during the third quarter but a complete contraction has not emerged as yet.
Factories in several countries show a shift to a lower gear of operation during September. The small increase of China's composite index should be viewed with caution. The Golden Week celebration in China in the first week of October tends to lift the September factory index. Therefore, the monthly change of the index compared with changes during September in prior years is important to assess if factory conditions in September improved or deteriorated. The 0.3-point increase in September is the smallest gain since September 2009 and suggests that it should be interpreted as a sign of sluggish activity. Data from Table 2 indicate that there is a global slowdown in factory activity, with factories in the UK and US showing a marginally faster pace of operation compared with other nations.
Source: http://blogs.wsj.com/economics/2011/10/03/world-wide-factory-activity-by-country-18/tab/interactive/
Car Sales Rose in September, Bodes Positively for Consumer Spending in Q3
Car sales increased to an annual rate of 13.098 million in September compared with 12.1 million units in August. The quarterly average for car sales is 12.48 million units vs. 12.15 million in the second quarter. This provides a small boost to consumer spending and real GDP in the third quarter. Consumer spending grew only 0.7% in the second quarter; it is projected to have risen 1.5% in the third quarter.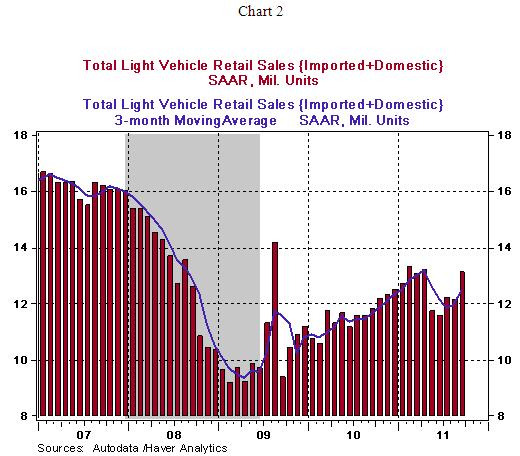 Residential Construction Spending Moves Up, But Bounces along Recession Lows
Total construction spending increased 1.4% in August inclusive of gains in private and public sector spending. Residential construction spending rose 0.7%, but it is important to note that the level remains close to recession lows (see Chart 3). Outlays of non-residential construction spending show a slightly stronger performance compared with the residential sector (see Chart 3). Despite the gain in August outlays, residential construction spending is likely to post a decline in the third quarter, barring an unexpectedly strong gain in September.

The opinions expressed herein are those of the author and do not necessarily represent the views of The Northern Trust Company. The Northern Trust Company does not warrant the accuracy or completeness of information contained herein, such information is subject to change and is not intended to influence your investment decisions.
© 2013 Northern Trust Corporation