A Decade of Household Deleveraging?
October 11, 2011
by Asha Bangalore
The recent trend of consumer spending is lackluster and, in fact, worrisome such that Chairman Bernanke has mentioned it in speeches over the past month. Real disposable personal income has posted a meager 0.3% gain in August 2011 (see Chart 1) and consumer spending shows a noticeably decelerating trend. The obvious reply to answers about the reasons for soft growth in consumer spending is related to lack of hiring.
A reduction of household debt is an important adjustment process which is playing a role in the muted trend of consumer spending. Households are focused on rebuilding their net worth following significant losses. Pessimism about asset price gains lifting their net worth has led to the old fashioned route of deleveraging and saving. Outstanding household debt as a percentage of disposable income is trending down after registering a historical peak in the second quarter of 2007 (130.34%, see Chart 2). This ratio stood at 114.6% in the second quarter of 2011. Essentially, the economy has experienced four years of voluntary and involuntary (foreclosures) deleveraging. Hypothetically, if household debt to disposable income were to stabilize at its long-term average of 76%, it would imply a significant reduction of debt over an extended period. The direct impact would be slower growth of consumer spending, particularly in an environment of tepid economic growth.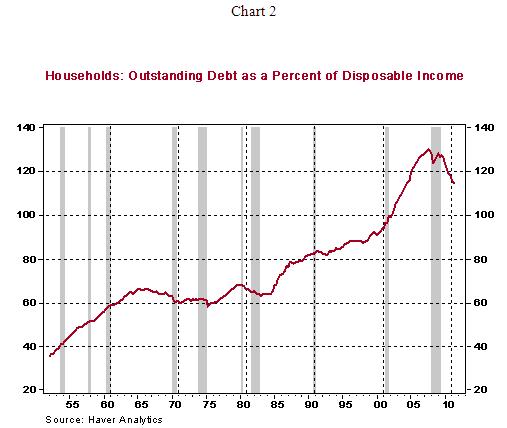 Poor Sales Continue to Haunt Small Businesses
The September survey of the National Federation of Independent Business (NFIB) shows an improvement in the outlook of small businesses. The Small Business Optimism Index rose to 88.9 in September from 88.1 in August after a string of six straight monthly declines, which is good news.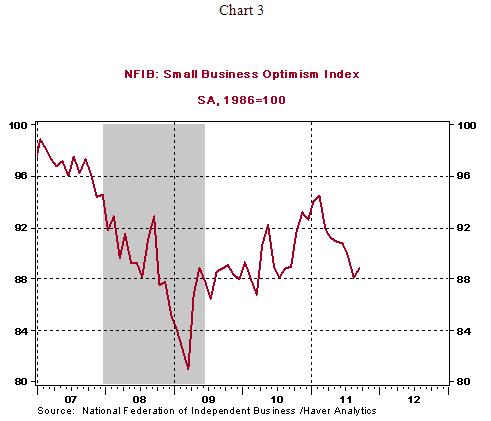 However, the percent of respondents indicating that poor sales is one of their biggest problems rose to 28% in September from 25% in August, the highest since February 2011 (see Chart 4). The report underscores the inadequacy of demand as one of the major factors holding back the pace of growth and employment.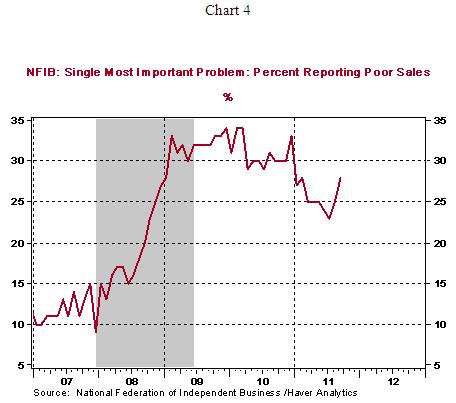 The opinions expressed herein are those of the author and do not necessarily represent the views of The Northern Trust Company. The Northern Trust Company does not warrant the accuracy or completeness of information contained herein, such information is subject to change and is not intended to influence your investment decisions.
© 2013 Northern Trust Corporation