September Existing Home Sales: Housing Sector Needs a Supportive Nudge
October 20, 2011
by Asha Bangalore
Download PDF Version

Sales of existing homes, inclusive of condos, fell 3.0% in September to an annual rate of 5.03 million units after an 8.4% increase in August. Sales of existing single-family homes dropped 3.6% to an annual rate of 4.47 million units in September vs. a 9.0% jump in August. As Chart 1 indicates, sales of existing homes are far from the peak registered in 2005 and are very close to cycle lows seen in 2008 (The wide swings in home sales in 2009-10 are related to the temporary first-time home buyer credit program).
Distressed properties (foreclosures and short sales) and negative equity position of homes (mortgages exceeding the current market value of homes) are the two major problems haunting the housing sector. The National Association of Realtors (NAR) pointed out in today's report that 30% of existing home sales during September were that of distressed properties (see Chart 2). The other major challenge in the housing market is that 22.6% of outstanding home mortgages (10.8 million mortgages in August 2011) exceed the current market value of the home (negative equity position). Reportedly, discussions are underway to bring about reductions of the principal and prevent foreclosures of homes. A string of programs have been put in place to since the crisis unfolded to address the home mortgage crisis but each has resulted in only a small change, with foreclosures and negative equity remaining persistent. A multi-pronged program including principal reduction, expedited home mortgage refinancing, and foreclosure procedures simplified is necessary immediately. Also, loan underwriting standards have to be addressed because the NAR has indicated today that 18% of its members reported contract failures in September, up from 9.0% a year ago. Contract failures, as defined by the NAR, "are cancellations caused by declined mortgage applications, failures in loan underwriting from appraised values coming in below the negotiated price, or other problems including home inspections and employment losses."
As a result of a large pool of distressed properties, a declining trend of home prices is inevitable. The median price of an existing single-family home fell to 5.5% from a year ago to $168,400 in September (see Chart 3). CoreLogic data show that the pricing situation of non-distressed homes has improved in recent months (see Chart 3). Seasonally unadjusted inventory of unsold single-family homes rose one notch to 8.5-month supply in September. The elevated inventory situation of existing homes is another reason home price gains have not been recorded as yet.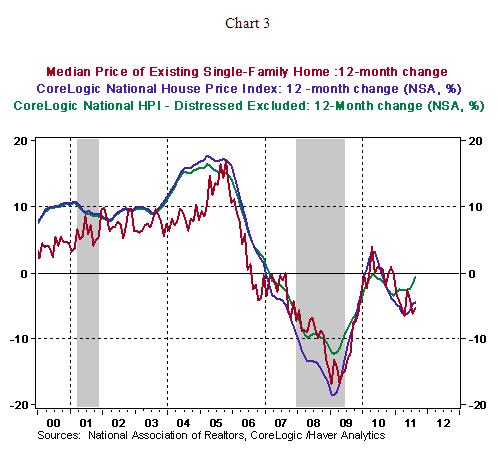 Initial Jobless Claims, Index of Leading Indicators, Philly Fed Survey – Small But Noteworthy Positive Signals

Initial jobless claims dropped 6,000 to 403,000 during the week ended October 15. The 4-week moving average of initial jobless claims (403,000) is the lowest since the week ended April 23, 2011. That said, initial jobless claims are still holding at a worrisome level. In other words, a large drop in initial jobless claims is necessary to say that the worst is behind us. Continuing claims, which lag initial claims by one week, rose 25,000 to 3.719 million.


In other related economic news, the Conference Board's Index of Leading Economic Indicators (LEI) rose 0.2% in September vs. a 0.3% gain in August. Of the ten components, real money supply, Treasury yield curve spread, and consumer expectations advanced, while the average workweek held steady. The other six components were posted declines. The real money supply and interest rate spread components of the index have been partly distorted and have reduced the ability of the index to explain the status of economic conditions.
The October factory conditions survey of the Federal Reserve Bank of Philadelphia points to improving conditions. Indexes tracking current conditions, new orders, and shipments moved up after posting negative readings in August and September. The national factory survey will be published on November 1.
The opinions expressed herein are those of the author and do not necessarily represent the views of The Northern Trust Company. The Northern Trust Company does not warrant the accuracy or completeness of information contained herein, such information is subject to change and is not intended to influence your investment decisions.
© 2013 Northern Trust Corporation