Fed Officials Offer Broad Hints That QE3 is Likely if Soft Patch Persists
October 21, 2011
by Asha Bangalore
Download PDF Version

Vice-Chair Janet Yellen, Fed Governor Tarullo and Boston Fed President Rosengren have in the past two days voiced their support for more Fed action to bolster economic activity. Governor Tarullo indicated that there is "ample room" for the Fed to consider buying mortgage-backed securities. Two rounds of quantitative easing have helped to bring down mortgage rates, with QE1 (quantitative easing) appearing to have been the more successful (see Chart 1) program of the two programs.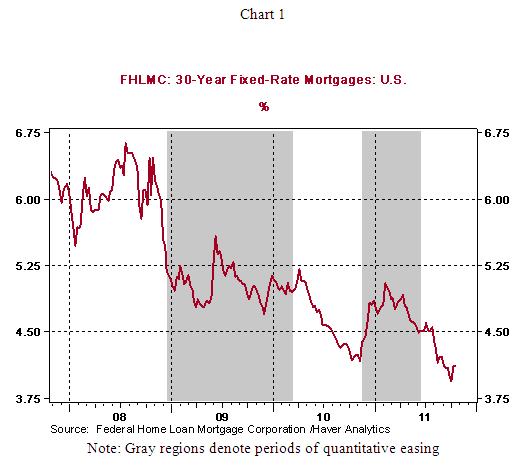 QE1 consisted of $1.25 trillion purchase of mortgage-backed securities and $175 billion of agency bonds. The housing market has historically propelled economic recoveries in the post-war period. Additional purchases of mortgage-backed securities are expected to result in lower mortgage rates, which should result in refinancing and home purchase activity. Fed President Rosengren also noted that he would have liked to see a larger drop in mortgage rates relative to the 10-year Treasury note yield. In his opinion, additional purchases of securities would be necessary in the event of continued weakness in economy. Vice Chair Janet Yellen echoed similar concerns and stressed that there are significant downside risks to economic activity. She also expressed unease about the headwinds from Europe as it attempts to solve the debt crisis. Vice Chair Yellen pointed out that a purchase of a "broader range of securities" to boost economic growth would be appropriate if economic conditions call for more support from the central bank. She concluded her remarks noting that the Fed is "prepared to employ our tools as appropriate to foster a stronger economic recovery in a context of price stability." In sum, the Fed appears to be building a case for additional monetary policy support.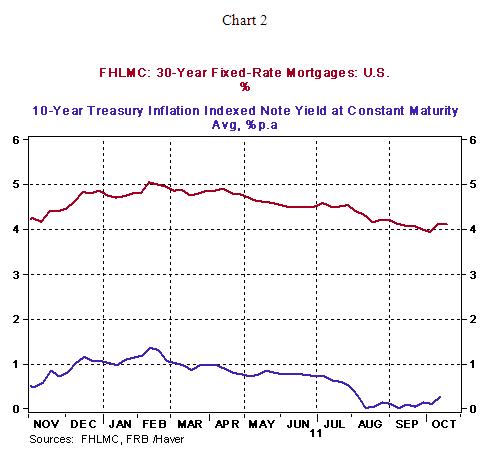 The opinions expressed herein are those of the author and do not necessarily represent the views of The Northern Trust Company. The Northern Trust Company does not warrant the accuracy or completeness of information contained herein, such information is subject to change and is not intended to influence your investment decisions.
© 2013 Northern Trust Corporation