Sales of New Homes Rose in September, But Trend is Unimpressive
October 26, 2011
by Asha Bangalore
Sales of new single-family homes rose 5.7% to an annual rate of 309,000 in September, the second highest level for the year after the 316,000 mark seen in April. The picture is less impressive when we put things in a historical perspective. The 3-month moving average of existing home sales at 302,000 has held nearly steady since mid-2010 (see Chart 1) after the first-time home buyer program expired.
The good news is that the inventory of unsold new homes dropped to 6.2-month supply in September from 6.6-month supply mark in August. The latest reading is the historical mean. Going forward, as economic momentum improves and employers are more willing to hire, the low inventory situation bodes positively for the construction of new homes.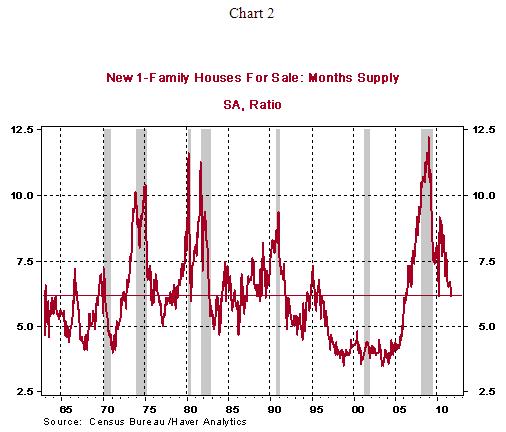 The median price of a new single-family home fell 3.1% during September to $204,400 from August. On a year-to-year basis, the decline in the median home price is 10.4% and the largest drop since April 2009 (see Chart 3). The availability of comparable foreclosed homes, marked down significantly, is the primary reason for the sharp drop in prices of new homes.
We now have data for sales of new and existing homes and housing starts for the third quarter. The message from Chart 4 is that sales and starts of homes have not made a dent despite nine quarters of economic growth. The wide swings in the 2009-2010 period of existing home sales is related to the temporary boost from the first-time home-buyer program.
September Durable Goods Orders – Decline Led by Aircraft, Underlying Momentum is Tepid
Orders of durable goods dropped 0.8% in September mainly due to a 25.5% decline in orders of civilian craft. Excluding transportation, bookings of durable goods moved up 1.7% and that of non-defense excluding aircraft rose 2.4% in September. Shipments of durable goods fell 0.7% in September, following a string of gains since May. Shipments of non-defense capital goods excluding aircraft also edged down 0.9% in September. In the third quarter, inflation adjusted shipments of non-defense capital goods excluding aircraft, the input for the equipment and software component of GDP, rose at an annual rate of 13.6% in the third quarter vs. a gain of 8.0% in the second quarter, implying stronger growth of equipment of software spending in the third quarter compared with the 6.2% increase in the second quarter. However, shipments and orders of durable goods from a year ago show a decelerating trend (see Chart 5).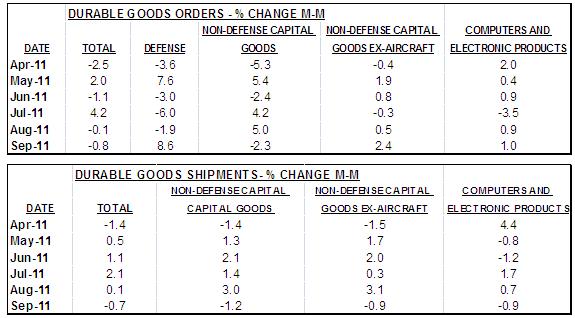 The opinions expressed herein are those of the author and do not necessarily represent the views of The Northern Trust Company. The Northern Trust Company does not warrant the accuracy or completeness of information contained herein, such information is subject to change and is not intended to influence your investment decisions.
© 2013 Northern Trust Corporation