Consumer Spending is Likely to Show Tepid Growth Once Again
October 28, 2011
by Asha Bangalore
Download PDF Version

Real consumer spending increased 0.5% in September after a steady reading in August. In the third quarter, consumer spending increased at an annual rate of 2.4% vs. 0.7% in the second quarter. At first blush this is impressive, but digging further leads to a different story. The saving rate of households fell to 3.6% in September, putting the quarterly average at 4.1% vs. 5.0% in the first-half of the year. At the same time, real disposable income edged down 0.1% in September and fell 1.7% in the third quarter. This information along with data from July and August suggest that consumer spending of the nature seen in July and September are not sustainable because household saving and income trends do not provide the necessary support for growth in consumer spending. The important implication is the tepid performance of consumer spending will translate to sub-par growth of real GDP.


As noted earlier, the saving rate fell to 3.6% in September vs. 4.1% in August. The latest personal saving rate is the lowest since early-2008. Deleveraging of household debt and an upward trend of the saving has led to the muted growth of consumer spending as the current recovery and expansion have unfolded. The September reading of the saving rate appears to be an aberration that is most likely turnaround in the months ahead as household rebuild their net worth.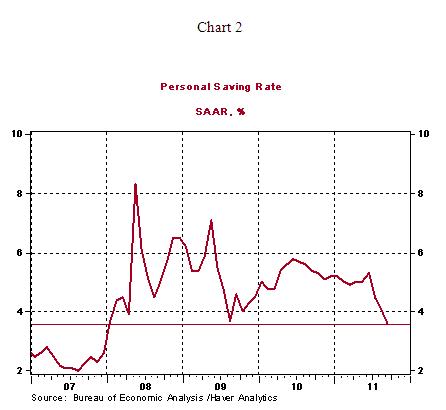 Inflation numbers for September vindicate the FOMC's expectations. The personal consumption expenditure price index increased 0.2%, while the core personal consumption expenditure price index, which excludes food and energy held steady. Both price measures show a deceleration that is noteworthy (see Chart 3).
Operation Twist – Unmet Goal, For Now

The Fed put in place "Operation Twist" on September 21, 2011 with the goal of guiding long rates to a lower level. The 10-year Treasury note yield closed at a low of 1.72% on the day after the new policy was instituted. As of this writing, it is trading at 2.33%. The 30-year mortgage rate dropped briefly to 3.94% but is back up at levels seen just prior to the announcement (4.10%). Effectively, the 10-year Treasury note yield has moved up and the 30-year mortgage rate is holding at a level seen before Operation Twist was announced (see Chart 4).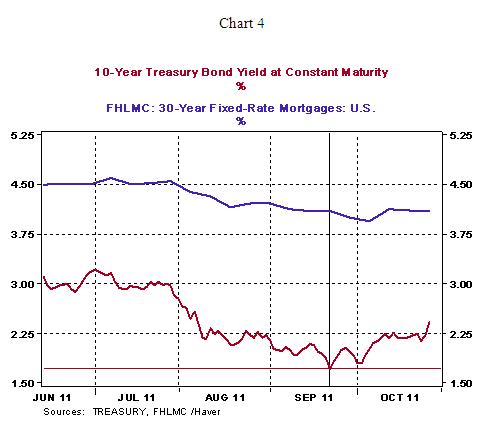 The opinions expressed herein are those of the author and do not necessarily represent the views of The Northern Trust Company. The Northern Trust Company does not warrant the accuracy or completeness of information contained herein, such information is subject to change and is not intended to influence your investment decisions.
© 2013 Northern Trust Corporation