Worldwide Factory Activity Softens in October
November 1, 2011
by Asha Bangalore
The ISM manufacturing survey results for October from the United States to China show a noticeable decline in the pace of activity. In the U.S., the October manufacturing survey results show an expanding factory sector but at a slower pace than the prior month. The composite purchasing managers' index of October edged down to 50.8 from 51.6 in September. Readings above 50.0 denote an expansion in factory activity, while a figure below 50 signifies a contraction. The index tracking new orders rose to 52.4 in October from 49.6 in the prior month, a noteworthy improvement. But the index measuring export orders fell to 50 from 53.5 in September. The employment index continues to suggest that factories are hiring, while the index tracking supplier deliveries held nearly steady and the inventories index recorded a sharp decline.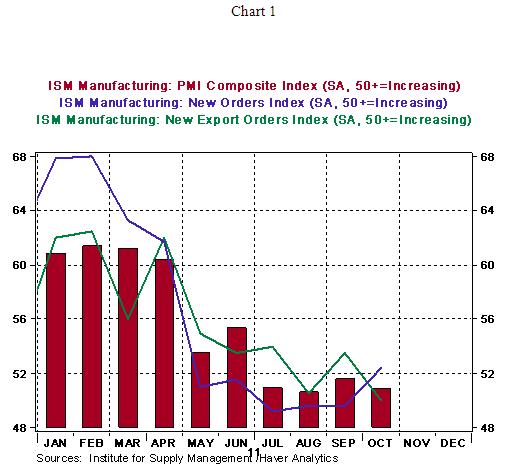 Factory sector news from the rest of the world is disappointing, the purchasing managers' index of China for October declined to 50.4 from 51.2 in September. The level of the index is the lowest since February 2009 (see Chart 2). The weakness of the imports index (47.0 vs. 50.1 in September) bodes poorly for exports of the United States and other trading partners of China (see Chart 3).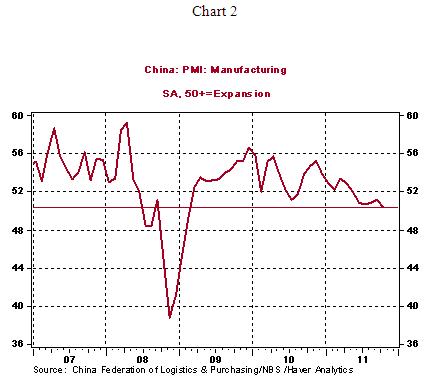 The composite index of Taiwan's factory survey recorded the lowest figure in almost three years, and South Korea posted a third consecutive monthly decline. But, India's manufacturing sector picked up last month, with its purchasing managers' index climbing to 52 from 50.4 in September. The weakness signified by the soft factory survey for October has led to lower oil and copper prices today.
Auto Sales Advanced in October
After a strong performance in September, sales of autos rose to an annual rate of 13.26 million units vs. 13.09 million units in September. The gain in auto sales is supportive of consumer expenditures in October and the fourth quarter. Consumer spending moved up at an annual rate of 2.4% in the third quarter, after a 0.7% increase in the second quarter.
The opinions expressed herein are those of the author and do not necessarily represent the views of The Northern Trust Company. The Northern Trust Company does not warrant the accuracy or completeness of information contained herein, such information is subject to change and is not intended to influence your investment decisions.
© 2013 Northern Trust Corporation