The Likely Export Shock from Europe and More
November 9, 2011
by Asha Bangalore
Download PDF Version

The European Central Bank (ECB) lowered the policy rate 25 bps to 1.25% on November 3, 2011. The possibility of a mild recession was cited as the reason for monetary policy easing. By implication, the recession should translate into fewer exports of the U.S. to Euroland. The share of US exports to the European Union (all 25 member nations) has dropped to 17.7% in August 2011 from a peak of 23.2% in February 2009. The share of exports to the Euro Area (Austria, Belgium, France, Finland, Germany, Greece, Ireland, Italy, Netherlands, Portugal, and Spain) shows a decline to 13% from 17.3% in the same period. These shares should post a further reduction as Europe experiences a mild recession in the months ahead.
Trade flows related to Euroland are not the sole headwind to US growth in the quarters ahead. Year-to-date, the share of exports to the Pacific Rim, of which China is a big player, has slowed by nearly three percentage points after an impressive performance in 2010 (see Chart 2). By contrast, the share of South/Central America shows a small increase in 2011(see Chart 2).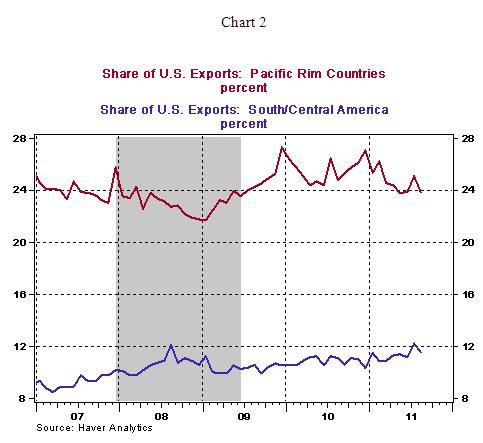 If the recent deceleration of business activity in China, compared with 2010, is not reversed rapidly (see Chart 3), it could reduce exports of the US to not only China but also to other trading partners of the US. The trade linkages of the global economy work as follows: If Chinese imports post a reduction in the quarters ahead as a result of smaller gain in overall GDP of China compared with 2010, it means that exports of all its trading partners are adversely affected. This in turn translates into lower growth in these countries and a reduction of their imports, which are partly exports of the US. Therefore, the performance of the Chinese economy has ripple effects that will be critical to global economic growth in 2012.


Real exports of the U.S. fell 9.4% in 2009, the largest drop in the past fifty years (see Chart 4). The expectation is that the setback to US exports, if Euroland experiences a recession and growth in China is sub-par, should be smaller than the drop in 2009, but a hit to GDP and employment, nevertheless.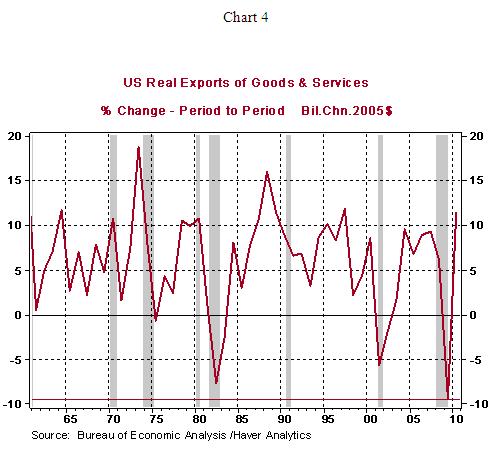 The opinions expressed herein are those of the author and do not necessarily represent the views of The Northern Trust Company. The Northern Trust Company does not warrant the accuracy or completeness of information contained herein, such information is subject to change and is not intended to influence your investment decisions.
© 2013 Northern Trust Corporation