Labor Market Update – Small Improvements, Noteworthy Nevertheless
November 10, 2011
by Asha Bangalore
Download PDF Version

At the town hall meeting in Fort Bliss today, Chairman Bernanke stressed that the Fed is "focused intently" on job creation. He also mentioned that the United States will be affected adversely if there is a blow-up in Europe and added that the Fed stands ready to provide policy accommodation as necessary to minimize the damage.
Speaking about the labor market, initial jobless claims fell 10,000 to 390,000 during the week ended November 5, the lowest reading since April 2011 (see Chart 1). Continuing claims, which lag initial jobless claims by one week, declined 92,000 to 3.615 million, the fewest number of jobless claims filed since October 2008 (see Chart 2). These numbers are encouraging, while additional improvement will be necessary to confirm that labor market conditions are improving. The number of applicants under the special emergency and extended benefits program (these numbers lag initial jobless claims by two weeks) moved up slightly to 3.53 million from 3.48 million in the week ended October 15. In sum, there were 7.236 million people obtained unemployment insurance during the week ended October 22 (Continuing claims plus those under special programs). Earlier in the week, another economic report showed that the number of job openings in September were at the highest level in the past three years (see Chart 3). These numbers suggest small but important positive developments in the labor market.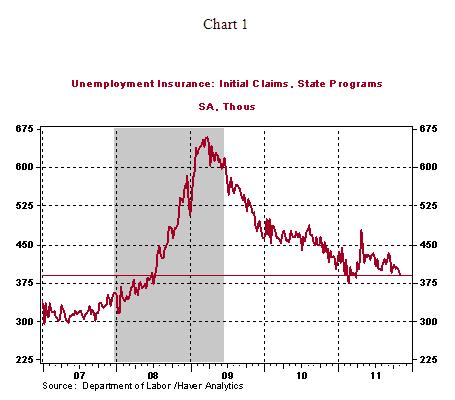 Growth in Exports Narrows Trade Gap, Possibly Upward Revision of 2011:Q3 GDP

The trade deficit narrowed to $43.1 billion in September from $44.9 billion in August. The improvement of the trade gap reflects a 1.4% increase in exports of goods and services of the United States and a small gain of 0.3% in the nation's imports of goods and services. Although the inflation adjusted petroleum trade deficit widened slightly in September ($11.9n billion vs. $11.5 billion in August), the non-petroleum trade deficit narrowed ($35.4 billion vs. $37.2 billion in August). The third quarter GDP estimate includes assumptions about the trade deficit for September. Taking into consideration the actual trade numbers for September, the trade gap in the third quarter is likely to be smaller than assumed, implying a large increase in real GDP growth than the advance estimate of a 2.5% increase, holding other things constant. Retail inventories data for September are scheduled for publication on November 15, at which time we should be able to assess in which direction real GDP growth of the third quarter will be revised.

The opinions expressed herein are those of the author and do not necessarily represent the views of The Northern Trust Company. The Northern Trust Company does not warrant the accuracy or completeness of information contained herein, such information is subject to change and is not intended to influence your investment decisions.
© 2013 Northern Trust Corporation