October Retail Sales Bode Well for the Final Quarter of 2011
November 15, 2011
by Asha Bangalore
Retail sales rose 0.5% in October after a 1.1% increase in September. Unit auto sales matter in the computation of GDP, not the retail sales tally. Unit auto sales rose to 13.26 million units in October from 13.1 million units in September. These numbers imply that auto sales will make a positive contribution to spending in October. Gasoline sales are largely influenced by the price of gasoline; the 0.4% drop in gasoline sales in October reflects lower prices. Gasoline prices show a downward trend in the early days of November, implying a possible drop of the price index in November. Excluding gasoline and autos, retail sales moved up 0.7% in October vs. a 0.5% gain in the prior month, which is a big plus for consumer spending in October and the fourth quarter. Although sales of apparel (-0.7%) and furniture (-0.7%) fell in October, other categories posted gains to lift the total. The bottom line is that the headline and sub-categories of retail spending indicate a good start for consumer spending in the fourth quarter.
Wholesale Prices Show Moderating Trend
The Producer Price Index (PPI) of Finished Goods fell 0.3% in October after a 0.8% jump in the prior month. A 1.4% drop of the energy price index was responsible for about two-thirds of the decline in the wholesale price index. The core PPI, which excludes food and energy, held steady in October after ten monthly gains. Lower prices for cars and trucks offset price hikes of other core items.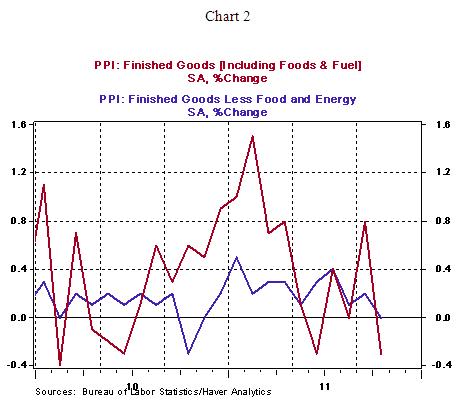 At the earlier stages of production, the core intermediate good price rose 6.3% from a year ago. This represents a decelerating trend following an increase of 7.8% in July (see Chart 3). It is important to note that the core intermediate goods price leads the finished goods core price index by six months. In other words, the current moderation of core intermediate prices points to a likely moderation in the finished goods price index in the months ahead.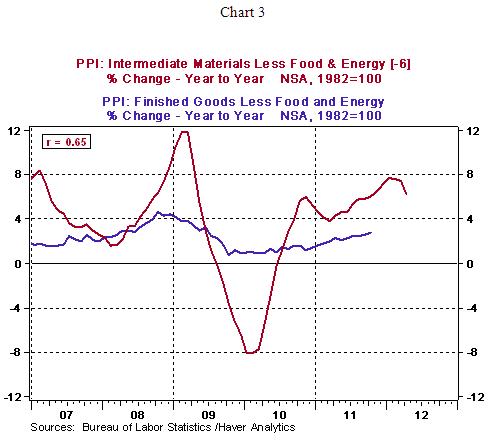 The opinions expressed herein are those of the author and do not necessarily represent the views of The Northern Trust Company. The Northern Trust Company does not warrant the accuracy or completeness of information contained herein, such information is subject to change and is not intended to influence your investment decisions.
© 2013 Northern Trust Corporation