The Other Side of the Austerity Program - German Economy Stands to Lose
December 12, 2011
by Asha Bangalore
A fiscal austerity program has been adopted as the cure all for the ills of the indebted members of the eurozone. The flipside of this policy is that in the short-run Germany's exports of goods and services will take a deep hit. Exports of goods and services from Germany reached a record high of 51% in the third quarter of 2011 (see Chart 1). A large part of these exports are intra-regional exports, implying that projected setbacks to economic growth in countries implementing fiscal austerity measures would work adversely for German economic growth in the near term. Real GDP growth in Germany has slowed to 2.0% in the third quarter following a 3.3% pace in the first six months of the year.
U.S. Household Debt - Deleveraging Posts New Record
Household debt soared prior to the onset of the financial crisis to establish a peak at $13.9 trillion in second quarter of 2008 (see Chart 2). During the thirteen quarters since the peak, household debt has declined $688 billion (see Chart 3) to set a new record for the post-war period.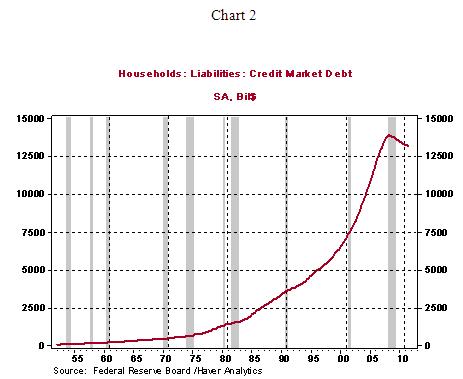 The focus on reducing debt has held back the growth of consumer spending in the United States. The important question is how long the deleveraging process is likely to continue. Our best guess is that improvement in hiring will raise consumer confidence to take on additional debt and improve housing market conditions to result in fewer foreclosures. The Fed's policy statement following the December 13 FOMC meeting will offer information about the Fed's new assessment of the economy.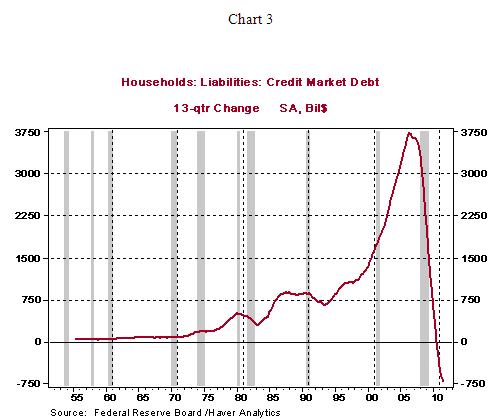 The opinions expressed herein are those of the author and do not necessarily represent the views of The Northern Trust Company. The Northern Trust Company does not warrant the accuracy or completeness of information contained herein, such information is subject to change and is not intended to influence your investment decisions.
© 2013 Northern Trust Corporation