Fed Stands Pat as the Curtain Closes on 2011
December 13, 2011
by Asha Bangalore
The Fed upgraded the performance of the U.S. economy compared with its assessment in November. The FOMC vote to stand pat was nearly unanimous, with only one dissent. Chicago Fed President Evans dissented as he would have preferred additional policy accommodation. The economy is now seen to be growing at a moderate pace despite the slowing conditions abroad. The Fed noted that while there are "some improvements in the labor market," the "unemployment rate remains elevated." The jobless rate will continue to remain front and center of policy making in 2012 and beyond. The Fed continues to indicate that "economic conditions are likely to warrant exceptionally low levels for the federal funds rate at least through mid-2013." In a nutshell, the Fed policy statement contains only minor modifications from the November statement. The January FOMC meeting will be followed by a press conference and will include the Fed's projections.
Retail Sales Data of October-November Offer Solid Support for Q4 Consumer Spending
Retail sales increased 0.2% in November after a 0.6% jump in October. The headline shows a slowing in retail sales but the October-November data suggest a strong performance of consumer spending in the fourth quarter, possibly stronger than the 2.3% annualized increase in the third quarter. Total retail sales in the October-November months rose at an annual rate of 6.9% vs. a 4.7% gain in the third quarter. Excluding gasoline, retail sales have moved up 7.7% in the October-November period compared with a 5.1% increase in the third quarter.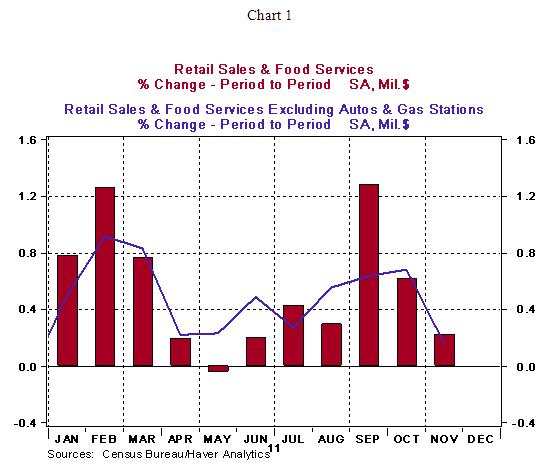 In November, sales of furniture (+0.4%), clothing (+0.5%), electronics (+2.1%) and general merchandise (+0.3%) moved up but purchases of food (-0.2%) and building materials (-0.3%) posted declines.

Outlook of Small Businesses Shows Improvement in November
The November survey of the National Federation of Independent Business (NFIB) points to an improvement in the outlook of small businesses. The Small Business Optimism Index rose to 92 in November from 90.2 in the prior month (see Chart 2)
Readings of two sub-indexes of the November survey standout. The percent of businesses reporting increases in employment in the past three months increased to 2.0% in November after mostly negative readings since January 2008. Also, the number of respondents indicating poor sales has edged down to 25% from 26% in October. These are small but nevertheless important changes in the November survey.
The opinions expressed herein are those of the author and do not necessarily represent the views of The Northern Trust Company. The Northern Trust Company does not warrant the accuracy or completeness of information contained herein, such information is subject to change and is not intended to influence your investment decisions.
© 2013 Northern Trust Corporation