G7 Government Debt – Facts and Projections
December 15, 2011
by Asha Bangalore
Download PDF Version

The possibility of Standard &Poors downgrading France's triple A debt rating is the latest source of market anxiety among several other factors. Standard &Poors put 14 eurozone countries on negative watch earlier in the month. Today, Christian Noyer, the head of the central bank of France, expressed strong reservations about ratings agencies. It is helpful in this context to look at recent trends of government debt as a percent of GDP of major advanced nations. Facts and projections of government debt as a percent of GDP are made available by the International Monetary Fund. Chart 1 depicts the recent history of G7 government debt as percent of GDP 2004-2013; the International Monetary Fund's projections are used for 2011-2013. Japan is excluded from Chart 1 to make the chart reader friendly. Public debt of Japan in 2010 stood at 220% of GDP and is projected to touch 242% in 2013. The bottom line is that the G7 is projected to face severe budgetary pressures in the next two years, with Italy at the top of the list and Germany at the bottom of the list according to the International Monetary Fund. Although each of the G7 shares this problematic status, the important difference is that the likely growth path of the each nation is different. That is the discussion for another day, just the facts today.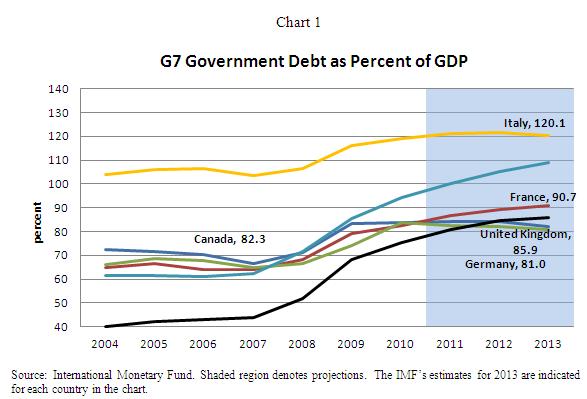 http://www.imf.org/external/pubs/ft/weo/2011/02/weodata/weoselco.aspx?g=110&sg=All+countries+%2f+Advanced+economies

The status of Portugal, Ireland, and Greece is significantly more worrisome (see Chart 2), while Italy and Spain are also grouped with these folks. The IMF's projections are used for the period 2011-2013 in Chart 2.

http://www.imf.org/external/pubs/ft/weo/2011/02/weodata/weoselco.aspx?g=110&sg=All+countries+%2f+Advanced+economies


Jobless Claims of the U.S. economy Post a Notable Improvement

Initial jobless claims of the U.S. economy fell 19,000 to 366,000 during the week ended December 10, after a similar decline in the prior week. If this trend were to continue, the labor market picture could be different by the next FOMC meeting in January 2012.
Continuing claims, which lag initial jobless claims by one week, rose 4,000 to 3.603 million. Claims under special programs, which lag initial jobless claims by two weeks, rose to 3.642 million from 3.309 in the prior week. Roughly, 6.8 million are recipients of unemployment insurance as of November 2011 compared with 9.05 million a year ago (see Chart 4). There has been a small increase of total unemployment insurance recipients in November. Given the latest weekly data, the tally for December could possibly show a decline. The drop in total unemployment insurance claims reflects partly a drop in number of claimants due to an increase in employment and partly a reduction from people who have lost eligibility for unemployment insurance.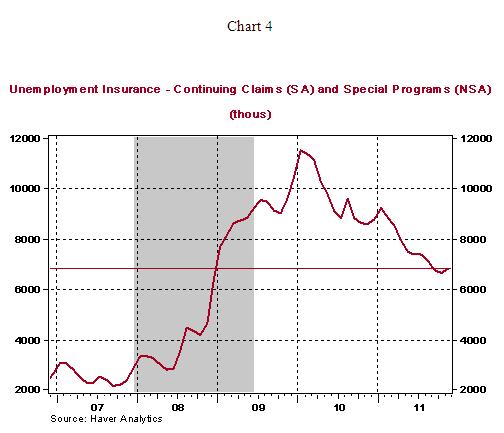 November Industrial Production – Disappointing, Being Watched Closely

Industrial production fell 0.2% in the November, after a 0.7% jump in the prior month. Factory production, which excludes mining and utilities, dropped 0.4%. A reduction of auto assemblies in November (8.7 million vs. 9.2 million in October), reduction in output of wood products, high-tech equipment, and electrical components led to a drop in overall output in November. Factory production from a year ago (+3.8% vs. +5.5% in November 2010) shows a decelerating trend (see Chart 5).


Food Prices Account for Large Part of the Increase in Wholesale Prices

The Producer Price Index of Finished Goods (PPI) rose 0.3% in November following a 0.3% drop in the prior month. The 1.0% jump of the food price index reflects higher prices of vegetables and meat products. The energy price index rose only 0.1% vs. a 1.4% drop in October. The core PPI, which excludes food and energy, moved up 0.1% after holding steady in October. On a year-to-year basis, the core PPI has risen 2.9% in November vs. a 1.4% increase in December 2010 (see Chart 6). At the same time, at the early stages of production, the intermediate goods price index shows a decelerating trend (see Chart 7). The more important price measure – Consumer Prince Index – will be published tomorrow.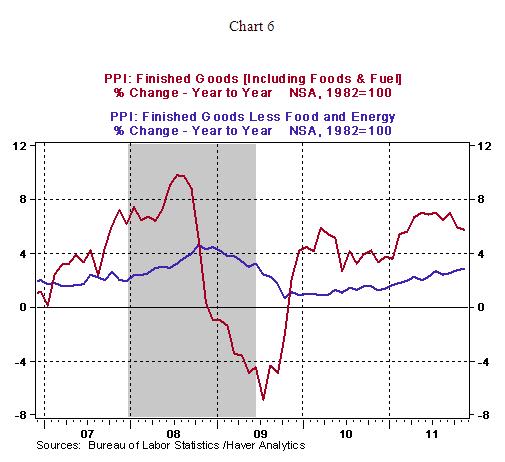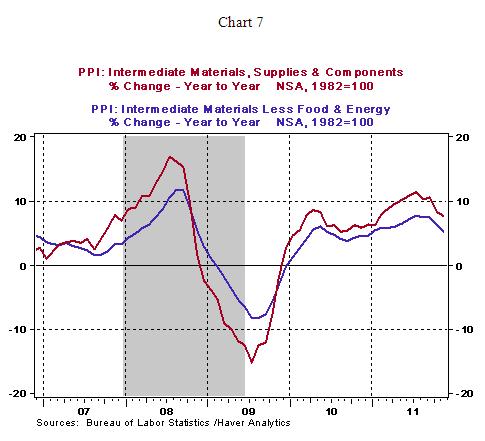 The opinions expressed herein are those of the author and do not necessarily represent the views of The Northern Trust Company. The Northern Trust Company does not warrant the accuracy or completeness of information contained herein, such information is subject to change and is not intended to influence your investment decisions.
© 2013 Northern Trust Corporation