The Fed's New Communication Strategy – Aspects to Ponder About
January 4, 2012
by Asha Bangalore
The Fed's new communication strategy of announcing the expected path of the Fed funds rate has not resulted in a radical transformation of the Fed funds market as yet. The July 2014 Fed funds futures contract, albeit thinly traded, implies a 0.50% Fed funds rate only by mid-2014, while the 2-year Treasury note yield hovers around 0.25% (see Chart 1). The Fed's forecast will be published on January 25, 2012.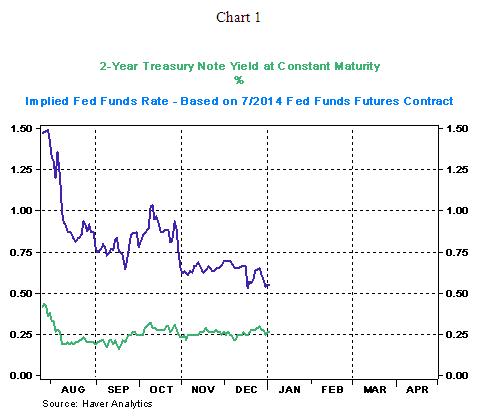 It remains unclear to what extent the Fed can nudge Treasury market yields in its attempt to improve transparency of its operations and decision making process. The Fed is setting up the benchmark for the bond market by publishing the likely path of the future Fed funds rate. Does the new strategy distort the information content of Treasury market yields? This is an important question that needs to be examined.
At present, the difference between the 10-year Treasury note yield and the effective federal funds rate is about 190 basis points, with the former trading around 1.98%. If the Fed's new forward guidance strategy is aimed at reducing rates and flattening the yield curve, we should see the 10-year trading lower than the current level. At the same time, if the bullish nature of recent economic data continues in the weeks ahead, the Fed's forecast may have to be revisited sooner than anticipated. The Fed publishes the Summary of Economic Projections four times a year, starting with the publication on January 25 as noted earlier. The Fed's objective is to raise home sales by guiding interest rates lower. In the meanwhile, housing market data continue to suggest that historically low mortgage rates need to be complemented with strong job gains to pull the housing sector out of the current slump.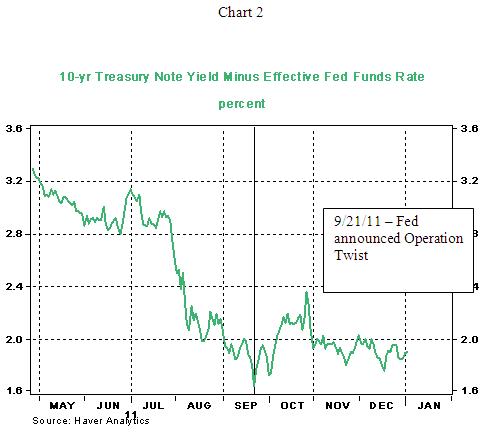 Auto Sales Should Give Lift to Q4 Consumer Spending and GDP
Sales of autos slipped slightly to an annual rate of 13.56 million units in December vs. 13.63 million units in the prior month, putting the quarterly average at 13.48 million units vs. 12.48 million units in the third quarter. The obvious conclusion is that auto sales should boost growth of consumer spending and real GDP in the final three months of the year. Autos sold at an annual pace of 12.78 million units in 2011 compared with 11.6 million units in 2010, making it the best performance since 2008 when 13.2 million autos were sold.
The opinions expressed herein are those of the author and do not necessarily represent the views of The Northern Trust Company. The Northern Trust Company does not warrant the accuracy or completeness of information contained herein, such information is subject to change and is not intended to influence your investment decisions.
© 2013 Northern Trust Corporation