Labor Market – Encouraging Signs, December Employment Report Awaited
January 5, 2012
by Asha Bangalore
Download PDF Version

Initial jobless claims fell 15,000 to 372,000 during the week ended December 31. The four-week moving average at 373,250 is the lowest since June 2008. Continuing claims, which lag initial jobless claims by one week, dropped 22,000 to 3.595 million.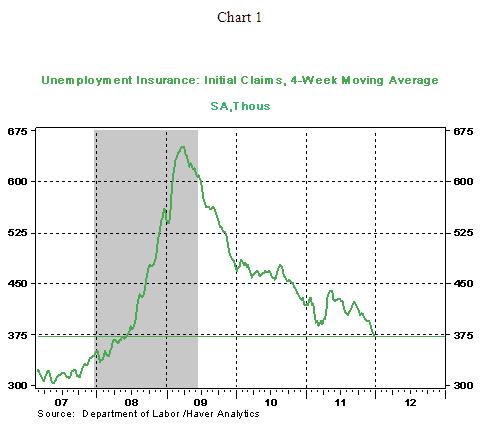 As of December 31, 2011 initial jobless claims stood at 372,000 vs. 418,000 a year ago. Initial jobless claims averaged 409,000 in 2011, the lowest since 2007 and they are comparable to the level seen in 2001-2003 and marginally lower than the 2008 mark (see Chart 2). Continuing claims, which lag initial claims by one week, remain at an elevated level of 3.747 million (see Chart 3).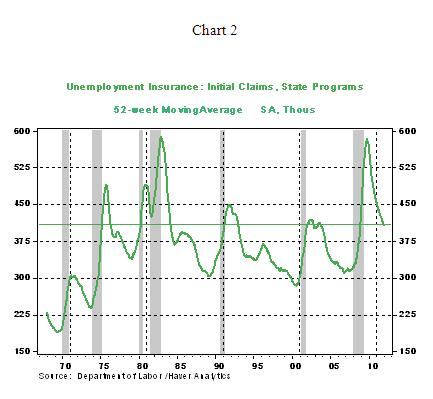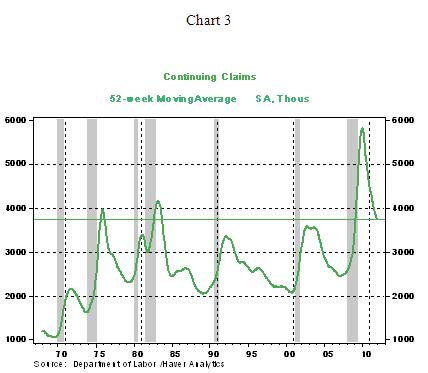 The Challenger survey of December shows that job reductions exceeded hiring plans, after two months of more positive indications when hiring plans exceeded layoffs (see Chart 4). These numbers are bearish compared with the initial jobless claims data.
Based on a roughly 30,000 decline in initial jobless claims between the two employment survey periods in November and December, payroll employment in December should be stronger than the gain of 120,000 jobs in November. The consensus forecast is a 150,000 increase in nonfarm payrolls and a jobless rate of 8.7% (8.6% in November). We are projecting a gain of 170,000 in payroll employment and an 8.7% unemployment rate. The BLS will be publishing annual revisions of the unemployment rate in the December employment report, scheduled for publication on January 6.
The opinions expressed herein are those of the author and do not necessarily represent the views of The Northern Trust Company. The Northern Trust Company does not warrant the accuracy or completeness of information contained herein, such information is subject to change and is not intended to influence your investment decisions.
© 2013 Northern Trust Corporation