Update on Headwinds That Could Rock the U.S. Economy
January 9, 2012
by Asha Bangalore
The key question about the growth trajectory of the U.S. economy for 2012 is if domestic economic momentum that is visible in bullish economic reports of past – ISM factory survey data, Q4 auto sales, and December employment report – will prevail in the rest of 2012 and offset headwinds from Europe (and its associated ramifications) and the setback from a decelerating trend of business activity in China. In the context, we will be providing periodic updates as economic reports are published.
German industrial production fell 1.0% in November, marking the third monthly drop in the last four months. The 3-month annualized decline is 11.7%, the largest since October 2008. These numbers from Germany, the driver of the eurozone, are consistent with expectations of a recession in the eurozone.
Moving to China, the other global economic engine, the year-to-year loan growth was 15.8% in December from 15.6% November, while M2 increased 17.3% from a year ago, the strongest since a year ago see Chart 2. These readings are bullish and we will tracking them closely.
Consumer Credit Advanced in the United States
Consumer credit grew at an annual rate of 10.0% in November, inclusive of strong growth in revolving (+8.5%) and non-revolving credit (+10.7%). This is another metric that is indicative of improving economic conditions in the U.S. economy.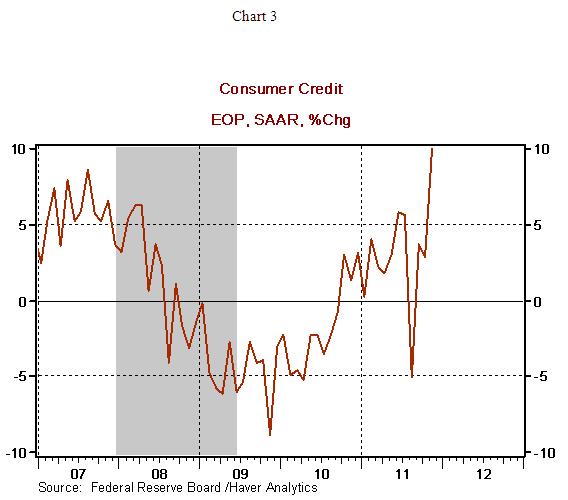 The opinions expressed herein are those of the author and do not necessarily represent the views of The Northern Trust Company. The Northern Trust Company does not warrant the accuracy or completeness of information contained herein, such information is subject to change and is not intended to influence your investment decisions.
© 2013 Northern Trust Corporation