Outlook of Small Businesses Improves, But Still Short of Levels Seen in Good Economic Times
January 10, 2012
by Asha Bangalore
The Small Business Optimism Index moved up to 93.8 during December from 92 in the prior month. The improvement is noteworthy and it is the highest since February 2011. However, the level of the index is within the range seen during the recession (see Chart 1).
Of the sub-indexes, the percentage of respondents indicating that poor sales have been problematic declined to 23% in December vs. 25% in the previous month. Further reductions of this component of the survey would point to a turnaround in business conditions.
Among other highlights of the survey, only 8.0% reported credit is harder to get, one of the lowest readings for the year (see Chart 3). Somewhat contradicting the December employment report is the fact that only 1.0% of respondents indicated that they increased employment in the last three months. Overall, the December report on small businesses records more positives than negatives.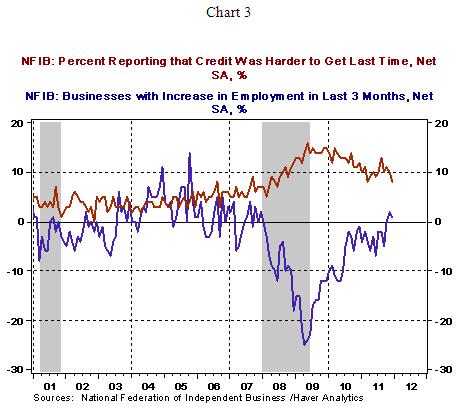 Distressed Properties Continue to Hold Down Home Prices
The CoreLogic Home Price Index inclusive of distressed properties (foreclosures and short sales) fell 4.3% from a year ago after showing a decelerating trend in the three months ended October. Excluding distressed properties, the CoreLogic Home Prices fell only 0.6% from a year ago and it shows of stabilizing (see Chart 4).
The excess supply of homes, partly from distressed properties, is the major factor leading to a sustained drop in home prices. The CoreLogic Home Price Index is down 34% from its peak in March of 2006 (see Chart 5). The large reduction in home prices has reduced household wealth substantially and "weakened household spending." The Fed in a wide ranging paper addressed to lawmakers offers ways to reduce the housing market problems. The Fed proposes large scale purchases of foreclosed properties, mortgage reductions and less restrictive refinancing for mortgages underwater. The Fed succinctly concludes in this paper that "restoring the health of the housing market is a necessary part of a broader strategy for economic recovery."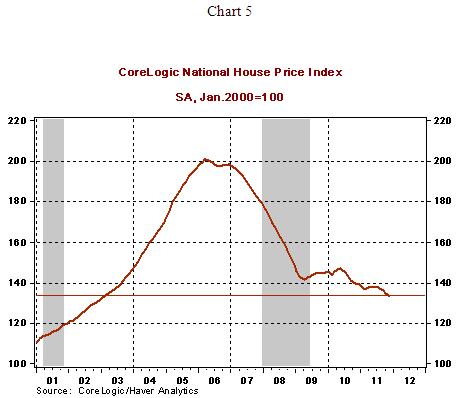 The opinions expressed herein are those of the author and do not necessarily represent the views of The Northern Trust Company. The Northern Trust Company does not warrant the accuracy or completeness of information contained herein, such information is subject to change and is not intended to influence your investment decisions.
© 2013 Northern Trust Corporation