Tracking China's Imports and Germany's Exports
January 11, 2012
by Asha Bangalore
Download PDF Version

Imports of China slowed to a 10.7% year-over-year growth in December 2011 (see Chart 1), the smallest increase since late-2009. Imports of China from Germany, the driver of economic growth in Europe, have posted a significant slowing, with the December increase amounting a paltry 4.2%, the smallest gain since October 2009. The broader implication of these trends is that not only is German business activity hit by a deceleration of imports of China but the intricate web of world trade has a wide reach and will translate into a setback in business conditions among other trading partners. Exports of Germany accounted for roughly 50% of its GDP in the first three quarters of 2011 (see Chart 2) and a significant part of Germany's exports are intraregional exports. If the rest of Europe shifts gears to a recessionary period, which is almost certain, it follows that German GDP growth will post a setback. The 0.25% drop in real GDP of Germany announced for the fourth quarter of 2011 is a reflection of the feedback effects of slowing global economic conditions. The upshot is that global trade and economic growth in 2012 are heading toward a slow performance.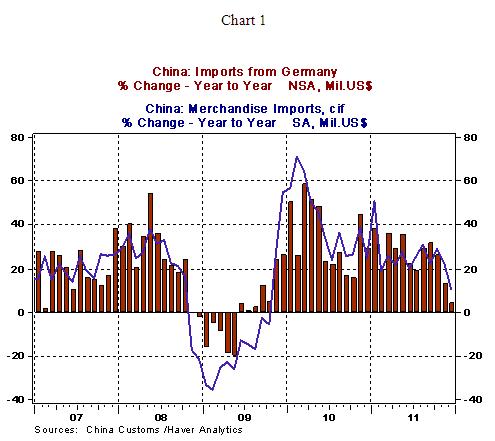 The opinions expressed herein are those of the author and do not necessarily represent the views of The Northern Trust Company. The Northern Trust Company does not warrant the accuracy or completeness of information contained herein, such information is subject to change and is not intended to influence your investment decisions.
© 2013 Northern Trust Corporation