U.S. Retail Sales – Strong Q4, But Underlying Momentum is Slowing
January 12, 2012
by Asha Bangalore
Download PDF Version

Retail sales rose only 0.1% in December, after a 0.4% jump in November. The strong performance of retail sales in November and December has given a lift to total retail sales in the fourth quarter. It is nearly certain that consumer spending in the fourth quarter (+2.5%, forecast) will exceed that of the third quarter (+1.7%). The key question is a similar momentum will prevail in the quarters ahead. Although retail sales advanced at a rapid clip in the fourth quarter, the year-to-year change shows a decelerating trend. The failure of income growth is a large part of the reason for a decelerating trend in retail sales. Going forward, gains in income and employment will be necessary to support the robust path of consumer spending.




From the details of the report, purchases of furniture (+1.0%), apparel (+0.7%) and building materials advanced in December, while that of general merchandise (-0.8%), online sales (-0.4%) and electronics (-3.9%) declined. Unit auto sales count in the GDP box score, which slipped slightly in December but auto sales rose at an annual rate of 36% in the fourth quarter vs. a 11.3% gain in the third quarter.



Increase in Initial Jobless Claims Could be a Timing Issue

Initial jobless claims rose 24,000 to 399,000 during the first week of the year. Timing could be playing role in the large increase of initial jobless claims. The four-week moving average at 381,750 will be tracked closely to estimate if the recent downward trend of initial jobless claims has been reversed or if it is beginning of the year distortion. Continuing claims, which lag initial jobless claims by one week, moved up 19,000 to 3.628 million.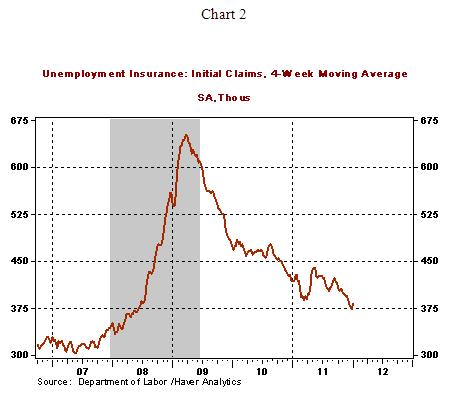 Euroland Factory Sector Posts Decline, Confirming Expectations of a Recession

The European Central Bank (ECB) has chosen to watch and wait and did not take action after today's meeting. The ECB has lowered the policy rate in the last two meetings to 1.00% from 1.50%. A preliminary report has indicated that real GDP of Germany contracted in the fourth quarter and German industrial production fell sharply in November. Industrial production in all of Euroland also dropped 0.2% in November, the third monthly decline. At the cost of being repetitive, headwinds from Europe are predicted to touch US shores and translate into a slower growth of exports in the near term; evidence to support this view is gradually becoming visible.
The opinions expressed herein are those of the author and do not necessarily represent the views of The Northern Trust Company. The Northern Trust Company does not warrant the accuracy or completeness of information contained herein, such information is subject to change and is not intended to influence your investment decisions.
© 2013 Northern Trust Corporation