Declining Trend of US Exports Warrants Close Watching
January 13, 2012
by Asha Bangalore
Download PDF Version

The trade deficit of the U.S. widened to $47.75 billion in November from $43.27 billion in the prior month. Nominal exports of goods and services have dropped for two consecutive months, while exports of goods adjusted for fell 1.5% in November after posting gains in each of the two prior months. Imports of goods and services also advanced in November. The October-November data imply that a widening of the trade deficit in the fourth quarter is a negative for GDP growth.


The key question is about prospects of U.S. exports in 2012. Exports of the U.S. have made up between 11.5% and 13.0% of GDP in the past three years. The nearly certain recession in Europe and slowing economic conditions in China point to a deceleration in US export growth during most of 2012.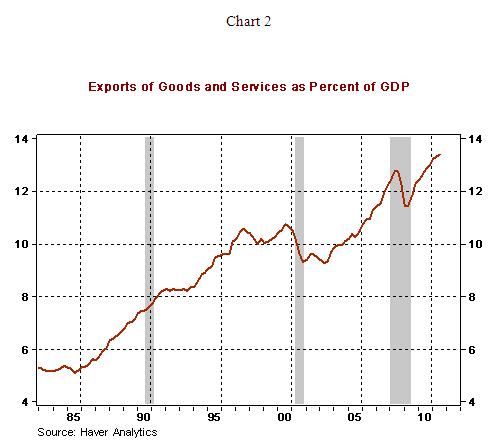 In 2010, exports of goods and services grew 11.3%, which gave a lift to overall US GDP growth. By contrast, real exports of goods grew only 6.1% from a year ago in November vs. a 12.5% jump in 2010 (see Chart 3). The visible sharp deceleration of export of the U.S. economy is likely to continue in the first-half of 2012 and trim the headline reading.


In November, the bilateral trade situation with the major trading partners of the U.S shows a mixed picture. The trade deficit widened vis-à-vis Canada ($2.98 billion vs. $2.2 billion in October), Mexico ($5.5 billion vs. $5.3 billion in October), EU ($9.7 billion vs. $7.9 billion) and but narrowed vis-à-vis China ($26.8 billion vs. $28.1 billion in October) and was nearly flat vis-à-vis Japan.

In related news, the U.S import price index edged down 0.1% in December, putting the year-to-year increase at 8.6%, down from a peak of 13.7% in July. Prices of imports excluding fuel also show a deceleration, with the year-to-year increase in December at 3.4% vs. a 5.4% increase in July. The deceleration of import prices in the last six months allows the Fed to focus on economic growth as inflation at the retail level and that of imported goods do not present a threat.
The opinions expressed herein are those of the author and do not necessarily represent the views of The Northern Trust Company. The Northern Trust Company does not warrant the accuracy or completeness of information contained herein, such information is subject to change and is not intended to influence your investment decisions.
© 2013 Northern Trust Corporation